It's apropos that Savant's latest software update is titled da Vinci 10 because the genius Leonardo da Vinci himself would be impressed. The major software update represents not just a milestone for Savant, but a breakthrough for the custom electronics industry as a whole that will help integrators develop a new subscription-based business model via the Savant Essentials program.
da Vinci 10 essentially unites the smart home with the cloud more deeply than ever before by taking Savant's platform and system architecture to the cloud. By moving the operating license from the hardware to the cloud, it enables painless system upgrades and maintenance to take place, along with secure backup and restore features for all the personalized programming and settings associated with an installation – a huge value to both consumers and integrators.
Moreover, da Vinci 10 comes with a slew of new integrations, including the ability to connect features like Savant's color tunability and Daylight Mode to the Lutron QSX platform, enabling products like Ketra lighting fixtures to be controlled by Savant. Additionally, there are several new app shortcuts being implemented with da Vinci 10.
But the most exciting part of the new software is the release of Savant Essentials.
"Savant Essentials moves our platform into the very first smart home subscription model for the industry," says Angela Larson, Senior Vice President of Customer Operations at Savant. "For years, many of us have been talking about how to deliver the smart home in a subscription model that works for both integrators and customers."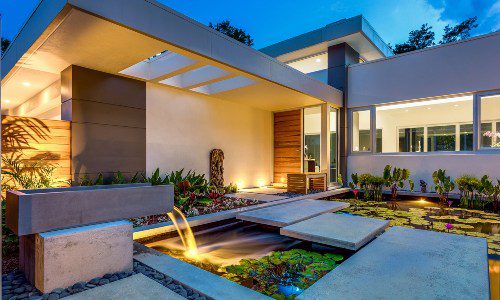 Landscape and architectural lighting create a magical and elegant ambiance for homeowners. The outdoor lighting industry has always been a phenomenal one and continues to grow in popularity. Now is the ideal time to learn more about this rapidly growing and highly profitable industry. Join our panel of esteemed lighting experts that will dive into why it's time for integrators to rethink their role in the outdoor lighting industry.
Register Now! 
With Savant Essentials, dealers' clients' homes will always have access to the latest software enhancements. Homeowners can set personalized advanced notifications about their lighting, climate, and entertainment, plus the system will have the ability to integrate with Savant Power's (smart energy division of Savant Systems, Inc.) new inCharge intelligent electrical panel. For integrators, Savant Essentials means the ability to deliver software updates and provide enhanced service levels, including system upgrades with Savant's upcoming home back-up and restore feature. And those are just the initial features. According to Larson there is a roadmap of new features that will continually be added to the subscription model, including unique security and network AI experiences.
"For many smart home system installations, it's 'best day is its first day,'" comments Larson. "After that first day, legacy smart home control systems that are not cloud managed will consistently require costly hardware updates to avoid becoming obsolete over the long term."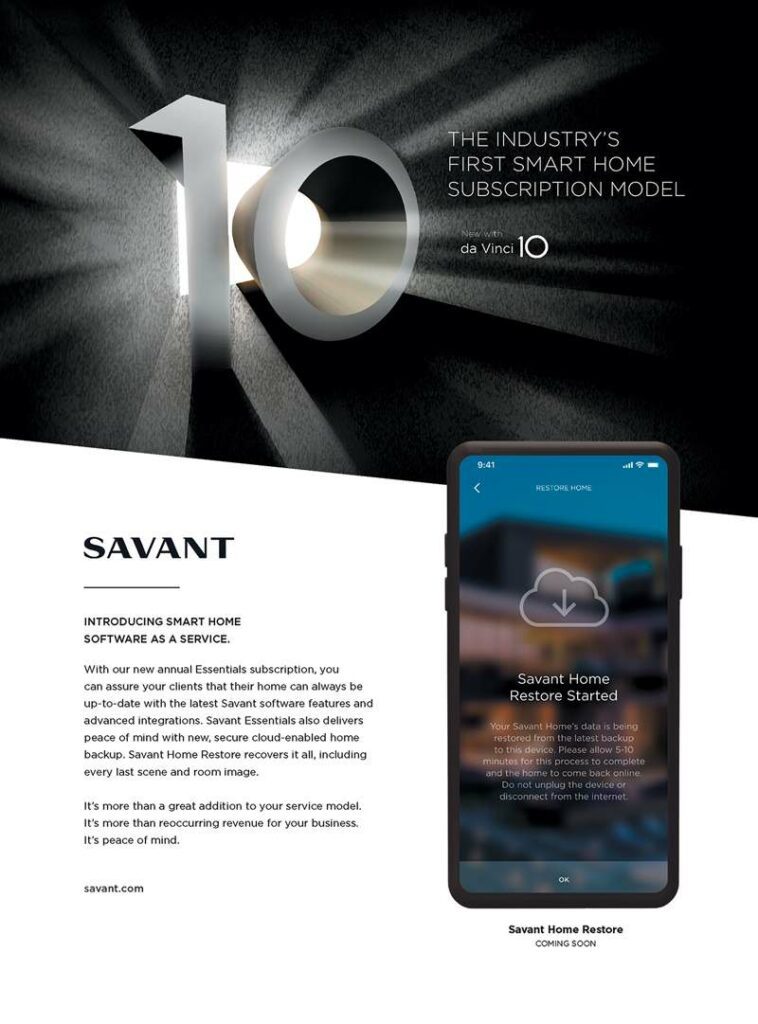 Savant spent nearly one year in consultation with its dealer advisory council on the rollout of Savant Essentials. From those interactions, Larson says the consensus from the group was to design the Savant Essentials subscription in a way where it could be bundled into a new or existing service contract with the client.
"We anticipated that many integrators would take that approach, making Savant Essentials part of their one-, three- or five-year service contracts. And based on the early days of the program, it appears that is exactly what most integrators are doing," says Larson.
There are several MSRP price tiers for Savant Essentials based on the type and size of the system. Some integrators will roll the cost of the subscription into existing service pricing models, while some will highlight the features of the subscription model stand-alone. Either way the value a subscription brings to a dealer in terms of efficiency of service will become invaluable. For integrators, there is dealer margin built into the price, according to Larson. Members of the Savant Ambassadors program earn an even higher margin. Meanwhile, the recurring monthly revenue (RMR) created for the integrator increases the inherent value of their business and provides a steady stream of cash flow.
"The market is finally ready. Consumers and integrators have acknowledged that hardware in most technology sectors has become commoditized, not to mention susceptible to obsolesce as new features evolve. The presence of monthly subscriptions for entertainment, internet and security platforms has become the norm for most consumers and even dealers already pay for professional subscriptions for software and program/product management tools. The transition to this model in the smart home market will deliver the best products and services with the longevity, reliability and repeatability clients expect," she concludes.
If you enjoyed this article and want to receive more valuable industry content like this, click here to sign up for our digital newsletters!