You'd think the home-automation industry would have a little more home automation by now, after three decades of telling our smart-home systems what to do by pressing a button or otherwise announcing our presence in a fairly non-automated way.
Despite plentiful person-identification devices on the market, however, our home-control systems still struggle to recognize which room we're in, and how the space should be set for our individual preferences at any given time.
The RoomMe "room-level personalization" platform from Intellithings could be just the accessory for getting our "smart homes" to do exactly what we want them to do in any given room, at any given time.
RoomMe makes its formal debut to the custom-installation channel at CEDIA Expo 2019, sharing a booth with the Z-Wave Alliance (#1743) for no particular reason.
The Smarter Smart Home: RoomMe Up, Scotty
It's 2019 – more than 25 years after I entered the home-control business. When I'm in the living room gosh darnit, I shouldn't have to push the "living room" button on my app to access the living-room controls.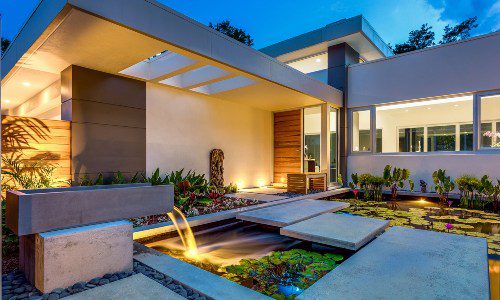 Landscape and architectural lighting create a magical and elegant ambiance for homeowners. The outdoor lighting industry has always been a phenomenal one and continues to grow in popularity. Now is the ideal time to learn more about this rapidly growing and highly profitable industry. Join our panel of esteemed lighting experts that will dive into why it's time for integrators to rethink their role in the outdoor lighting industry.
Register Now! 
In fact, when I enter the room between 5:00 and 8:00 a.m., it should know to turn on the TV to CNN (low volume) and bring up the lights slowly as my sleepy eyes adjust.
It all sounds so familiar – don't we already have this? – but really we haven't seen a good implementation for the residential market until RoomMe came along.
What we tend to see in reality is a network of indoor positioning systems that can track a user based on cellphone pings. These solutions, however, require a bunch of powerful little PCs and lots of overhead, including constant communications that can burden the network.
In the RoomMe paradigm, the "people trackers" are small, cheap, wireless pucks installed near doorways throughout the premises. These devices ("charms") communicate via Bluetooth Low Energy to nearby cellphones running the RoomMe app. That is all the charm does. It does not do any processing itself. It does not dispatch data to the cloud. It does not communicate directly with smart devices.
It simply sends a quick, secure message to a passing phone that the user has entered the parlor … or kitchen … or master bedroom … or wherever.
The app assumes the user is in that room until they pass another RoomMe charm into a different space.
"RoomMe doesn't care where you are in the room," says Intellithings founder Oren Kotlicki. "It only cares that you are in the room."
And poof, there goes the need for super-processing powers required of indoor positioning systems.
The heavy lifting happens in the user's cellphone app, which knows the room location by tracking the user's entrances and exits. The app passes the information to third-party platforms or directly to in-home devices via Bluetooth or the local network.
I might enter my bedroom at 9:30 pm, passing by a charm that pings my app, which reviews my lighting preferences on-the-fly, and commands a Bluetooth bulb in the room to turn on at 50%.
Often, all digital interactions happen just like this — locally between the app and the relevant systems/devices. In some cases, RoomMe integrates with third-party systems through cloud-to-cloud communications.
Big CEDIA News: Integration with Custom Home Controls
Intellithing's big news at CEDIA Expo is the integration of RoomMe with third-party custom home-control systems, starting with RTI, Control4, Elan and URC.
It's a first for the company, and arguably a first for the industry. Via RoomMe's API, the compatible home-automation systems can extract personal-location data from each user's app, and apply the information to schedules, scenes and other events configured for each individual's preferences.
What happens if a bunch of folks pass through a RoomMe threshold and land in the same room? But of course integrators and their clients can devise prioritization schemes for any potential scenario.
If you enjoyed this article and want to receive more valuable industry content like this, click here to sign up for our digital newsletters!