Any home located in Music City U.S.A deserves to have a great audio system. When that home is one of four 45th floor penthouses in a luxury high-rise apartment building, it's time to pull out all the stops with a whole-house audio solution that marries modern aesthetics with amazing sound. That was the thinking behind the installation of an 8-zone audio system and 7.1 surround-sound system in this 4,500-square foot penthouse show home.
Local home systems integrators, Pro AV Engineering (PAVE, LLC), along with the general contactor and interior designer will all in agreement of this "heard but barely seen" philosophy.
Small Aperture loudspeakers and a custom soundbar from James Loudspeaker provided the team with a solution that would blend into the clean, modern aesthetics of the penthouse.
Stylish square LED light fixtures had already been specified for the dwelling, so rather than clash with the Euro lighting design by installing conventional round speakers, PAVE outfitted every listening zone with more befitting James Loudspeaker Small Aperture loudspeakers.
Not only square, but tiny with a 3-inch grille, the speakers raise no visual conflict with interior design.
Another perk: Because the speakers offer full frequency response, wide dispersion and extended bass, no subwoofers were necessary in any room except for the living room where a full 7.1 surround sound system would reside.
High-Style Home Theater
For the living room-based theater, PAVE stuck with the Small Aperture speakers for the surround channels, complemented by matching Small Aperture in-ceiling subwoofer and a custom-built soundbar.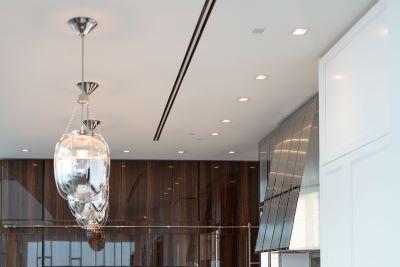 The subwoofer was mounted to the ceiling studs and is powered by a James Loudspeaker M1000 1000-watt amplifier. This DSP-calibrated amplifier, along with surround-sound receiver and other electronics, occupy a rack that's tucked into a laundry room.
Covert ControlIn keeping with the clean, uncluttered aesthetic, PAVE complemented the sub and surrounds by having James Loudspeaker custom build an LCR soundbar.
Measuring just 1.5 inches high and finished in a black matte, it matches the living room's 85-inch Sony TV.
The small form factor of the soundbar was accomplished by constructing an L-shaped aluminum enclosure, with the extended rear section of the enclosure accommodating six forward-firing 3-inch woofers and four 2-inch midrange drivers.
PAVE mounted the soundbar to the top of the display using custom brackets also designed by James Loudspeaker.
As good as the speakers in the penthouse look and sound, real enjoyment boils down to content and control. PAVE made sure to provide the speakers with both by integrating a Savant IP Audio system.
Related: Custom-made James Loudspeaker Soundbar 'Rocks' in Large Stone Wall Project
This system amplifies and distributes audio from a choice of streaming content to all eight zones based on commands issued from a Savant Pro Remote, one of six Savant 8-inch touchpanels, or the Savant control app on any iPhone or iPad.
To ensure the listening environments are comfortable, PAVE also enlisted the Savant system to supervise four zones of heating/cooling, 64 zones of lighting, 60 automated shades, an access control system.
Adapting to New Surroundings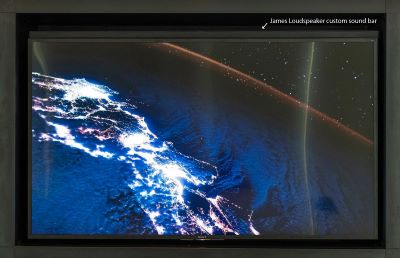 For now, the system in the show home are on par with the expectations and demands of the developer of the luxury apartment building, who by showing it to prospective buyers has produced several sales for PAVE.
Once the high-tech penthouse sells, PAVE will tailor the systems to the needs of the owners, possibly using Savant's SCM (Central Management) systems to generate monthly recurring revenue for 24/7 monitoring of the technologies.
If you enjoyed this article and want to receive more valuable industry content like this, click here to sign up for our digital newsletters!