There's a video on Linkedin showing an amazing motorized-shade install, with three triangular/trapezoidal panels moving in different directions across a bank of architectural windows. The crowd is going gaga over the project.
The man behind the magic is Dennis Lister, principal of DEL Motorized Solutions, based in Bensalem, Penn. He posted with the video: "A building in NY with architectural windows. They said it could not be done. We custom manufactured these shades with precision. A beautiful thing to see! #Lutron"
Among the follow-up comments from the gallery:
Wow! … Fantastic! … Brilliant! … Awesome
From insanity to reality! True artwork in action.
That's awesome! It definitely has me scratching my head. I've done tension shades and shades in skylights…
Engineering, skillfully & artistically done is indistinguishable from magic! How many tries did it take to get the rise time that close? Amazing effort and result, congratulations!
We promised to go behind the scenes of this particular job, and shed light on the company that makes the magic happen. Here is a back-and-forth between Lister and me.
---
The Motorized Shade Business
Explain a little bit about your unusual business model and how it can help average-sized integrators compete with more established firms?
We are both a manufacturer and a dealer/subcontractor specializing in motorized shades. The two roles complement each other.
First, as a manufacturer, DEL Motorized Solutions is a boutique specialty shade fabricator, shipping throughout the United States to the trade. In this role, we are able to obtain volume discounts from our vendors, and pass those on to our integration partners who might not get those discounts on their own.
On the other hand, if an integrator already has an account with the manufacturer, and wants to get credit for purchases, they can simply purchase their standard rectangular shades as usual, and then send them to us for customization.
In our second division, we serve as a subcontractor to the A/V and window-treatment communities in the New York and Philadelphia market.
Shades have become an integral part of most projects. I recognized the difficulties that integrators were facing with artisan products such as automated shades. In order for integrators to meet project requirements and be competitive they would need to obtain experienced salespeople, project managers, and installers.
GALLERY: 5 More Sick Shading Jobs from DEL
There are many benefits that make subcontracting the best bet for completing a project on time and on budget. Businesses often require subcontractors for assistance on large, specialized or diversified projects when they do not have the resources on hand or need additional expertise. In these instances an expert can be beneficial in terms of cost, quality and efficiency. It also helps to avoid risk by hiring a reliable firm with substantial niche experience.
Our trucks are unmarked, and our technicians wear the integrator's logo shirts in the home. We measure to the 1/16 of an inch, protect the work area, wear protective shoe coverings, vacuum while drilling to prevent airborne dust, and wash every window when complete. It is truly a white glove service backed by a lifetime labor warranty.
How long have you been doing shades and why did you standardize on Lutron?
We have been working exclusively in the window treatment industry for 35 years and more specifically in the automated shading industry for over 20 years. We have honed our skills!
We chose Lutron as our supply partner because we share a philosophy and company culture of customer first, quality, precision, and product longevity. The pride shows in every member of our team. They feel it. The clients see it.
We received an award at CEDIA in 2014 for our trapezoid shade system and were inducted into their hall of fame in 2017. It is an honor that shows commitment and dedication to our partnership.
Any new Lutron products that you can't wait to try?
We are so excited each year to see the new products Lutron launches at CEDIA. Lutron is synonymous for innovation. We are early adopters and quickly jump on board the moment a product is launched. We look at current projects to see where the new advances may improve the project technically and aesthetically.
Did you require any additional support from Lutron on this particular job?
Lutron has an amazing field team. It is one of the few companies that is a true partner.
I say humbly, this project really was business as usual for DEL.
We have been called the "Shade Whisperers," This is where we live and breathe. We love the challenge.
I can imagine you in one of those David Letterman sketches where he walks into the shop and asks if he can buy a shower door there, and you deadpan, "No sir, just shades." And then he asks where the light bulbs are, and you respond, "We don't have light bulbs, just shades." But now … now you have lights. What possessed you?
That is funny! I see a parallel between shade automation and Lutron's new Ketra LED lighting division.
Many integrators operate without bricks-and-mortar. Lutron requires a dealer to have a showroom demonstrating Ketra. We have invested heavily in solving this problem for our integration partners. DEL has opened a new Ketra Experience Center in the Philadelphia market where A/V dealers can bring their clients and immerse themselves in the Ketra.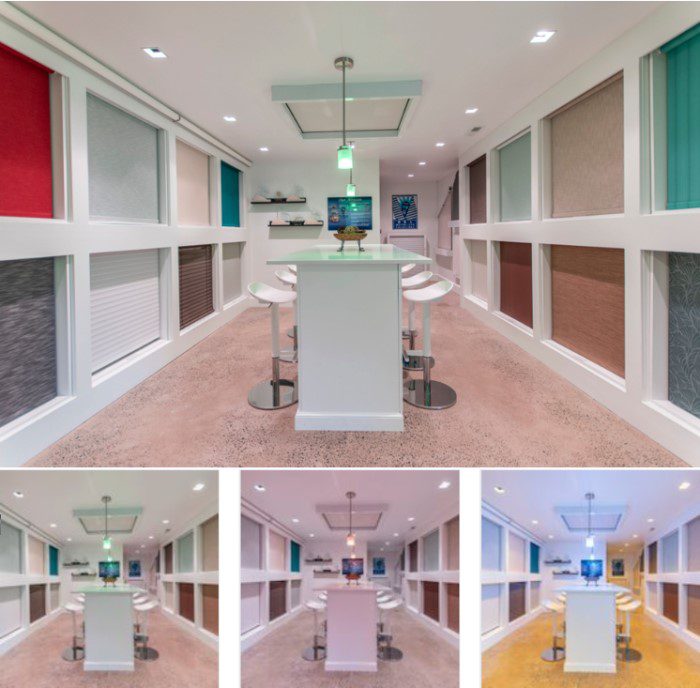 ---
The New York Condo Install
OK: How did this deal go down? Dealer pays a visit to the client, says no way, not even the mighty Dennis could pull this one off? Or you went in together or what? What was the client's directive to you?
A shade that we could not provide a solution for? Never! In all seriousness we are very conscious to the fact that although a product can be produced, it must also work and work every time. We have manufactured shades for just about every window shape and design. When we come across a unique application such as this project, we build mock-ups in our facility. The system has to perform to our standards.
This project was brought to us by a company who has their own staff for shading systems. They were stumped on how to provide a solution and were referred to us for consultation.
Privacy, temperature control and maintaining the architect's vision in design were the primary concerns of the client. The client was adamant that they did not want to lose the architectural features of the windows.
It was an existing space, right? So what was there before?
This project was an existing high-rise. We came in at time of renovation. Units in the building have rectangular draperies and shades mounted at the ceiling with large gaps or stationary panels. Certainly not a pleasing look for a high-end New York apartment.
What elements were already there?
The drywall jambs were existing. The client chose to have exposed white metal fascia to conceal the shades, blending with the modern design of the room.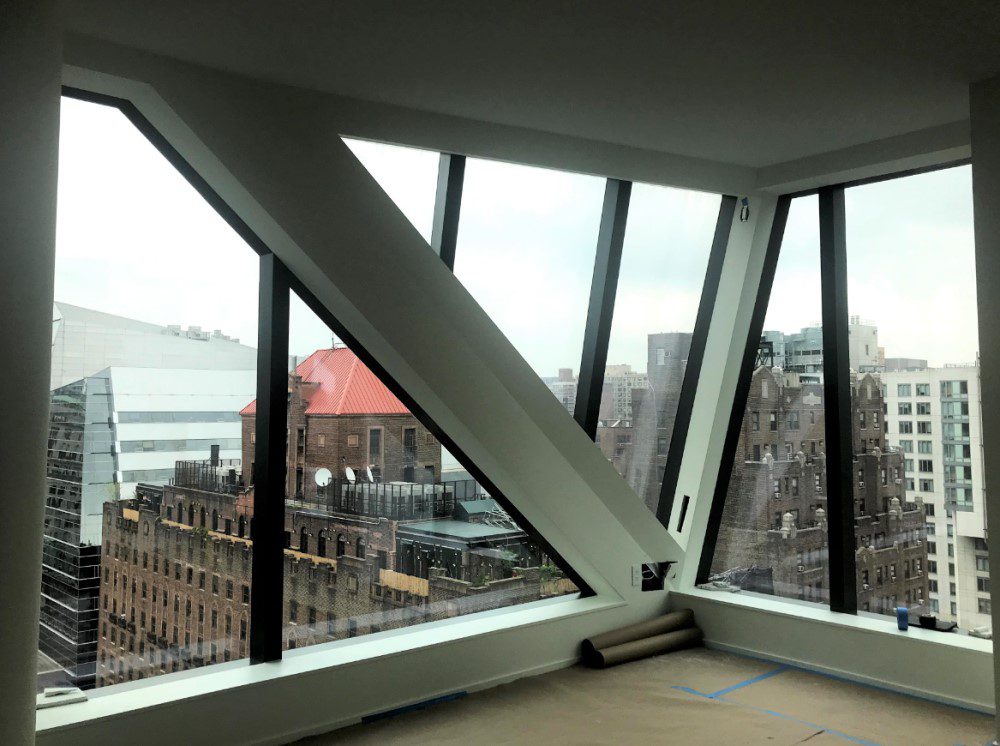 Ok, drum beat … where are the rollers hidden, where do the shades disappear to? How many yards of material were harmed in the process?
Not to worry Julie. No fabric was harmed in the process but kids please don't try what I am about to tell you at home!
The shades retract into the standard Lutron 4.75″ x 5″ pocket. The magic trick revealed is that we use a flexible stainless steel concave hembar that wraps around the tube as it opens. Thin tension cables which are barely visible are connected from the flexible hembar to a tension spring mechanism located in a small enclosure at the top.
GALLERY: More project images
Is this implementation especially susceptible to warping or any other issues?
No maintenance! In order for a system to be sustainable it must operate without maintenance. We provide a full 8 year warranty on our systems
Did the client realize it was seriously that big a deal?
The client has no idea of the amount of engineering and design that went into the project and that is the way it should be. It is our job to make the process seamless and without burden. They client is thrilled with the end result. The integrator, blown away!
What did you estimate man-hours on this going into it, and how well did you guess?
We are fortunate in that we have been fabricating these specialty shades for two decades and have perfected the system. Production labor is fairly predictable. This particular project was located in our service territory and the dealer chose to use our company to template, project manage, and install. We generally tell dealers to double their standard installation labor charges.
What is the single thing during this process that made you go: I am king of the world?
We have done thousands of specialty trapezoid angled and radius arched shades that fully retract. Most of our products are shipped to dealers throughout the country. Although every shade is fully bench tested on our shade wall in our factory, we rarely get to see the finished system in motion in the finished space. Seeing this video … YES "King of the SHADE World"!
How many times have you watched the video? I'm up to about 10 already.
Ha! I had to recharge my phone twice already today. I am so proud of my team and the products we produce. It truly has the "Wow" factor.
On a scale of 1-10, with 10 being the sickest shade job you've ever done, and 1 being the most mundane, where did this rank?
This project definitely ranked within the top 12 projects we have done to date but is the slickest we have done this year!
*Maybe it didn't break the Internet, but I did notice a slowdown about that time.
post
If you enjoyed this article and want to receive more valuable industry content like this, click here to sign up for our digital newsletters!