When lighting a room, a single downlight over a table or couch may provide enough light for a given task, such as reading or writing, but you may notice something off. Leaning in to read the book, you might cast a shadow over the page, or you might notice a distracting glare on the tabletop. The amount of light can be adequate, but shadows and glare can ruin it, requiring a careful touch to help reduce them.
This is exceptionally important because, given the geometry of the human eye, we will also have placed a light fixture in the most offensive part of our retina, a glare zone that causes eyestrain and fatigue even when we do not consciously notice.
Reducing Glare and Shadows in Lighting
So what can integrators do to help reduce shadows and glare in their lighting systems?
Say, perhaps, two fixtures are used instead of one, allowing overlapping beams to help mitigate shadowing on the magazine or work. This reduces the amount of glare, but the fixtures are still in the glare zone of the eye and will not be comfortable for extended periods of time. 
Nudging the fixtures behind the shoulders of the individual and aiming them back at the work surface can trim down a bit of the glare. This must be done carefully to minimize shadows from our bodies but can be much more comfortable.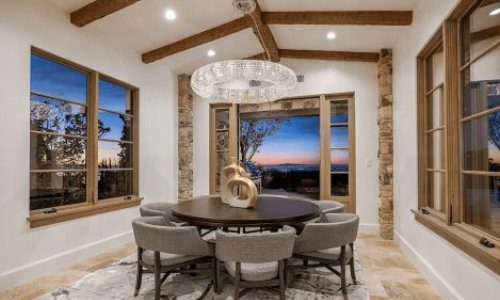 As a custom integrator, lighting is in demand. Effective communication, education and showcasing the value proposition of LED light fixtures in conjunction with integrative control systems are the keys to overcoming challenges and closing sales in this specialized market. Join us as we discuss the future of digital lighting and control with David Warfel from Light Can Help You and Patrick Laidlaw and Mark Moody from AiSPIRE.
Register Now! 
This is how I like to approach lighting a bathtub that is used for soaking and reading. This geometry works so long as the person will sit in only one place (like a tub), but anywhere there is flexibility this idea can break down.
An even better approach is to bring the light source down below our eye level. In this case, shielded desk lamps push useable light to the page allowing the reader to comfortably see what they hold in their hands. Overlapping beams reduce shadows, and the flexibility of lamps makes for easy adjustment as tasks, needs, or users change.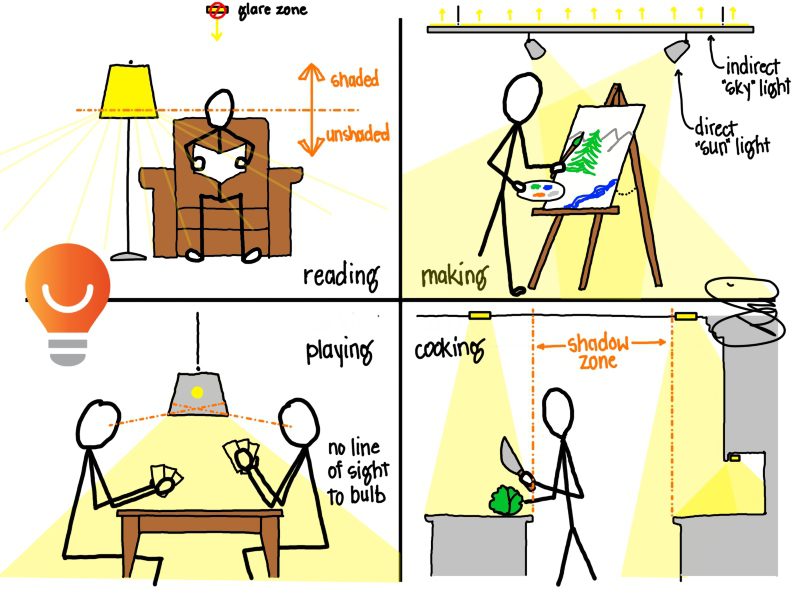 These examples are simply one way to create better lighting. The key is to think about the light source in relation to our eyes. Keep it behind or below your eyes. Overlap the beams to counteract shadowing. That's it, really.
We do not always have the luxury of using desk lamps; in some places it simply is not practical or functional. The kitchen counter needs to remain free of obstructions, though I have seen folks use lamps when no other option is available. Floor lamps can be behind our eyes, just over our shoulders, and the shades can shield the bulbs from our direct view. 
Playing a game requires light on the cards; a pendant over the table can be hung so as to not obstruct our view of each other but to block our view of the bulb itself. And artists and craftspeople need good light that won't get in their way, and that usually means from above. Bouncing light off the ceiling can help diffuse shadows, and strong light from either side can push light where needed most.
Light can help us see what we are doing so we can do it better if we keep it behind or below our eyes and overlap the beams to counteract shadowing.
David Warfel is Chief Evangelist of Light at design firm Light Can Help You (lightcanhelpyou.com). 
If you enjoyed this article and want to receive more valuable industry content like this, click here to sign up for our digital newsletters!