There are five promises of light that are end benefits of better illumination — light can help us do better, know more, feel better, focus clearly, and change easily. They are the why of what we do as lighting professionals. But each promise might also have a subtitle or new phrase — light for something can help you do better, know more, feel better, focus clearly, and change easily. In the case of the first promise, and as a nice kickoff to my regular contributions in CE Pro, let's discuss how light for your hands (also referred to as task lighting) can help you do better.
What is Task Lighting?
I like to call task lighting light for your hands because it tells us more of the what along with the why. Clients may want to complete tasks with more ease, more safety, more comfort, more efficiency, or higher quality. Think about folding laundry, chopping vegetables, packing a bookbag, reading, crafting, and so on. We need light, but it must be in the proper place.
Sadly, this is not what most people have. In many cases, we have light that helps us get headaches, feel uncomfortable, makes us squint, and causes irises and pupils to work overtime.
Homes are full of fixtures up high, near the ceiling, where our hands are not performing their tasks. No one chops a tomato on the ceiling. No one crafts above their head.
Most light is, quite simply, in the wrong place, of the wrong kind, or both. Light can help us see what we are doing so we can do it better, but that means we must have good light for our hands. This must be the strongest light in a room, perhaps brightest. It may come from the ceiling, but many options for better hands lighting come from elsewhere like a wall or lamp.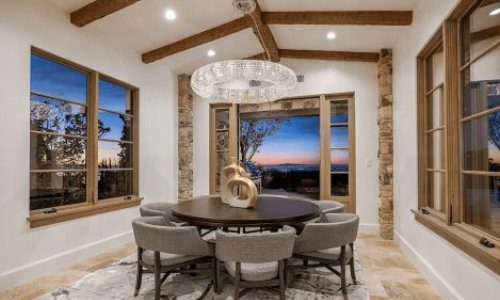 As a custom integrator, lighting is in demand. Effective communication, education and showcasing the value proposition of LED light fixtures in conjunction with integrative control systems are the keys to overcoming challenges and closing sales in this specialized market. Join us as we discuss the future of digital lighting and control with David Warfel from Light Can Help You and Patrick Laidlaw and Mark Moody from AiSPIRE.
Register Now! 
'Handy Lighting' Tells You Where the Fixtures Need to Be
Getting the light down low, closer to our hands, has several benefits. First, it provides stronger light where it is needed.
Second, lowering the light source will help reduce glare. Even recessed downlights — the workhorse of the well-designed kitchen — may cause glare or eyestrain.
Finally, light down low can come from a variety of sources, making it possible to achieve more for less through strategic use of lamps and task lights.
Most homes feature lighting that puts the best light on the ceiling, floor, or in our faces. We concentrate on downlight spacing instead of thinking about what we need the light for, like our hands.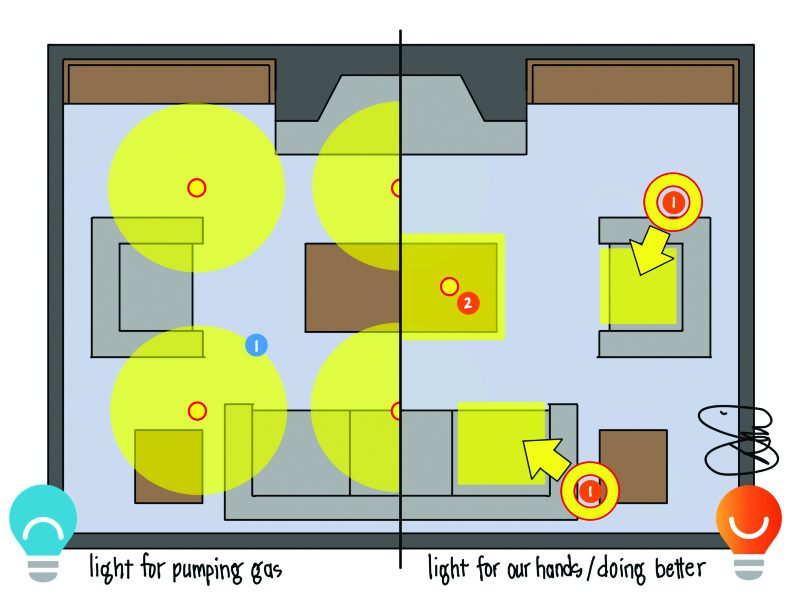 That means we might end up with light that causes subconscious discomfort (we are biologically constructed to dislike light from above; note how our eyes are sunken underneath a shelf and eyebrows to block overhead light). 
This gridded layout may be acceptable for gas station pumps, but is it what clients need at home? In the simple diagram of a living room on this page, light for our hands should be in the middle of each seat for reading and knitting, and on the coffee table for board games and snacks.
This might come from a recessed downlight over the coffee table, but lamps can be better for reading and crafting. The lighting plan is completely different, but much more effective.
Strong, shadow-free light on a kitchen counter is ideal for cooking. Strong, low-angled light is ideal for reading or drawing. Each task, each function, has its own best light. But it will almost always be where our hands are.
More Lighting Tips to Come!
Of course, this light is only one of five or six layers, or gifts of light, that make a complete environment. Some layers might come from the same fixture, but often we will utilize different fixtures to do different things. We'll learn more as we go here in CE Pro, so stay tuned for more illuminating tips.
David Warfel is Chief Evangelist of Light at design firm Light Can Help You (lightcanhelpyou.com).
If you enjoyed this article and want to receive more valuable industry content like this, click here to sign up for our digital newsletters!