Buying Group ProSource Features Colorbeam in Lighting Center
ProSource's Lighting Technology and Learning Center in Dallas will now feature Colorbeam's product lineup, including the company's next-generation modular luminaires.
Press Release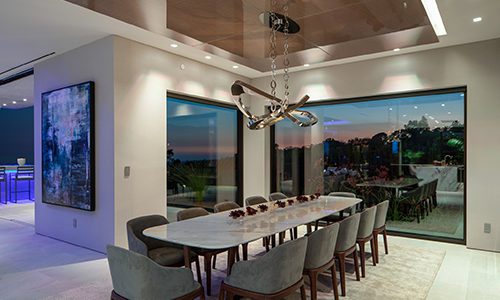 ProSource, a national audio, video, and integration buying group, has announced that it will feature vendor partner Colorbeam at its Lighting Technology and Learning Center in the Dallas Market Center, which is set to open during the first quarter of 2021.
Colorbeam's complete portfolio of RGBW recessed fixtures, tape and accent lighting, and outdoor landscape lighting products help to create a desired lighting effect in any environment. The company provides flicker-free dimming curves; control simplicity, and compatibility with lighting control from third-party manufacturers.
The brand's products provide tunability ranging from 1800K to 6500K, and Colorbeam's Lighting technologies are designed to deliver unlimited scenes and mood settings based on application or time of day.
Colorbeam's product lineup includes the GATEway lighting processor that drives industry-leading human-centric and wellness lighting applications. It is suitable for the AV integration market as well as the specifier market.
"Colorbeam Lighting continues to innovate and lead the industry in its transition to low-voltage architectural lighting," says Mike Teolis, president and Co-Founder of Colorbeam.
"We are committed to providing our partners in the CEDIA channel the most comprehensive business opportunity in the lighting category. Colorbeam's Tunability, Wellness, RGBW and Control technologies offer integrators the unique ability to enhance the lighting experience in a variety of indoor and outdoor spaces, which delivers tremendous value to our mutual customers. We look forward to the continued growth in the lighting category with our ProSource partners."
Colorbeam's lighting selection includes:
Tunable Bi-White LED Tape: Designed for human-centric lighting
RGB LED Tape: Supports dynamic lighting scenes throughout any space
Skylight Panels: These products recreate sunlight in closed spaces like malls and underground offices
Exterior Linear Wallwasher: Accentuates outdoor and indoor spaces
Venus Recessed Trimless Tunable Luminaires: Used in commercial and residential spaces
Inground Lights: Applicable for driveway and patio illumination
Step Light: Applications include stairs, corridors, cabinets and closets
In addition to the products and applications that Colorbeam will be demonstrating immediately within the Center, the next-generation modular luminaires will be added shortly thereafter notes ProSource.
"Colorbeam's Venus fixture practically disappears into the Experience Center ceiling, but the tunability and color-changing capabilities of their product line will be hard to miss," adds David Warfel, chief evangelist, light Can Help You.
"Mike Teolis and Maurizio Gaudio, CTO and co-founder of Colorbeam, patiently walked us through their extensive line of downlights so we could get it just right, and we're going to show some new product that isn't on the street yet, including their second-generation GATEway. Colorbeam has surprisingly affordable options for circadian lighting that we have in our regular lineup, and it is great to showcase them in the center."