Providing food for thought for many levels of business, the ProSource 2020 seminar schedule focused on helping dealers market themselves on social media and to develop sales techniques that appeal to peoples' emotions.
Presentations from Jen Herman, a social media expert, as well as Bryan Gray, CEO of Revenue Path Group made presentations on marketing and sales respectively.
Focusing on new revenue opportunities for its members, David Warfel, a lighting designer, educator and author, spoke to dealers on how they can capitalize on the surging lighting category by utilizing the resources provided by ProSource.
Taking a quick look at the ProSource 2020 seminars, here is an overview of Herman, Gray and Warfel's ProSource presentations:
How to Succeed at Social Media Marketing
Opening her seminar strongly Herman stressed attendees to, "stop selling all the time."
In this updated Wage & Salary Report, you'll find out results for salaried occupational categories broken down by 14 regions of the U.S. & Canada. Uncover valuable information about where your company stacks up when it comes to paying your important people by
downloading your free copy today!
Following up on her statement, she continued by saying to dealers to avoid sales verbiage and to provide consumer education. "Less is more … don't post mediocre content; keep it positive," she says.
Herman's advice to dealers using platforms such as Facebook, Instagram, Twitter and other services is to tell stories. Those stories can include topics such as brand stories, personal stories, customer stories and current events.
According to Herman, some of the best content that integrators can use is customer-generated stories. This type of content she says can be helpful as long as it aligns with a dealer's brand identity.
Moving on to her next presentation, "Marketing to Generations," Herman emphasized to integrators the message doesn't have to change, it's just the context the content is presented to the various generations that has to change.
Her advice to the audience is to first find out their customers' ages, gender, family status, income, interests and how they use social media.
Herman points out that consumers follow brands because they like the brand; they want to learn more about brand promotions, they want to provide brand feedback and they want to learn brand news.
Going on, she noted that people will unfollow a brand because it conducts too much self- promotion; its content is boring; the brand gets too many negative reviews; the brand provides poor customer service and it delivers too many automated responses.
She wrapped up her seminars by reemphasizing that dealers need to understand their demographics. Knowing those demographics are key.
Once those consumer demographics are determined she outlined how to best reach those individual consumer groups. When communicating with boomers she said it is important to use complete sentences with proper grammar and punctuation.
Gen X marketing can be more conversational, and she added that when addressing Millennials, it is O.K. to use language that is more playful with emojis for example.
Here are Herman's generational profiles:
Baby Boomers:
Born between 1946 and 1964
Was previously the largest spending demographic
Today this demographic are grandparents that have retired, or they are about to retire
They typically are cautious with their online activities and they typically shop in person in stores
Boomers prefer to use Facebook and LinkedIn
Generation X
Born 1965 to 1980
Often neglected by marketing
Parents, largely divorced, executives, career transient
Gen X'ers are cynical, and comfortable shopping online or in person in stores
Prefers Facebook, Twitter and women use Pinterest
Millennials
Now the most important financial demographic
Parents, renters, managers, business owners and transient
Research savvy, seeks instant gratification; shops online and digital literate
Prefers to use Instagram, Snapchat and Facebook (for family)
Win the Brain, Win the Opportunity
Helping dealers to improve their sales techniques, ProSource partnered with Bryan Gray, CEO of Revenue Path Group. According to ProSource, Gray is an expert on organizational excellence and project management.
Working on the premise that integrators need to tap into the human emotional side of consumers' decision-making processes, Gray stressed the importance of relating system sales to peoples' daily activities and lifestyles.
Reiterating comments made by Dave Workman, CEO and president of ProSource, Gray told an audience full of professional integrators that he expects future business growth to be accomplished through increasing market share.
As part of his sales presentation, Gray pointed out that as many as 70% of consumers have done their research prior to meeting with a dealer. Gray stated that if dealers don't sell in the right way—meaning they don't get caught up in pricing wars, which is a race to the bottom—dealers must ready to adapt to constant change.
"We need to appeal to the dumbest part of the brain," he emphasized.
Elaborating on that statement, Gray said there are two parts of the brain consumers use: The logical part of their brain, the neocortex, and the decision-making part of their brain the limbic.
It is imperative Gray says for integrators to appeal to their clients' limbic part of the brain. This eliminates the application of logic and it will enable integrators to get involved in the sales process at an early stage, which he says is more advantageous to dealers.
In order to accomplish this, he continued he recommended that dealers listen to their clients in order to find out their wants and needs. He stressed that dealers should not talk about themselves or get caught up in industry jargon when meeting with clients.
"Remove yourself from the technology. The technology is the commodity," commented Gray.
"To grow market share you have to take business from your competition and unseat incumbents."
Circling back to his earlier point about the two parts of the brain, Gray said when dealers talk to clients they need to keep their clients' brains awake.
"The limbic part, the emotional part of the brain makes decisions," he stated.
"The Neocortex rationalizes those decisions. It uses logic. Tap into issues that interest them—kids, [the ability] to show off [their egos]. Don't create confusion. The limbic part of the brain cares about pain, fears and threats."
Simplifying his points Gray went on to say that dealers should not make it hard for clients to choose their services.
"Most people sell logically, but buying is done at limbic level," he reiterated.
"Are your prospects listening to you? Everything is noise unless it is a priority."
Gray concluded his 90-minute sales advice session by underscoring three points: Engagement, attention and priority.
"Remember the brain is lazy, you have to pull the brain through the pain, establish the threat and provide enteral lift."
The CI Light Switch
David Warfel, a lighting design expert and ProSource's chief evangelist of light, led a discussion that will help dealers expand their market share through the adoption of new categories.
ProSource through Warfel's leadership is committing to helping its members bolster their revenues through lighting, and the company has partnered with manufacturers that include WAC Lighting, American Lighting, Colorbeam, Control4 and Savant.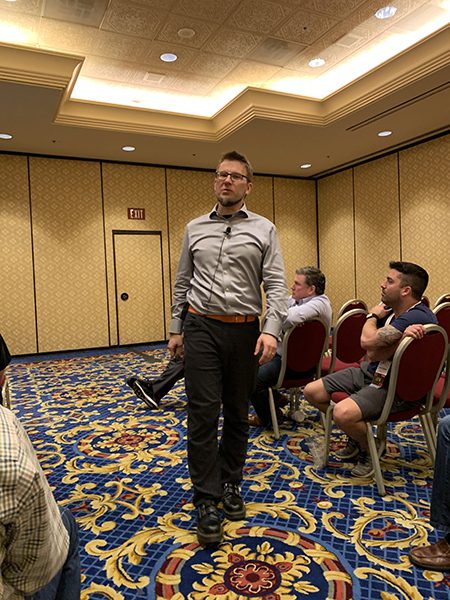 During his presentation, Warfel stated the lighting industry represents a huge opportunity for integrators and he estimates the category represents anywhere from a $20 billion to $44 billion annual market.
Pointing out the success of members such as Fusion Audio & Video, which entered the category 18 months ago Warfel said the South Carolina-based integration firm grew its lighting business quickly with help from ProSource.
Explaining the buying group's efforts to provide comprehensive training, Warfel outlined ProSource's Lighting Technician Certification training program.
The training will provide participating dealers with hands-on lighting training with product information, sales education and continuing education materials. The training begins in July and it will be available in Fort Lauderdale, Fla, Phoenix Ariz., Dallas, Texas and Philadelphia, Penn., via ProSource's four-stop educational tour.
ProSource adds that a newly constructed "rolling" training center type of house will serve as backdrop to the training, and the training will be limited to 100 people for the time being.