Savant is looking to help integrators fill their post-coronavirus sales pipelines with a multi-pronged marketing campaign direct to hundreds of thousands of consumers.
The three-part digital message, which started on May 6, educates consumers on the valuable role integrators play as essential workers during the coronavirus lockdown. The outreach campaign will also inform consumers on how integration companies can remotely assist them using cloud-infrastructure access. Lastly, Savant notifies consumers that a portion of the proceeds from the sale of the company's new Pro Remote X2 will be donated to a COVID-19 Relief Fund.
As a follow-up to that direct-to-consumer outreach, the Hyannis, Mass.-based company has partnered with marketing firm One Firefly to help create an additional three-part email campaign that integration companies can send out directly to their existing clients to introduce upgrade ideas. The campaign, which Savant is funding, will focus on the X2 remote, the Savant App, and the ability to create scenes with Savant. Integrators will be able to brand the campaign with their own company name, logo, etc.
"To initiate the campaign, dealers need to simply visit the Savant portal. All the links are there," says JC Murphy, president. "This campaign has been unanimously accepted by the dealers we have discussed it with. We are not tone deaf to the situation many integrators are facing and we want to help them, while also supporting those hurt by COVID-19."
The company has also created a WebEx for dealers instructing them on best practices for sending out the email campaign to their clients.

Total Tech Summit is where the integration industry elite gather. It's your chance to build rock solid industry connections to grow your firm and advance your career. We invite you to apply today for a free trip to join us in Orlando October 26-28, 2022.
Apply now!
Savant Pro Remote X2 Debuts
The new handheld Pro Remote X2 delivers a full range of control for Services and Scenes, including entertainment, lighting, climate, shades and more. The remote has Siri voice control, color control, with Savant TrueImage lighting, plus the ability to select different video tiling layouts right from the screen.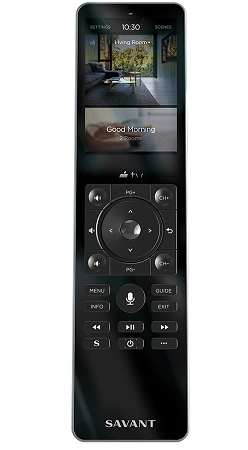 The X2 also empowers users to personalize the smart remote experience, including adding and organizing icons for control of Favorite Services, Favorite Channels and Savant Scenes. The X2 remote can be tailored for the functionality to the room or to the individual user. The remote is also designed to provide users with quick access to the all-new Savant Home App for Apple TV.
The X2 features an all-aluminum chassis, sleek, backlit buttons and a 3.1-inch high-resolution glass touchscreen. It is available in three finishes: Space Gray, Rose Gold and Jet Black. It is set to ship in summer.
"The all-new Savant X2 takes functionality and personalization to another level," explains Murphy. "Adding the choice of premium finishes on top of the convenience of programmable hard buttons and a configurable touch screen make the Savant remote a truly personal experience for each user."