Amazon Adds $4.99/Month Alexa Guard Plus Security Monitoring Service
Amazon Alexa Guard Plus is $49 per year alarm monitoring service. Amazon also adds free Energy Dashboard service.
Amazon is disrupting the status quo once again, this time in the security and smart home businesses with several new services. It announced it has jumped into the security monitoring business with its new $4.99 per month or $49 per year Guard Plus service via Alexa Guard, and the company is launching its new free Energy Dashboard service that gives users details of the electrical usage by individual devices and systems in their home.
These new Alexa features are designed to help customers keep their homes safe, energy efficient, and better understand the energy consumption of their smart home devices.
Amazon Alexa Guard Plus Subscription Service
Alexa Guard already is in place in millions of customers' homes and the new Amazon Alexa Guard Plus subscription offer extends the features of Alexa Guard by giving customers hands-free access to an Emergency Helpline, Smart Alerts about activity and other potential emergencies in their home while their away, and new features to deter potential intruders.
For example, using Amazon Alexa Guard Plus homeowners can ask Alexa to connect them hands-free to trained agents at an Emergency Helpline 24/7 where they can request the dispatch of medical, fire, or police assistance.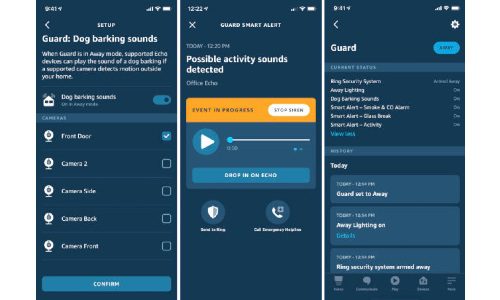 With Amazon Alexa Guard Plus, Alexa can also detect and alert the homeowners about sounds of activity in the home while they are away and sound a siren from Echo devices. Further, Alexa can deter potential intruders by playing the sounds of dogs barking from Echo devices in the home if motion is detected by supported outdoor-facing smart home cameras.
Customers in the U.S. can sign up for a free one-month trial, or subscribe to the service for $4.99 a month or $49 a year.
Amazon Energy Dashboard
Energy Dashboard is an Alexa feature that can help customers monitor and understand the energy consumption of compatible Alexa-connected smart home devices. Using the Alexa app, customers can see the energy consumed by certain smart home devices from a variety of manufacturers, including lights, plugs, switches, water heaters, thermostats and TVs. Customers are also able to see daily, weekly and monthly trends.
Alexa Proactive Hunches
According to the company, Alexa has helped millions of customers with hunches so they don't forget things like locking the front door at night, or turning off the light in the basement. Now, customers can choose to have Alexa proactively act on her hunches without having to ask. For example, Alexa can automatically adjust the thermostat, turn down the water heater, or turn on your robot vacuum while you're away from home.
Last year, Amazon added a new "Alexa for Residential" service that targets apartment dwellers with smart home functionality.