Google Home Hub and successor Google Nest Hub Max aren't meant to work like smart phones – where users can download apps willy nilly and personalize their smart-display experiences.
No, the Hubs are meant to closely contain the options for media, communications and home control in simple silos that don't befuddle everyday users or tax the tech-support team.
So it feels a little naughty that developers at Home Assistant, the open-source platform for home automation, would allow users to insert their own smart-home dashboards into the Google/Nest displays.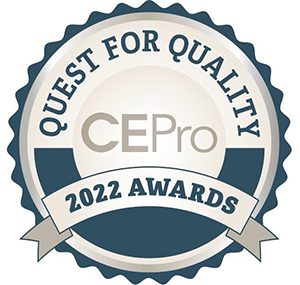 CE Pro urges integrators to recognize their suppliers that go above and beyond to deliver premium support and service. Cast your vote today to recognize the services (not the products) from your favorite manufacturers and distributors.
Cast your vote today!
Who doesn't love a little naughty? At CEDIA Expo 2019, Home Assistant demonstrated how a user's personalized home-automation interface could be "cast" to a Google/Nest display through the Hubs' built-in Chromecast service.
And why not?
Google beckons: "Stream thousands of apps from your phone to your Hub Max with built-in Cast functionality. Just open the Chromecast-enabled app on your phone and tap the Cast button."
In Home Assistant's case, the "Chromecast-enabled app" isn't a music or video service but a home-automation GUI that gets cast to the screen for viewing and controlling a smart home system by touch – pressing buttons, scrolling virtual wheels, and moving sliders across the screen as if it were a smart phone running the native Home Assistant software.
Home Assistant founder Paulus Schoutsen concedes that "Chromecast is really meant to just show things, not interact."
But what's a die-hard software tweaker to do?
Schoutsen says Google is aware of Home Assistant's relatively harmless Chromecast shenanigans, but as we know Google can kibosh the activity if it wants.
He wrote in August on the company blog:
There is no guarantee that touch controls will keep working. It might be blocked. It might stop this week, next month, next year, or it keeps working forever.

I hope that by releasing it with touch controls enabled, we can show Google that this is something that people want, and are willing to invest in for just this reason.

To make sure everyone sees it, I encourage people to share photos and videos of Home Assistant Cast in action on Twitter, Facebook, YouTube and other social media with the hashtag #homeassistantcast. Let's share the love!

HOME ASSISTANT BLOG, AUGUST 2019
New Cloud Service Extends Smart-Home Access
CEDIA 2019 was the first time Home Assistant actively courted the professional home-technology channel, where integrators are much more likely to deploy tidy smart-home systems like Control4, Savant, Elan and Crestron than loosey-goosey open-source code massaged by a community of enthusiasts.
As we wrote earlier, however, the collaborative efforts of a home-automation mob can produce some pretty sweet results that you probably wouldn't get from a group of like-minded developers in the engineering department of a single company.
Home Assistant made the prospects a little more attractive to smart-home pros – and other more regimented technical types – about eight months ago when it launched a cloud-based service that simplifies remote access and control for Home Assistant-based automation systems.
RELATED: These Three Home Automation Sleepers Could Steal CEDIA Expo 2019
Savvy IT types could always tunnel into a Home Assistant system remotely if they had the gumption and the proper bits and pieces. But for everyone else, the platform was limited to local control.
The new cloud service makes remote access simple for anyone willing to pay $5 per month for hosting costs.
The Home Assistant team is now plowing ahead, with three full-time developers supplementing the company's community of volunteer coders.