CES 2023 is a wrap, and since I was unable to attend, I've been chewing through the news instead. Unsurprisingly, anything to do with smarter home energy seems to be garnering some considerable attention. Take Schneider Electric's news on its intelligent energy management solution, or Samsung's showcase of SmartThings. Of course, there's only so much that can often be covered, and in this regard, I feel as though the Terra Home EV charger from ABB E-mobility has flown under the radar.
The design-forward EV charger has been compared to looking like a Mac Mini, but its appearances go beyond sleek aesthetics. While many EV chargers already sport sleek, modern designs, the Terra Home offers three finish options between glossy white, glossy black and wood grain—perfect for the popular and ever-increasing organic influence finding its way into home designs.
The point of this, as stated by the company, is to give the device some flexibility when added to exterior (or interior) designs. However, behind the stylish appearance, the charger has some powerful functions that make the former aspect gravy for the meal.
Intelligent features such as Plug N Charge enable instant and automatic recognition between car and Terra Home. An LED light strip that frames the device is used to indicate the charge status of the vehicle in person while notifications can be pushed to phones through the ABB E-mobility charger app. The app can even be used to set up authentications for charges, ensuring only the homeowner can connect to the home device.
The Terra Home also connects directly to the cloud, allowing maintenance teams to respond quickly and efficiently remotely while adding easy firmware updates for 'future-proof service,' according to ABB.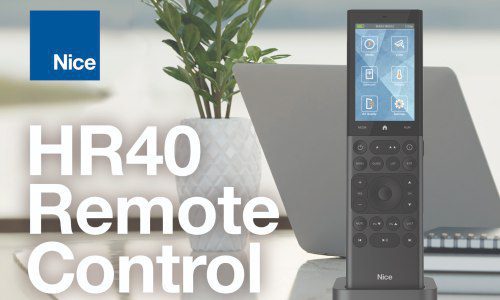 Remote controls continue to evolve at a rapid pace. The days of integrators providing remote controls simply for the TV have migrated to full home automation control of lights, shades, security, HVAC and audio/video in a single form factor. Join this free one-hour CE Pro webinar to hear from a panel of experts who will delve into finding the right remote that can effectively control all the subsystems in a home and empower consumers to customize the solution, while at the same time allowing integrators balance their service requirements.
Register Now! 
86% of Consumers State Intent on Reducing Travel Emissions in the Coming Year
To commemorate the release of the Terra Home, ABB had also conducted a survey regarding the top priorities of drivers entering 2023 and beyond. In it, 90% of respondents stated that they felt a personal responsibility to make choices to help protect the planet for future generations. Meanwhile, 86% stated they will be taking direct action to reduce travel emissions in 2023.
Among those options, switching to an electric vehicle ranked as one of the top decisions.
It is predicted that by 2040, between 340 and 490 million chargers will be needed globally to accommodate EV charging. It is also predicted that this figure will be dominated by home chargers, representing 82% of all installations. At the very least, it is expected that this year alone, 16% of non-EV owners will be looking into purchasing EVs.
It's a future many manufacturers seem keen on preparing for within the industry, with Terra Home joining a long list of home chargers before it. As mentioned at the top of the article Schneider Electric released its own EV charger as part of its larger energy management solution at CES. Meanwhile other prominent home automation and home appliance companies like Savant and LG announced their own EV chargers within the past year.
What's curious here is that the push may not even be entirely made by those seeking sustainable driving options (though that seems to certainly be a major deciding factor). As hinted at in a discussion during CEDIA Expo 2022, many consumers are interested in luxury, high-performance EVs as well.
The Terra Home EV charger will launch later this year, and with it may come interest from that crowd of consumers, where beyond fuel savings and sustainability incentives, they also want to ensure that their EV blends in well with their lifestyle.
This article has been updated as of 01/17/23 to ensure the validity of information provided.