Vehicular entertainment has become significantly more advanced than it once was. Harman has had a long-standing relationship with car manufacturers, Meridian is getting into it as well, and even Dolby Atmos has its processing power embedded in some cars now. But even that doesn't compare to news from AEHRA, which has just released images of its forthcoming all-electric, ultra-premium AEHRA SUV which many are calling a 'Home Theater on Wheels.'
An Italian American company, AEHRA is new to the car scene as a luxury automotive brand and up until now has been substantially self-funded. Prior to founding the company, AEHRA Co-Founder and CEO Hazim Nada and COO, Sandro Andreotti, the pair founded Aero Gravity in Milan, Europe's largest indoor vertical wind tunnel, with Andreotti being a former pilot and skydiver.
Now, while it may not compare to some of the home theaters featured on CE Pro, it is certainly an impressive set-up to see in a vehicle. The car comes with a full-dashboard-width HMI (Human Machine Interface), which can display exterior conditions while also being usable for a full-screen movie experience. The interior is also configurable with 'home theater,' 'home office,' and 'lounge' settings.
The company has even stated that the inclusion of such an impressive piece of hardware has helped to shape the overall design of the car as a result. In traditional vehicle layouts the interior dimensions do not allow the front row passengers to operate such a flexible and expansive HMI screen because it would sit too close to their eyes.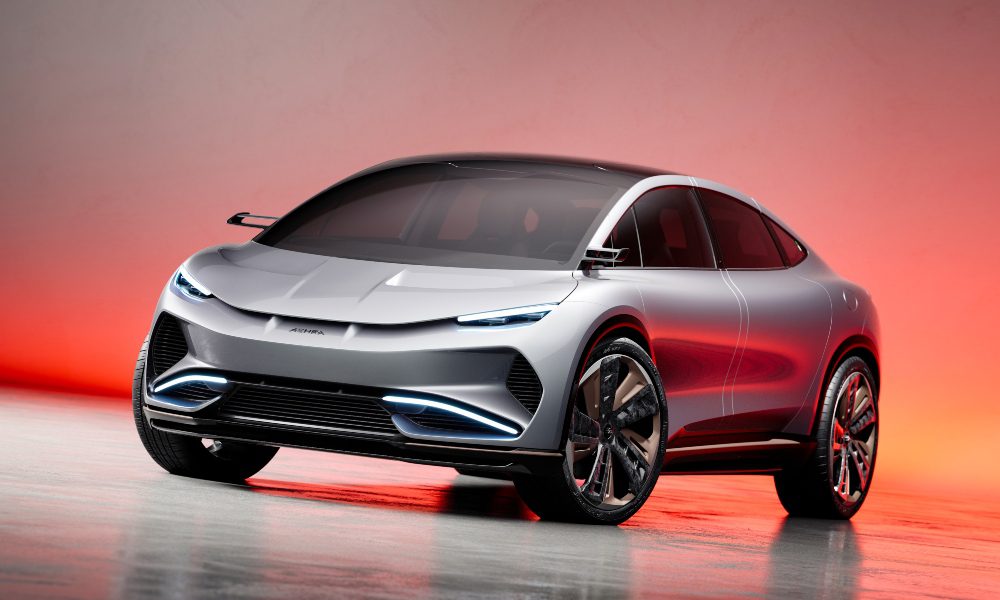 The AEHRA Wraps a Home Theater, Home Office and SUV into One
While driving, the HMI will sit at a lower position, displaying data such as heating, ventilation and navigation. The two outer areas of the screen will also serve as virtual representations of the sideview mirrors, fed by two exterior side cameras.When the vehicle is parked, however, the screen can then be extended upwards, instantly transforming the AEHRA into a home theater or home office environment.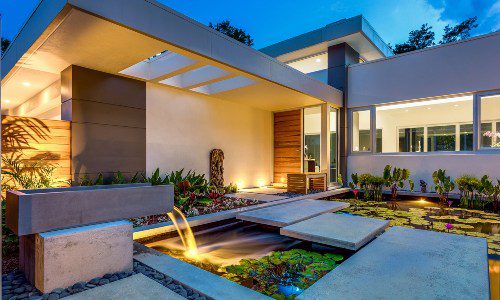 Landscape and architectural lighting create a magical and elegant ambiance for homeowners. The outdoor lighting industry has always been a phenomenal one and continues to grow in popularity. Now is the ideal time to learn more about this rapidly growing and highly profitable industry. Join our panel of esteemed lighting experts that will dive into why it's time for integrators to rethink their role in the outdoor lighting industry.
Register Now! 
"From the outset, the AEHRA SUV, and the Saloon that we will unveil early next year, were designed as true products of the digital age to reflect and accommodate our customers' modern and busy lifestyles," explains AEHRA Chief Design Officer Fillippo Perini.
"With the screen fully extended, the occupants can relax and enjoy a movie, perhaps when the car is charging or when a parent is waiting to pick up a child from school or a party. And for those who have work to do, the screen and the spacious interior afford the perfect solution for video conference calls. Instead of staring at your smartphone or laptop, you can sit back and not only see all the participants on the call in perfect high-definition clarity, but also listen to them with crystal-clear, pitch-perfect audio quality."
To help with controls, a secondary, smaller oblong-shaped touchscreen will be mounted in the center of the hand-stitched leather dashboard. Located between the driver and the passenger, it will enable both front-seat occupants to control many of the vehicle's functions such as navigation, heating and ventilation and entertainment.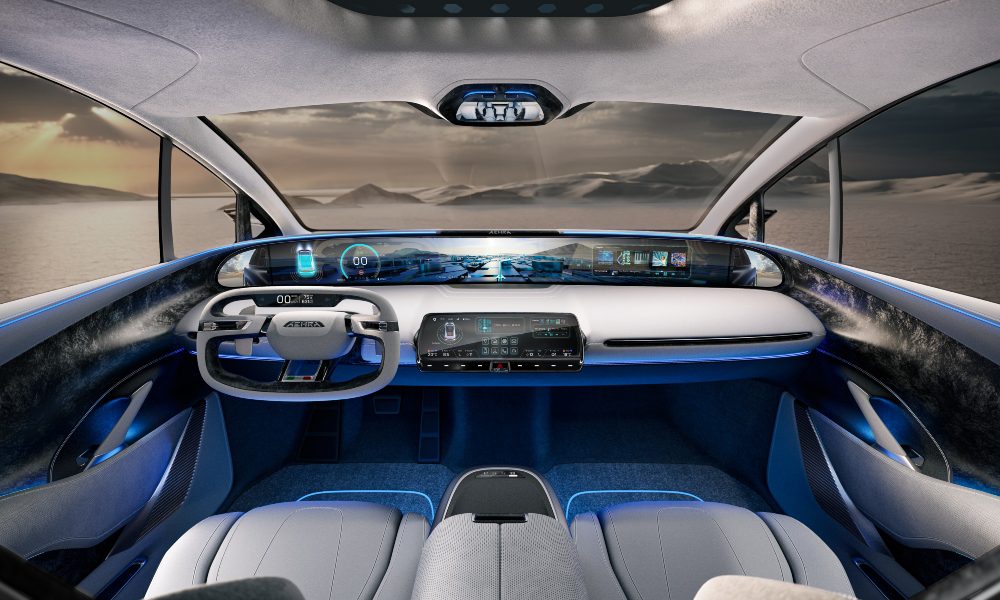 Inspired by Aeronautics for Grounded Comfort
What's a good theater experience without good seating, though? Aesthetically, the seats mirror bespoke items for supercars, however, the company notes they also take considerable inspiration from the aerospace industry. The low-weight, high-strength construction and optimum comfort levels were crafted specifically to create the most enjoyable seating experience whether one is driving or reclining.
Constructed from aluminum, recyclable carbon fiber composite and leather, the seats provide a level of comfort normally the exclusive preserve of passengers traveling in first-class aircraft accommodation. This is even more evident for those sitting in the rear of the cabin. There, thanks to the exceptionally generous legroom, passengers can recline their seats, and with the AEHRA SUV's relaxing ride and ultra-low noise levels, catch up on some sleep during the journey, should they wish.
Other known features of forthcoming SUV include a three-meter wheelbase, five- and four-seating options, a multi-functional steering wheel, and completely flat interior flooring. The AEHRA is expected to ship in late 2025 to American markets. There is also a Sedan the company will be revealing more information on in April 2023.
If you enjoyed this article and want to receive more valuable industry content like this, click here to sign up for our digital newsletters!