Making a major commitment to the custom installation market, the large, low-voltage lighting manufacturer Colorbeam, has announced the hiring of long-time market veteran Dave Donald.
Donald will serve the global lighting company as its new director of business development, U.S., and Colorbeam states that it looks forward to leveraging Donald's market experience to grow its custom installation business.
Donald's tenure in the custom electronics industry goes all the way back to 1985 as the national sales manager for Sonance. His experience includes stints with Triad, SpeakerCraft, Ultralink, Artison, Origin Acoustics, Kaleidescape, One Vision Resources and most recently with Wilson Electronics. Donald was named a member of the CE Pro Masters in 2018 that recognizes long-time achievements in the industry as an "unsung hero."
"We at Colorbeam could not be more excited to have such an industry-recognized and respected professional join our team," boasts Mike Teolis, president, Colorbeam.
"This reinforces Colorbeam's position in the marketplace, our vision for the future of lighting and the business opportunity we bring to the CI [custom installation] channel. As director of business development for the U.S., Dave will bring experience, expertise, insight and relationships as Colorbeam continues to forge ahead as the leader in low-voltage lighting solutions. I look forward to working closely with Dave."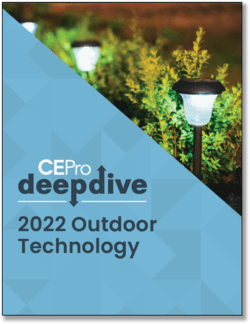 The 2023 CE Pro Outdoor Technology Deep Dive reveals unique set of impediments, including explaining pricing and interacting with outdoor-centric trades.
Get your copy now to take a "deep dive" into the trends and challenges of outdoor technology.
Download the report now!
Commenting on his new position with Colorbeam, Donald says he looks forward to meeting the challenge of helping the company grow its custom installation market sales.
"I am truly thrilled with this opportunity," adds Donald. "Most people are unaware of the impact advanced lighting technology and design can provide. This category is the perfect chance to improve the lives of customers by enhancing their living environment. I look forward to sharing the benefits that the Colorbeam offering can deliver in this dynamic and rapidly expanding segment of the market."
More news from Colorbeam: Vantage, Colorbeam Announce Strategic Partnership