In the sprawling Smart Home Marketplace at CES 2019, you'll find the usual slate of home-automation regulars – Dakota Alert, with its famous driveway sensors; Fibaro peddling home-automation hubs and Z-Wave sensors (and a new parent, Nice Group); Kwikset showcasing a wide range of smart locks; Legrand surprising with inventive new lighting controls; Remo+, Ring, Sengled, Zipato, the Z-Wave Alliance …. all CES Smart Home staples by now.
To be sure, these mainstays will have plenty of new goodies to show, but the real surprises will come from companies you probably never heard of.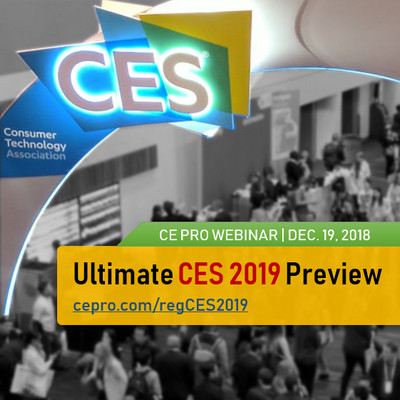 CE Pro covered several of the more obscure smart-home companies last year (See: 10 New Smart Home & IoT Devices + Their Prospects for Success.) We packed even more relatively unknown brands into our 91-page Ultimate CES 2018 Preview. And you can find additional CES discoveries in our CES Finds coverage.
Some of those finds are repeated here, but in general you probably won't know these nine Smart Home Marketplace companies we discovered in the CES 2019 exhibitor list.
Many appear to be me-too products in the AI, wellness, security and "we-connect-to-everything" categories, but you just might find a gem in this roundup that really speaks to you — rather, that speaks BACK to you, because you can be sure they all work with the popular voice-control systems.
Some of the bold claims in this lot:
Register for the Dec. 19 Webinar: Ultimate CES 2019 Preview
---
CE Pro's Julie Jacobson contributed to this article.
If you enjoyed this article and want to receive more valuable industry content like this, click here to sign up for our digital newsletters!