Among the three subsystems in the lighting area, the installation of motorized shades is the most lucrative for integrators, and the revenues and profits just keep on rolling (pun intended). Indeed, dealers predict a 13% growth rate in hardwired installations and a 9% growth in battery-powered shade projects next year. 
According to the 2021 CE Pro Lighting and Shade Deep Dive Study, the median price for a motorized shade installation (equipment + labor) is $13,152 with an average of 7 shades per project. That equates to $1,878 per shade — more than double the per-device rates for both lighting control and lighting fixtures.
There are several identifiable trends in the study. For example, exposed roller shades continue to grow in popularity. According to integrators, 28% of their projects now include at least one exposed roller shade. Hidden shades inside soffits are still the most commonly installed types of shades, with 37% of projects including a shade tucked away in a cove.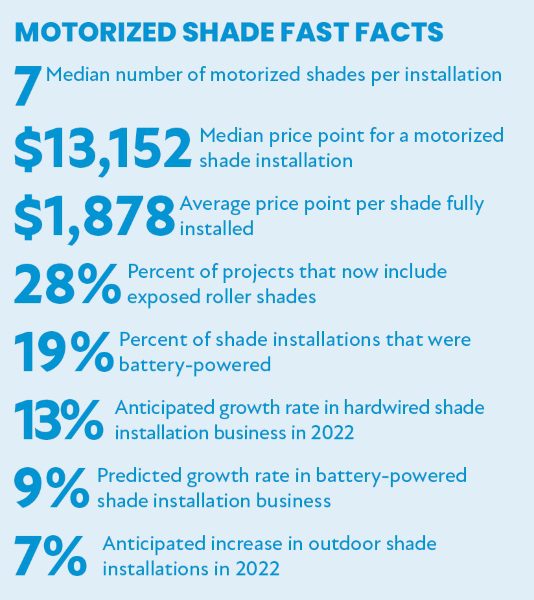 Meanwhile, integrators are also expanding the scope of their motorized window covering installations to include areas like skylights (17% of shade projects) and glass doors (22% of shade projects). Even outdoor shading has a solid amount of deployment, with 19% of projects that have shades including an outdoor element, integrators report. That can be a patio shade, or it could be exterior window shades, which are much more commonly seen in Europe than in the U.S.
A recent report from the U.S. Census Bureau showed that 61% of all new homes built in 2020 had backyard patios — a record high rate. That means even more opportunities to install outdoor shades. Dealers predict their exterior shade installation business will surge 7% next year.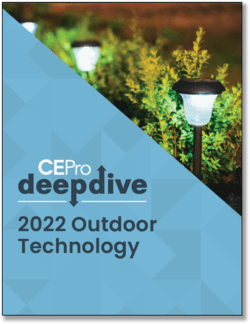 The 2023 CE Pro Outdoor Technology Deep Dive reveals unique set of impediments, including explaining pricing and interacting with outdoor-centric trades.
Get your copy now to take a "deep dive" into the trends and challenges of outdoor technology.
Download the report now!
One application for motorized shades that enables integrators to show their skills is floor-to-ceiling windows. According to the study, 30% of all shade projects over the past 12 months included at least one floor-to-ceiling shade. Blackout shades are common in master suites and home theater to try to block out the ambient light. Dealers report installing blackouts on one-third of their shade projects. Lastly, motorization is not exclusive to shades. More than one out of every four projects (26%) include the motorization of drapes or curtains.
Home Theaters Prove Ideal Pairing for Motorized Shades
As noted earlier, home theaters and master suites are ideal rooms for blackouts, so it's not surprising that those two spaces are among the most common applications. On projects that have shades, 45% of the time integrators are installing them in the master suite — the No. 1 location. Formal living rooms (41% of shade projects), great room/family room/den (40% of projects) are also common areas.
Home theaters get shades on one in three projects, as do dining rooms. Interestingly, home offices have become a hot area for window treatments. Dealers report 32% of their shading projects include a home office application. That is probably being driven by the work-from-home trend that was escalated by the pandemic. Home offices that were routinely used at night are now being used during the day, requiring the control of the natural light so the homeowner doesn't get washed out in the Zoom camera image. Lastly, kitchens (30% of projects) and bedrooms (29%) are somewhat common applications.
It was not too long ago that the thought of an integrator installing battery-powered shades was blasphemous. But that technology has evolved that enable integrators to install battery-powered shades and control them wirelessly with great efficiency. According to the study, 19% of all projects included battery-powered shades during the past year. And integrators predict their battery-powered installations will increase 9% next year. Still, one out of every five integrators report they did not do a single installation using a battery-powered shade last year.
Shades have also become a key element to showcase in showrooms. Among integrators that have showrooms (which is 39% of all dealers), half of them report having a vignette where they demo a motorized window treatment.
Click here to see more of our charts and exclusive data on motorized shades!