As the lighting category becomes more prevalent among integrators, the ability to provide expertise in lighting design can be a major differentiator. Anybody can load up a ceiling with 400 recessed can lights and onsite arm waving, but the end results will be a lack of artistry, professional coordination, and it does a disservice to the homeowner with improper illumination.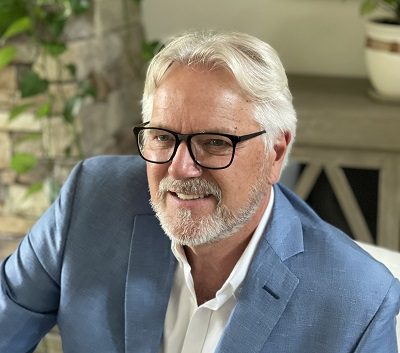 Noted lighting designer and creator Glenn Merlin Johnson of Adaptive Design Group has developed the ADAPTIVE Method® of lighting design that identifies his trademarked eight distinct layers of lighting.
Once learned, the methodology can enable an integrator to better communicate to the client the value of quality lighting design and products coupled with integrated dimming controls. Johnson is partnering with the CEDIA channel members in offering his expertise to assist in catapulting their lighting business to the next level. Important to note, Adaptive Design Group purely practices nationally in Luxury Residential design and engineering and does not dabble in product supply or distribution.
Johnson, whose book entitled "The Art of Illumination" has been used in 25 colleges and universities, has been providing high-end lighting design for architects, integrators and homeowners for 38 years.
"I don't do commercial… 99% of what I do is custom residential lighting design nationwide," he says. "Back when I wrote the book in 1998 and 1999, nobody even realized what a lighting designer was. Being a lighting designer is all about the art of illumination and being fully engaged with the latest in products and technology."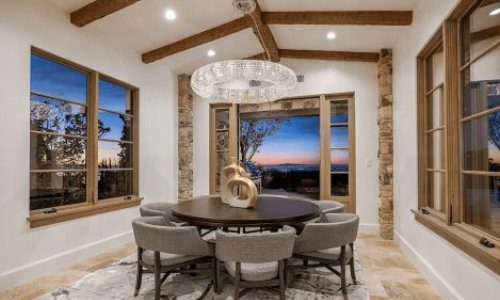 As a custom integrator, lighting is in demand. Effective communication, education and showcasing the value proposition of LED light fixtures in conjunction with integrative control systems are the keys to overcoming challenges and closing sales in this specialized market. Join us as we discuss the future of digital lighting and control with David Warfel from Light Can Help You and Patrick Laidlaw and Mark Moody from AiSPIRE.
Register Now! 
Johnson chuckles, "I love this quote, 'There's only two kinds of light, the glow that illuminates the glare that obscures.' Every client understands that quote because they're living mostly in glare. They're not living in beautiful glowing environments that accentuate the architecture, art, colors, furnishings and finishes. Layering light is a very serious methodical process."
Johnson believes that the best application of lighting design is one in which the homeowner doesn't even realize a lighting designer has been involved. The lighting should be natural versus something that is obvious. Too often, when there is not a seasoned lighting designer involved, the placement and amount of lighting is determined by the architects generic building permit set and sub-contractors bidding the least expensive product because there were very little or no specifications.
"Poor lighting can destroy the cool architecture of a multi-million-dollar home. It can often look like the home is illuminated for the holidays. Typically, in every architect's office, the principal architect is not the one adding lighting and electrical elements into the plans for permitting purposes. They have an intern who is just throwing circles on the blueprints, standard switch symbols and power for code purposes. Nobody asks, 'Is that right? Should we be doing this? Should we tell our client that these electrical sheets are really throw away sheets?'
Instead, the plans just say, '5-inch LED can and decorative lighting symbols.' Putting 400 recessed cans 4-feet apart on center in a ceiling is not applying the artistry of light," he laments.
Johnson says most large residential projects will certainly have an architect and an interior designer, but "that is only half the team. You need a designer like Adaptive Design Group for the lighting control and the electrical, and you need a CEDIA integrator for the audio, video, networking, cybersecurity and physical security. This 'Technical Team' is critical to direct the owners and the Architect and Interior Designers on these complex applications."
ADAPTIVE's 8 Layers of Light
Johnson's trademarked ADAPTIVE Method® addresses everything from highlighting the architecture and art to revealing the interior and exterior views to featuring the decorative elements of a home. It also addresses task and pathway lighting and the critical magic created with integrated lighting controls.
Important to note that Johnson's 8 layers happen to magically spell ADAPTIVE.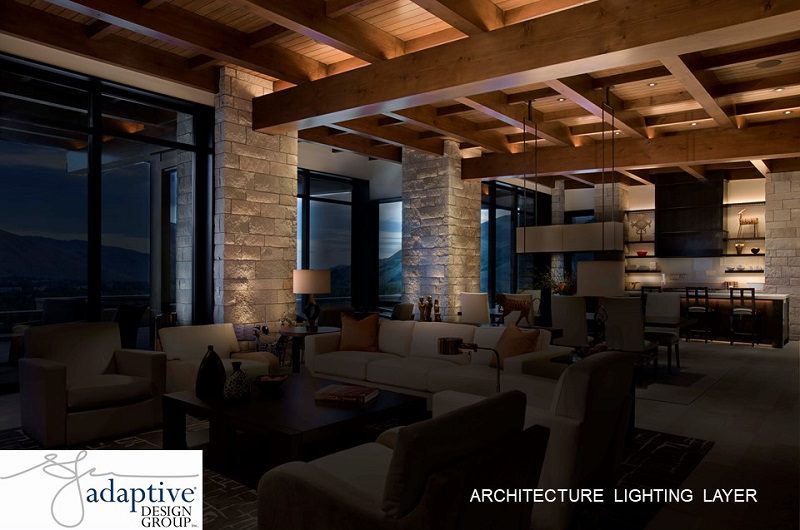 Layer #1: A = Architecture
The first layer of light relates to the beautification of the Architecture by the coordination of ceiling designs with tray and cloud ceilings, and by adding coves or other features that can supply indirect illumination that maximizes the volume of the space. In addition, ceiling beams, columns and stone walls can be softly grazed with light to create shadows and dimensions inside and out.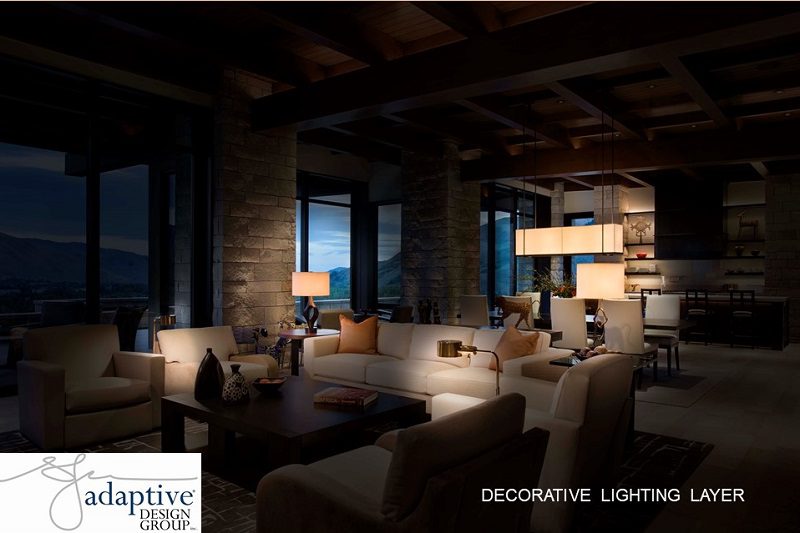 Layer #2: D = Decorative
The second layer of light in the ADAPTIVE Method is the decorative layer.
"This is the 'jewelry' added to the architecture, like rings, watches and necklaces," describes Johnson. The decorative fixtures are not necessarily meant for room illumination, but are mostly decorative "props" that are critical to the look and feel of the space. Examples could be pendant fixtures, wall sconces, side-table and sofa back-table lamps for reading, etc.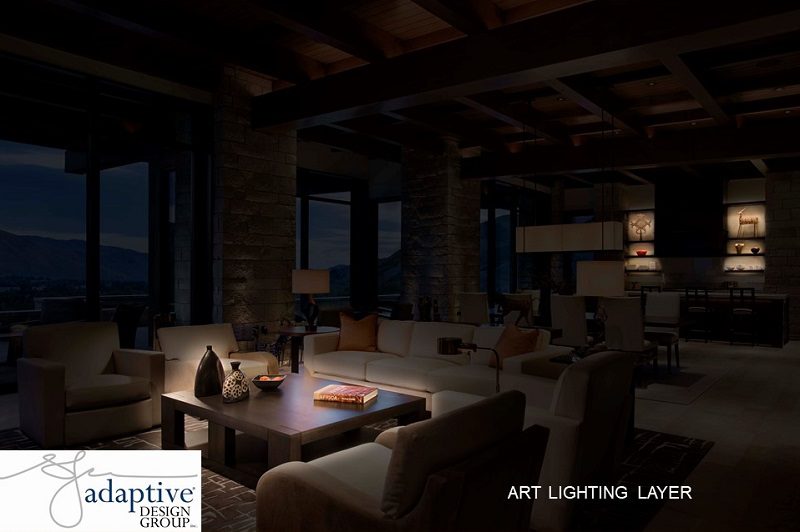 Layer #3: A = Art
Planning the Illumination of the artwork in a home is vital. Typically, architectural and interior design plans indicate where potential cabinetry, furnishings, tiles and flooring materials will go, but not where the homeowner's artwork, and potential art such as paintings and sculpture, is going to be placed, according to Johnson. As part of Adaptive Design Group's design and planning, detailed drawings show all of the potential art locations, which are coordinated with the owners and the design team.
"The first time I ever see a set of plans, I start working on the art program for a house," Johnson says. "We are driving the art opportunities in the home, whether it is flat art or dimensional art.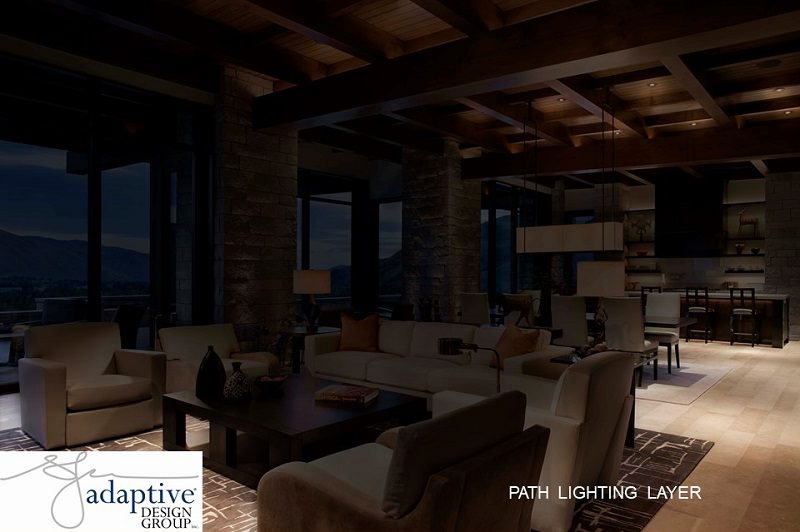 Layer #4: P = Path
Johnson admits that path lighting is typically the layer of light that architects and contractors are very good at deploying. A lighting designer can take it to the next level by not just offering general lighting throughout the space, but using small aperture fixtures strategically placed and other techniques to illuminate a path to see to move through spaces.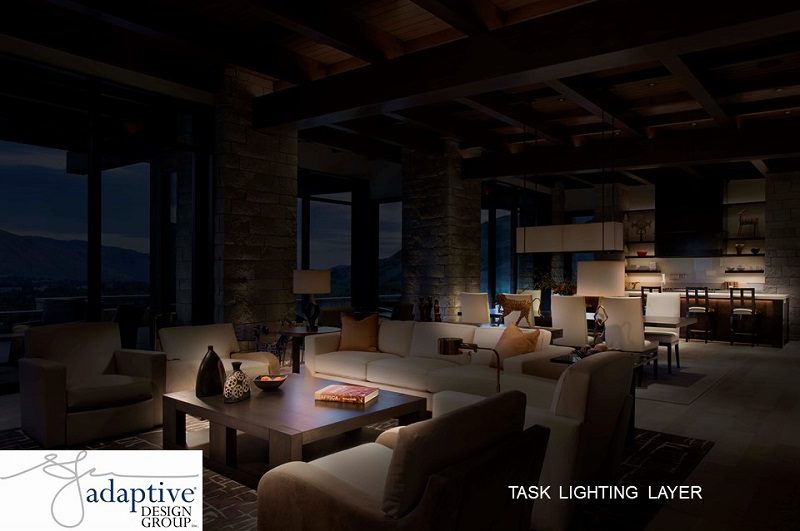 Layer #5: T = Task
Task lighting means illuminating all the work surfaces, including vanities, makeup, shaving, the dressing areas, prep areas in kitchens with under-cabinet lighting, kitchen islands, wardrobes, and laundry rooms. Illuminating these task areas with correct color temperatures and CRI are critical to the success of these functional spaces.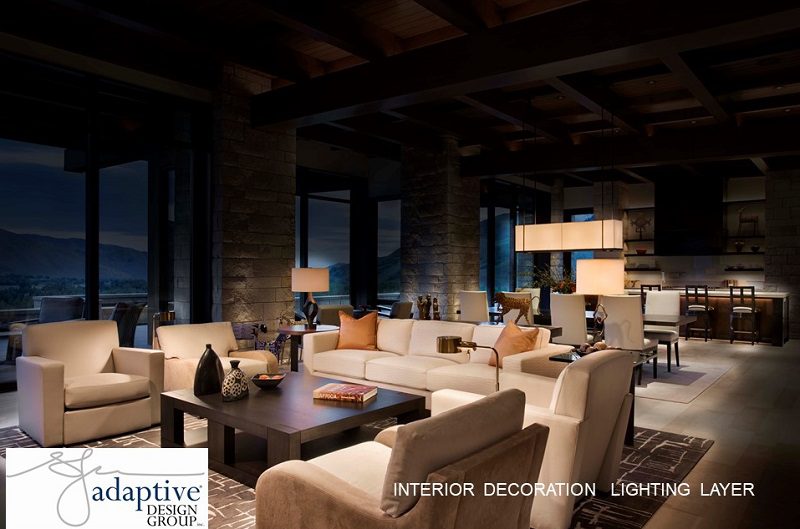 Layer #6: I = Interior Decoration
The key to effectively designing the light for the interior decoration of a home is knowing the types and locations of the furniture, colors, finishes, murals, carvings, area rugs, stonework, tile and accessories. Johnson says, "We as seasoned lighting designers become the best friends of the architect and interior designers because we will never muck up their work only add the its enjoyment.
"One of the big mistakes that even professional lighting designers make is they'll light people," says Johnson. "We never want to light people other than when they are at the vanities or at the wardrobe dressing mirror. When you light people from overhead in a sitting area or dining table it can be obnoxious because recess lights over a person's head creates a ghoulish, shadowy look. Nobody's going to want to sit there at night even at low dimmed levels. Make sure to illuminate the conversation area, not the people."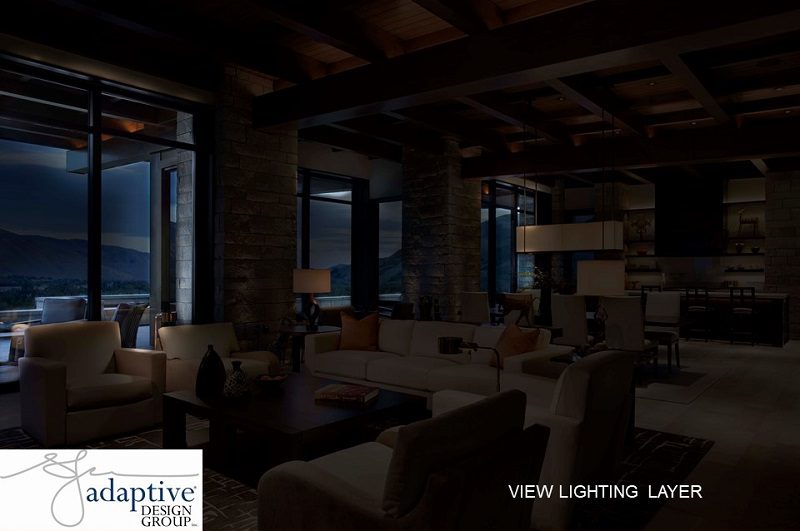 Layer #7: V = View
Illuminating the outside view from the inside is one of the most overlooked layers of light, according to Johnson.
"Thoughtfully lighting the immediate hardscape deck or patios outside the home helps draw your eyes through the windows at night out to the exterior of the home. If you don't light the view area appropriately and subtly, every window turns into a mirror and reflects all the home's interiors at night. You need to direct your eye through the windows," he says, noting that effective view lighting will make the exterior of the home an extension of the interior.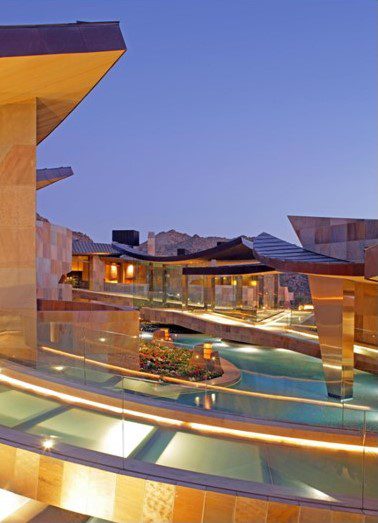 Layer #8: E = Exterior
The final layer of light in the ADAPTIVE Method is illuminating the exterior. That means lighting the planting areas, pools, arbors, gazebos, paths, fountains, reflecting ponds and other outdoor areas that extend beyond the hardscape. The idea is to direct the eye beyond the view layer thus creating depth and further extension of the home's enjoyment at night.
Conclusion
Johnson says lighting design is just now being focused on by educated owners, and with CEDIA members now having wholesale direct access to architectural lighting products, integrators are in the perfect position to partner with the right team.
"What's most fun about this trademarked process I've created is that everyone understands it, it's not about lumens or foot candles, reflectances, or room cavity ratios, it's about art. When lighting design is done properly you feel it, when no one is paying attention, you are distracted by it.
"I have not met an owner yet in 38 years that once they understand our Adaptive Method and see the end results say, 'No I don't want that. Give me rows of recessed cans and toggle switches.' As a matter of fact, they all say, 'I thought that was the artistry we were getting when we hired an architect and interior designer.'"
The modern design team must include a seasoned lighting designer and CEDIA Integrator. It truly is the pathway to success and a happy client.
Glenn Merlin Johnson will be conducting an in-depth look at the 8 Layers of Lighting Design in a CE Pro webcast on April 13 at 2:00 p.m. EDT. Sign up here for free to attend.
If you enjoyed this article and want to receive more valuable industry content like this, click here to sign up for our digital newsletters!