Perhaps the best compliment a custom integrator can pay one of its vendors is to say how flexible a solution makes installation. Dealers love products that deliver high performance, but also high versatility to cater to new and existing customers.
With that in mind, it's easy to see why Barco Residential earned "Bullet Brand" status for its rise up the CE Pro Brand Analysis' top five leaderboard in the Projectors category last year.
Consider that the company provides premium video solutions, but also that the annual Brand Analysis Leaders and Bullet Brand designations come from information provided by the CE Pro 100, which include some of the industry's highest-revenue integrators in the industry. Many of these firms thrive on truly custom work where they must balance performance, design and architectural demands.
"Barco has a solution for all applications residential or commercial; small, medium, or large room, including DCI at any level. Their Residential projectors draw upon years of experience and commercial success," says Todd DeAngelis of Signals Audio/Video (No. 31 on this year's CE Pro 100, El Segundo, Calif.).
"I've toured the Barco facility in Belgium and have witnessed firsthand what goes into the production and testing of these units. High-end CE Pro 100 integrators like Signals demand the best for not only their clients but also themselves," he adds. "Barco systems are highly specialized, protected and not found in the 'mainstream marketplace.' Most importantly, they truly stand by their products and offer the highest level of customer support and service found in our industry today."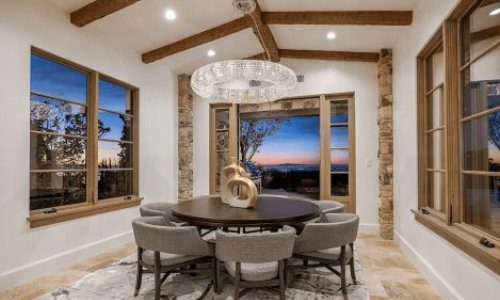 As a custom integrator, lighting is in demand. Effective communication, education and showcasing the value proposition of LED light fixtures in conjunction with integrative control systems are the keys to overcoming challenges and closing sales in this specialized market. Join us as we discuss the future of digital lighting and control with David Warfel from Light Can Help You and Patrick Laidlaw and Mark Moody from AiSPIRE.
Register Now! 
Barco Loki Enables Boca Tech to Tackle Tough Designs
Jeff Galea of Boca Tech & Automation (BTA, formerly Boca Theater & Automation, No. 92, Boca Raton, Fla.) echoed DeAngelis and highlighted how the flexibility and feature set of Barco Residential projectors overcame tricky setups – and led to successful jobs.
Focusing on the manufacturer's Loki and Loki CinemaScope 4K Ultra HD laser phosphor projectors (BTA sells other Barco models such as Medea, Bragi and Balder), Galea outlined five projects in which creativity and out-of-the-box thinking centered around the product's flexibility and precision.
Here are some brief descriptions of the Boca Tech & Automation projects and progression from Galea, whose team enlisted the Loki in these examples and gleaned important insights for ways to install Barco's reference video quality no matter the challenge.
1. BTA Showroom Demo Theater
"Our showroom, which is what we did our first reference piece in, we call it the Vault because literally we bought a bank and literally this was the vault," he explains. "We had to chip through 18 inches of solid concrete, because this is where all the safety deposit boxes were, and we created [a demo theater].
"We built a projection booth and we needed something where airflow was important and brightness level … obviously we wanted 4K HDR. We're doing a 160-inch, CinemaScope widescreen, and [the image throw is] going through optical glass so it's perfectly silent inside of our silent vault."

The Loki delivers big brightness from a comparatively small chassis to the brand BTA previously used, and fit into the booth placement where another high-performance model might not. In this case, Boca Tech received an early 16:9 model instead of 2:35.1 (it has since been updated to Scope) and learned how to finagle the Loki's warp engine – a processing feature found more commonly on commercial projectors used for larger-scale or more oddly-shaped screens – to fit the Vault's screen. Also, the back of the room is narrower than the front, so along with a 294-inch throw distance the integrator needed good horizontal and vertical lens shift capabilities.
"It is super bright, we're still using it today," Galea says of the Loki that Boca used to transform the Vault a few years back. "It's a reference picture, just gorgeous."
2. Barco Loki in Rear-Projection Cavity
For this oceanfront residence, BTA's task was to update a massive AV cabinet/display in which the display area measured about 100 diagonal inches and the owner did not want the furniture changed. The old display was dim, did not fit the space properly and competed with light flowing in on the side of the room.

"We needed a projector that I could mount in this existing sled," Galea explains of the years-old rear-projection cavity built into the top of the cabinet and partially juts beyond the wall (to outside). "I needed something that could shine down, hit a mirror and go forward.
"And then I also needed it to work vertically, and not burn up with heat. I needed a particular zoom lens that would allow it to scale, and be really comfortable that the image would compete against all that light."
Plus, he adds, like the Vault being set in concrete, BTA could not move the location of the projector. Using Loki the furnishing "projector cradle" and calculating all the measurements so the proper lens could be employed, "The results are outstanding."
3. Master Bedroom Theater
Another BTA client had a spacious master bedroom they wanted large-screen video in, but also had tons of ambient light from its oceanfront balcony sliding doors and other windows.
"They want to preserve this view, obviously we're not going to do a TV and we're not hanging a projector in a bedroom," Galea says.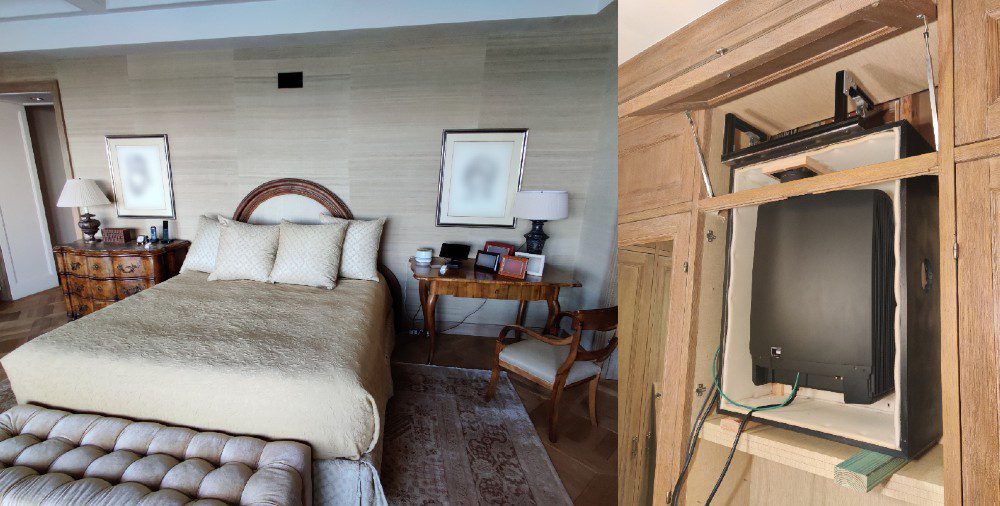 Instead, BTA had to shine a projector through a portal built into the wall behind the bed, and onto a motorized screen that drops in front of the glass.
In this case, Boca mocked up and engineered a solution in which the Loki would reside inside a hushbox, not overheat, stay quiet and fire vertically at a mirror to bend the light 90 degrees through the portal, Galea says. "It was like using our experience from the Vault, except that it has a mirror; we combined what we learned along the way."
4. Golf Simulation/Media Room
This renovation came from a client who had cobbled together a golf simulator and projection screen plus a wall-mounted sports/movie-viewing TV into a barely usable setup, inhibited also by lots of natural and old track light that even heavy drapes did not mitigate well. Also, he'd have to swing in total darkness. "The image was barely visible with all the drapes closed, and was certainly not appropriate for either a golf sim or theater application," Galea says.

"We came up with a new design, where we floated down the ceiling, made a spot for the Barco so we could run cabling and so on; we created a downlight system; replaced the screen; and then also automated everything so he could listen to music, watch movies and do projection all at the same time," the integrator comments.
BTA used the floated ceiling method, because it could not cut into the cement ceiling, for installing surround speakers and new lighting in addition to housing the Loki. They made a new floor-to-ceiling screen area so there were no worries about breaking anything with errant golf balls, and also a new swing area – the flexibility of Loki placement in this case helped ensure projector light would not cast any shadows while the very tall owner was hitting. And now, brightness is no longer an issue impacting tee time, and the screen can be used for movies.
5. Unconventional Theater Shape
Galea says he "wrapped up everything I learned" in all of his system design and installation experience with Barco into one recent project that hit close to home, a media room in his own house. It's a relatively small room, "and I do not have the projector installed anywhere near the center of the screen," he reports.
Worried about noise and heat issues, he configured placement for the projector to shoot at an angle, and enlisted Barco for support calculating the warp when it became apparent after using Barco's online lens calculator that he didn't have what he needed.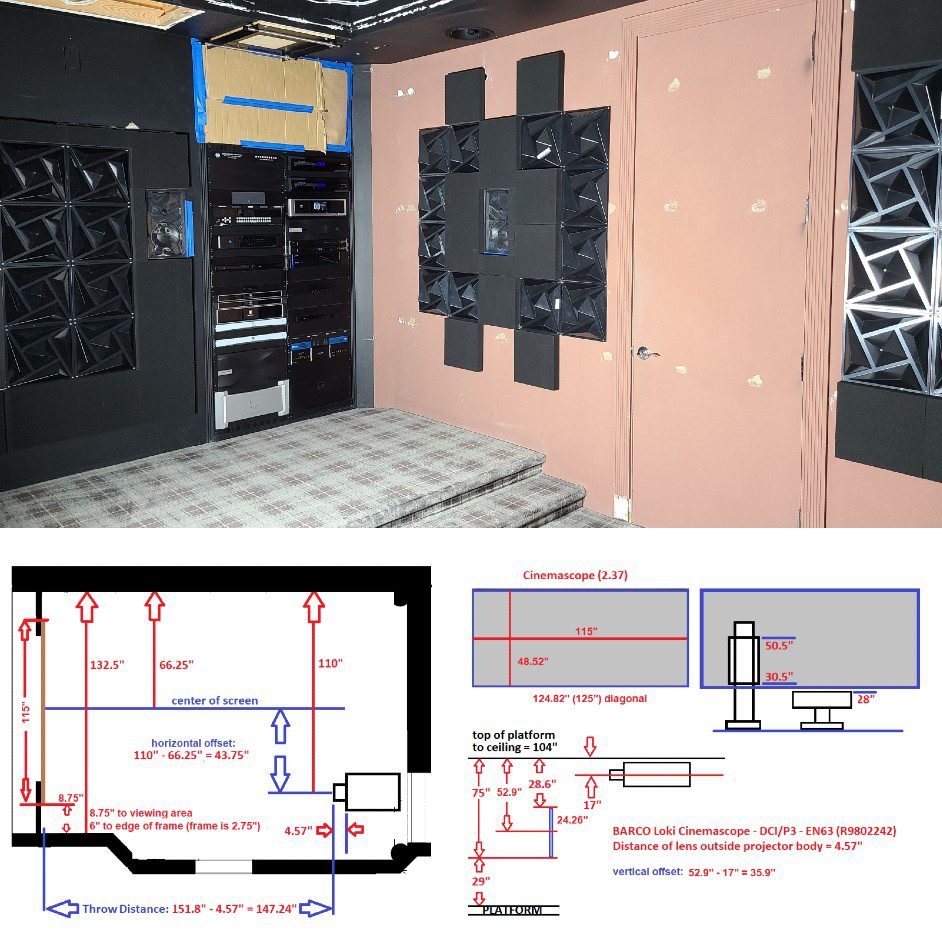 "They do this for you, you send all of the measurements to Barco and their team will do everything for you," Galea says of the system design assistance. Here, as he describes the eventual blueprint and installation based on the math, "If I actually look at the image, I'm aiming it down toward the ground and right, toward the center of the screen, so you end up with this trapezoid … and I need it to move and end up right here [properly fitting his projection screen]."
So just as if he were one of BTA's clients, a little Loki magic helped Galea create a retreat – one that features a wall-to-wall screen for his viewing pleasure, projector placement that optimally suited the room despite design challenges, plus left a spot to create proper ventilation for the projector.
"This actually worked out amazing, where I could make [the projector box] completely off-center and dial in a 125-inch diagonal image," he says. "It's the most crazy thing you could possibly imagine, and it's working."
If you enjoyed this article and want to receive more valuable industry content like this, click here to sign up for our digital newsletters!