How many pieces of software does a custom integrator need to successfully run a business?
If integrators have trained or onboarded with ProjX360, the first question Ryan Thomson, director of client engagement, asks them is: "Tell me what happens when a call comes in and how you get to that invoice at the end?"
And in answering that for Thomson, he's concluded integrators enlist on average nine different pieces of software.
There are so many specialized tools to help integrators … none should define their process, but most can help, if implemented correctly, Thomson notes. The fine line is determining when too many mashed together become paralyzing.
All of which is to say, he asks, how many "tools" are integrators implementing to make their unique version of a "circle to success" prior to meeting with ProjX360?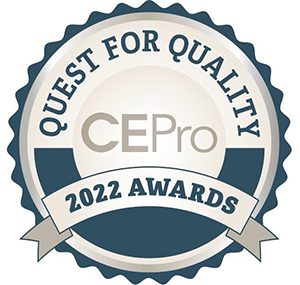 CE Pro urges integrators to recognize their suppliers that go above and beyond to deliver premium support and service. Cast your vote today to recognize the services (not the products) from your favorite manufacturers and distributors.
Cast your vote today!
It's a question Thomson asked himself while he was at an AV company trying to document its own steps and accountability. It's something ProjX360 founder and CEO Doug Greenwald also related to, having experienced software headaches with his own integration company (Creative Sound & Integration in Scottsdale, Ariz., which he still runs), which led to the formation of ProjX360.
ProjX360 Grows from Project Management to Much More
As an integrator, Greenwald was looking for a project management software solution but after vetting various solutions decided to create one in-house working with his senior developer. It led to the project management side of ProjX360 being developed back in 2013, which Greenwald says was rolled out to his integration firm a year later and in 2015 the burgeoning software company had a booth at CEDIA Expo.
That debut received a great response from integrators, and in February 2016 ProjX360's project management software was released to the CEDIA channel, Greenwald recalls.
"Since then, we've added a sales CRM platform, a proposal platform, enhanced the project management even more so, created an inventory management system and done a custom reporting system to make it a complete end-to-end solution," he explains.
Because it continues to expand in capabilities within its platform, ProjX360 aims to help integrators streamline their software solution. For Thomson, that aforementioned initial ProjX360 onboarding/training question can unearth a boatload of business processes issues.
"Many of us don't realize just how many steps we've created until we walk through where the call gets entered," he says. "How we convey that to the sales team; where we track the opportunity; how we sell the solution to the client; how it's handed off to the field staff; what does the field staff use to work through the work order; how is it scheduled and time tracked; what is turned in each day; how is that used to invoice; and how do we know what's left in inventory?"
Integrator Feedback Fuels Feature Updates & Upgrades
Coming from an integrator background, Greenwald and Thomson not only look inward but look to their customers to continuously update their product – so dealers indeed don't need nine different pieces of software but a single solid solution to improve their processes and documentation.
"It's stuff that I would like to see for my company, but also feedback from our current users that say, 'Hey, this would be great.' So we do have a thing in the software called a 'feature request' where our clients can request features," Greenwald explains.
Greenwald says the differentiator going from using multiple pieces of software to a single platform is that the disparate pieces can't communicate with each other the way a solution like ProjX360's can, which makes workflow that much stronger for those who implement it. That includes not just the company principals, but extends throughout an integrator's operations and personnel.
"It just makes it a lot easier to get different kind of data that you need to run your company successfully," Greenwald says. "And also, it just makes it easier for the technicians and everybody so they don't have to go into multiple different platforms in the field – they already don't really care to go into any software platform."
To make it even simpler for those techs, ProjX360's platform offers apps for Apple and Android they can use in the field. And furthermore when it comes to communications, a "Discussions" feature in the software can yield organized and accessible threaded conversations instead of scattered emails and text messages for project processes.