Every integrator knows that the best clients are repeat clients. Those customers have already worked with your custom installation team and trust your judgement. But how often are you reaching out to your existing customer base to highlight new product upgrades? Unfortunately, the answer for most integrators is "not very often." The reality is that most CE pros don't have the time to build and activate attention-getting email marketing programs that nurture their existing customers into immediate leads ready for an upgrade.
That's where Sony comes in. The company is doing all the heavy lifting for its authorized Diamond-level CI dealers with a new co-marketing campaign that is fully branded with the integrator's custom installation company. The creative email and social media campaigns, which are approved by the integrator, are created by the Sony marketing team and the campaigns are executed in conjunction with One Firefly, the industry's leading marketing company.
Integrators simply provide Sony with their customer list and emails and social media messages are sent in a methodical cadence of one per month to draw interest from customers. For example, during NFL or MLB playoff season or during the upcoming World Cup the campaigns might relate to upgrading to a 4K TV to "watch the big game."
"The campaigns are carefully curated each month. The Sony marketing team creates all the art and the copy. It is very low touch for the dealer," says Jeff Goldstein, head of sales for the custom installation channel at Sony. He notes that Sony had previously created a template for dealers to use to execute the marketing campaigns on their own, but very few dealers actually did it; thus, this new turnkey program was created.
Exclusive Sony Landing Page with Live Chat
The marketing outreach is designed to entice customers to click to a Sony-built landing page where they are encouraged to complete a contact form if they want more information. The contact page is also monitored with Live Chat to assist customers.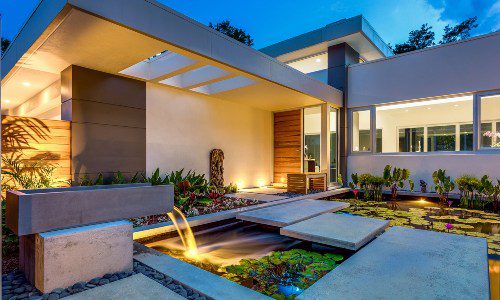 Landscape and architectural lighting create a magical and elegant ambiance for homeowners. The outdoor lighting industry has always been a phenomenal one and continues to grow in popularity. Now is the ideal time to learn more about this rapidly growing and highly profitable industry. Join our panel of esteemed lighting experts that will dive into why it's time for integrators to rethink their role in the outdoor lighting industry.
Register Now! 
Live Chat has been proven to be a very effective means of gathering leads compared to often lengthy contact forms. It allows customers to get quick answers to simple questions and is seen as being friendly and approachable.
Once the past client's information is gathered from the marketing campaign, the Sony team immediately passes it along to integrator as a hot lead.
Goldstein realizes that one hesitance integrators often have is giving any manufacturer their customer list.
"Sony does want your leads. Sony doesn't want your customers. We want you to keep your customers. It is not our plan to undercut you. We want to help you find new business because if you don't sell, I don't sell," he affirms. "We are basically hiring One Firefly on your behalf to execute a co-branded marketing program for three months with carefully curated messages."
"This is not rocket science. We have many dealers that can tell you how effective this is. Dealers can be much more surgical and effective in the way they spend their money to find new business. Consumers are now very open to being communicated to in different ways. We are seeing customers engage in these email blasts," says Goldstein.
If you enjoyed this article and want to receive more valuable industry content like this, click here to sign up for our digital newsletters!