In what can be useful information for integrators to relate to their clients, contrary to media depictions only half of home larceny/theft occurs in the dead of night while the family is quietly tucked in bed. According to a crime analysis by Vivint Smart Home, 50.3% of burglaries occur at night between 8 p.m. and 7 a.m. while the other half (49.7%) happen in daylight hours.
For clarity sake, Vivint, which was recently acquired by energy giant NRG, makes sure to clarify the difference between larceny/theft and burglary. "Larceny and theft refer to the stealing of property, while burglary involves forcible entry into a property to commit a crime that threatens the safety of people or their belongings. While theft can mean stealing any type of property, larceny is a type of theft that involves tangible items," says the study.
Burglary often includes "breaking into a building to commit not only larceny or theft, but potentially vandalism, assault, rape, murder, or other crimes. Burglary is considered a violent crime, and most violent crimes occur at night, which explains its deviation from the daytime crime incident hours of larceny and theft," says the study.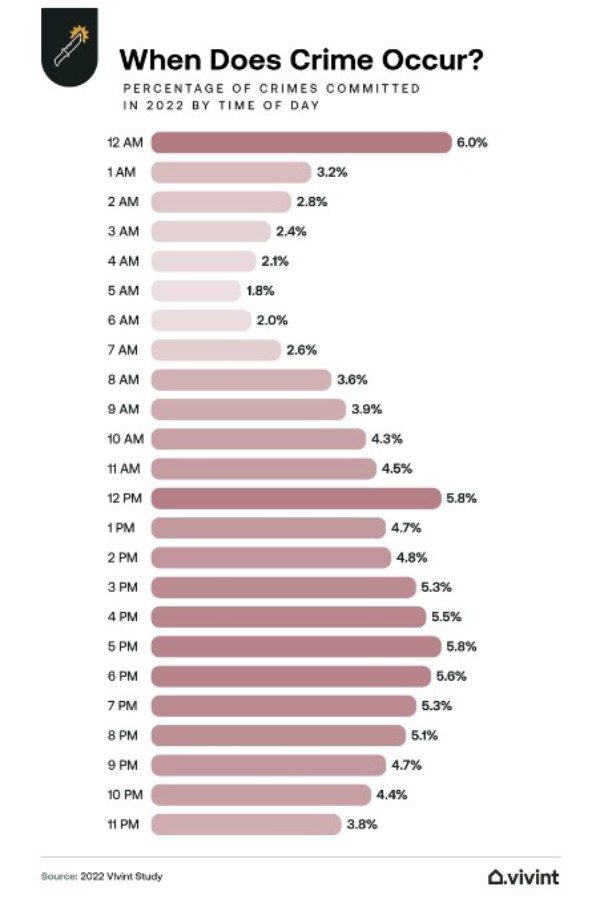 Indeed, burglary rates differ greatly when compared to overall crime. Twice as much crime occurs during the daylight hours — between 8 a.m. and 8 p.m.– as occurs at night — from 9 p.m. to 7 a.m. More specifically, the three most common times at which any crime will be committed are 12 midnight (6%), 12 noon (5.8%) and 5 p.m. (5.8%).
The study was an analysis by the Vivint Smart Home of 1.3 million crimes that took place in 2022 across 13 major metropolitan areas. The study shows an extreme drop off in crime after midnight, bottoming out at 5 a.m. Then, starting at 6 in the morning, the amount of criminal activity steadily rises to once again peak at 12 noon. There is again a drop off and crime again starts to rise until 5 p.m., then tails off through to 11 p.m.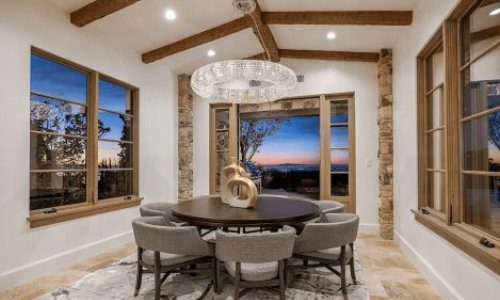 As a custom integrator, lighting is in demand. Effective communication, education and showcasing the value proposition of LED light fixtures in conjunction with integrative control systems are the keys to overcoming challenges and closing sales in this specialized market. Join us as we discuss the future of digital lighting and control with David Warfel from Light Can Help You and Patrick Laidlaw and Mark Moody from AiSPIRE.
Register Now! 
The worst cities for nighttime crimes in terms of percentage of overall crime in that city are:
Atlanta, with 22.8% of crimes between 8 p.m. and 11 p.m.
Washington, D.C., with 19.9% of crimes during primetime
Detroit, with 19.8%
Philadelphia, Washington, D.C., and Boston are the three worst cities for afternoon crimes between 4 p.m. and 7 p.m.
Not surprisingly, arson is by far the most common nighttime crime, followed by battery, rape/sexual assault and weapons-related crimes.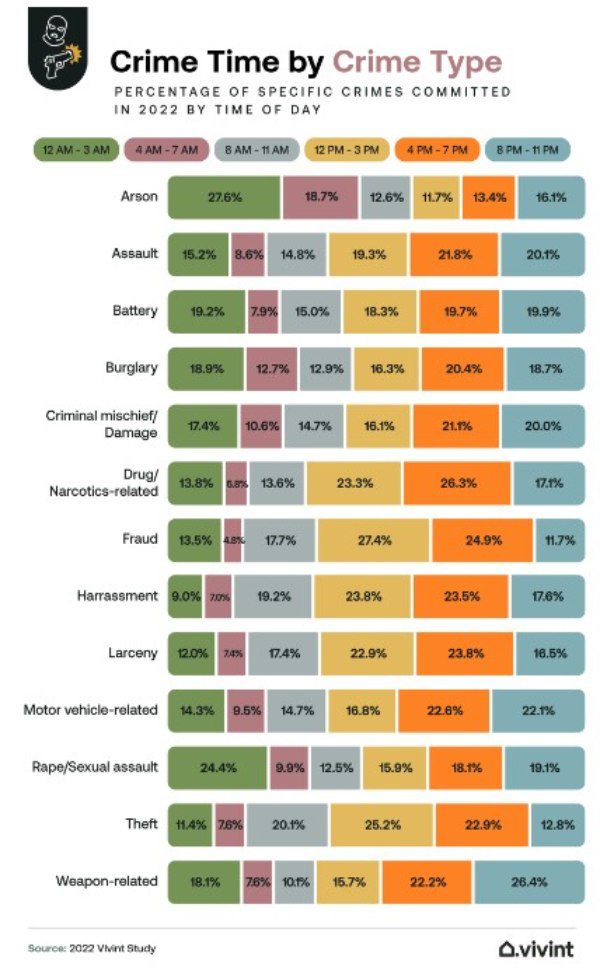 If you enjoyed this article and want to receive more valuable industry content like this, click here to sign up for our digital newsletters!