It's no secret inflation has affected the way people spend their money on a day-to-day basis. But in the realm of home building and home improvement, the realm most CE Pros work in, how has consumer appetite for spending there fared? Today's Homeowner looked at those numbers recently by polling roughly 3,700 homes across the US, and the findings are interesting–not outright concerning, yet still holding many implications for the industry's future.
How Has Inflation Affected Home Furnishing Prices?
It's worth noting that inflation has hit the home furnishing industries a lot harder than non-household goods. According to the Bureau of Labor Statistics (BLS), associated categories saw an average price increase of 7.3% across all product types. Some categories saw even larger spikes, with lumber being one of the most noteworthy.
All this translates into death by a thousand extra price increases. A little percentage here and there and suddenly an inordinate amount of extra money is being spent on something that many may view as a "nice-to-have" rather than a "must-have." That runs especially true for the smart home market.
How Has Consumer Spending on Home Improvements Changed?
As a result, homeowners have shrunk their home improvement budgets, or they at least plan to. In the report, roughly 50% of households said they are planning to spend less on home improvement projects in 2023. Thirty-three percent say inflation hasn't changed their home improvement plans, and the remaining 17% say they plan on spending more for household renovations.
Looking at it on a state-by-state basis, there are some decent variations. For example, Connecticut is probably the most stringent when it comes to home improvement budgets. Roughly 70% of respondents are cutting back on spending for 2023 while only 30% of respondents in Vermont plan on toning it down. There is an interesting trend, however, where lower population areas are consistently spending less.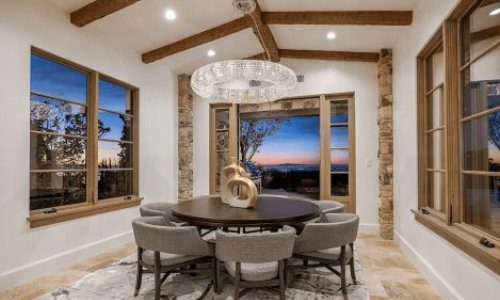 As a custom integrator, lighting is in demand. Effective communication, education and showcasing the value proposition of LED light fixtures in conjunction with integrative control systems are the keys to overcoming challenges and closing sales in this specialized market. Join us as we discuss the future of digital lighting and control with David Warfel from Light Can Help You and Patrick Laidlaw and Mark Moody from AiSPIRE.
Register Now! 
This reduced spending could be a direct result of the source of funding for these home improvements. During the pandemic, interest rates were at an all-time low and stimulus checks were rolling, leading to a strong home improvement market while it was happening. Now, the stimulus funds have all but dried up completely, and interest rates are soaring to combat inflation.
As such, most respondents are sticking to using personal savings (60.3%) or credit (37.4%) for funding. Other methods like a home equity loan (8.6%), personal loan (8.5%) and a home equity line of credit (6.9%) are seeming far less popular in 2023. (Note: the numbers here don't add exactly to 100 as some homeowners expect to use a combination of payment sources.)
Rather than halting home improvements altogether, however, most homeowners have at least one big project planned for the year (88.6%). The breakdown of that that goes as follows:
28.7% have only one project planned,
37.6% have two,
13.4% have three,
And 8.9% have four or more.
How are Homeowners Saving Money on Home Improvements?
While fewer loans means less money spent overall, the way most homeowners plan on saving on home improvement is by doing it themselves. Roughly 71% of all respondents stated they would be engaging in DIY work to save money. These numbers skew slightly toward younger generations (18-24) at 76% and taper off the older one gets, however, 67.4% of those aged 55+ still plan on engaging in DIY to save money.
These numbers get even higher in states with lower populations and areas with lower population density. Areas like New Mexico had 92% of respondents saying they'll be engaging in DIY projects. This, Today's Homeowner notes, is likely due to a lack of availability of professionals in more rural areas.
Respondents also stated that waiting is an equally viable option for saving money. About 51% of homeowners plan to postpone projects into 2024, citing cost as the main reason for doing so. Around 10% of homeowners also acknowledged that material back orders and lead times have made the decision a little bit easier to make on their end, given the wait times already baked into specific projects.
Final Thoughts: A Tug-of-War with DIY Home Improvement
The pressure from DIY is one that has been steadily increasing over the years, especially within the smart home integration space, though it also happens to be how most homeowners get introduced to the smart home lifestyle. However, as Hailey Neff, a spokesperson for Today's Homeowner notes, there will always be projects where a professional is needed.
"These projects that require more skill include a garage door replacement, installing an inground pool, or completing a full kitchen remodel," Neff notes. "Coming from someone who tried to repaint my kitchen cabinets by myself to save some money, I certainly wish I would have just called a professional to start."
That sentiment rings just as true for smart home installations. In a recent study conducted by Parks Associates, it seems that household preference for smart home DIY has actually been dropping as frustrations during installation drive product returns. In that report, Parks Associates found that nearly half of all US internet households now prefer to work with a professional technician.
That fact that younger consumers are more likely to tackle DIY projects does spark some interest, though. Being less likely to own a home in this day and age, and less likely to have the capital to spend on projects that older generations have, those born in the internet era also tend to be far more tech savvy, and thus have a greater chance to learn the skills and the confidence to engage in more DIY projects over time.
To cap this off, data journalist Stephanie Horan, who authored the Today's Homeowner report, had this to say to CE Pro: "If inflation persists, our survey data suggests that homeowners will continue to think of creative ways to complete home improvement projects in more affordable ways such as DIY. As young homeowners continue to bias towards DIY, this could have real impacts on the home improvement industry."
This article was updated on 02.22.23 to include information from a Parks Associates study on DIY trends in the smart home space.
If you enjoyed this article and want to receive more valuable industry content like this, click here to sign up for our digital newsletters!