It used to be that gold was a sure-fire investment during times of economic strife. Now, however, it seems smart home devices fit the bill just nicely for consumers. Despite continual economic pressure throughout the world, the smart home adoption rate of consumers continues to reflect a love affair with technology, to the point where hardware revenues have reached close to $30 Billion USD this year. That's up 15% from 2021's spending.
According to a report by ABI Research, there is a growing expectation among consumers for smart capabilities in their homes. Jonathan Collins, Smart Home and Smart Buildings Research Director at ABI Research, explains it as an ongoing result of COVID-19 home improvement. Following the surge of popularity, smart homes quickly moved into mainstream consciousness, where it continues to excite and entice consumers, even in the face of a tightening economy.
This has been further aided by the fact that many of the most popular brands, such as Google and Somfy, have recently expanded product interoperability through the recent Matter 1.0 specification. The easier set-up of smart home systems and simplified purchasing have made it all the easier for homeowners to set-up and test devices before upgrading to whole-house systems.
This greater ease of access to the smart home category has also been noted in its adoption rates outside of residential applications. Multi-Dwelling Unites (MDUs) and hospitality spaces have equally seen a rise in adoption of smart devices for their environments, further driving the growth of the market.
"That is not to say growth will be even across device categories or vendors. Interoperability, functionality, and application integration will all be key to spending as consumers increasingly transition from single device purchasing to building out whole-home systems," says Jonathan Collins, Smart Home and Smart Buildings Research Director at ABI Research.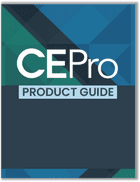 CE Pro's 2022 Product Guide showcases some of the latest and innovative solutions from manufacturers serving the custom electronics industry in a cross-section of categories.
Download the guide now!
The full report can be viewed on ABI's website. (Note: The report does sit behind a paywall.)