OneVision Resources has led the way in helping integrators adopt service-based businesses, and now the company is expanding the ways it helps integrators realize revenue growth with the release of a slew of new business-management services. The company can now help integration companies fill in the resource gaps that they often wrestle with, including managing HR and recruiting, financial planning and accounting, and business coaching and leadership development.
The new services are supported by the OneVision Platform, OneVision-developed technology, teams, and custom-designed processes, architected to boost integrators' service operations output and profitability. In relevant news, OneVision recently closed a $5 million investment round and reports that the injection of private capital helped fuel the development of these new services.
"We are such huge believers in the Service Opportunity for our channel that we continue to invest to develop and offer our partners the best-in-class technology, tools, and services to enable them to capitalize on the escalating client demand for always-available support. By unleashing the potential of their Service departments, we're helping position our partners for long-term success and leadership in their local markets," says Joseph Kolchinsky, OneVision founder and CEO. "The new services we're releasing today are meant to help all our partners scale their companies across the organization to meet rising consumer demand."
The newly updated OneVision Platform features the following capabilities:
Service Operations — Too often, Integrators don't have the resources to manage the ever-rising demand for client support. OneVision has invested thousands of man-hours in developing backend systems as well as tools and software that enable integrators to manage the entire client lifecycle after installation. From marketing and selling the concept of Service memberships, onboarding and upgrading clients, tracking performance after the sale, and the day-to-day execution of service with a team of professionals dedicated to delivering exceptional support to clients, OneVision delivers a turnkey approach to helping integrators build profitable.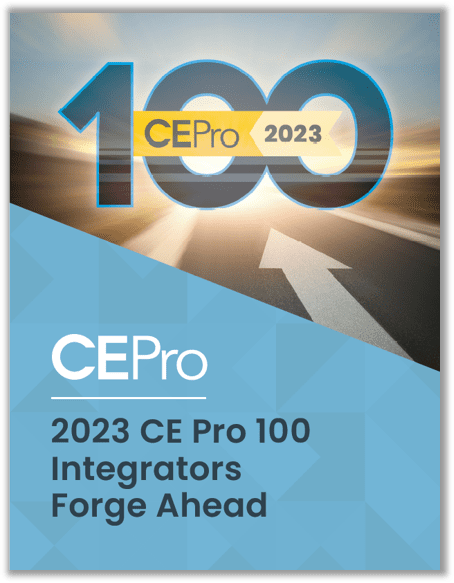 Which companies in the custom integration market made CE Pro's 24th annual CE Pro 100 list?
Leadership Development — Getting everyone 100% on the same page with where your organization is going and how you're going to get there is imperative in plotting a business growth plan. OneVision employs the Entrepreneurial Operating System, a set of organizational concepts and practical tools that has helped thousands of entrepreneurs get what they want from their businesses. OneVision offers certified EOS implementation services for integrators, coaching their leadership teams through growth and organizational change.
Skills Assessment, Training and Professional Coaching Financial Services and Accounting — OneVision enables integrators to enjoy the benefits of a virtual CFO deeply familiar with the CI channel, offering standardized models and a P&L reporting framework to reflect the complexity of supporting both project-and service-based business units, as well as RMR reporting and management.
Service Operations — HR and Hiring As integrators' Service businesses take off, so too will the need to recruit and groom talent. OneVision can drive the entire process, from developing job descriptions, vetting candidates, managing the interviewing process, to the very end, helping Integrators close the deal and onboard new talent.
OneVision HR Services include:
Organization Needs Assessment
Headcount Planning, HIring Scheduling
Compensation Analysis
Job Profiles Development
Customized Job Descriptions
Onboarding Processes and Procedures
Offboarding and Exit Interviews
OneVision Financial Services include:
Accounts Receivable starting with your contract structure and working with PMs and billable labor to track time and identify milestones appropriately.
Accounts Payable to ensure every bill is approved by the right person and paid at the right time to optimize cash flow. ● Expense Management to allow your team to make purchases independently when appropriate and ensure those transactions are coded properly.
Inventory Management to make sure nothing goes to waste or gets lost. When do you do just-in-time ordering and when do you stock up?
Payroll – breaking it up effectively to understand who in your organization contributes to which costs across the organization. This is vital insight as you hone operations and evaluate profitability.
"We've already seen dramatic revenue growth by embracing OneVision's Service Operations playbook. Now with these added business services, our company can achieve scale all while maintaining our bespoke feel in the local market," says Jonathan Stovall, Principal at Bethesda Systems in Bethesda, Md.
OneVision is a business service provider for the custom integration channel, offering turnkey solutions that deliver the technology, processes and people required to enable integrators to support their client base and build profitable service operations. The OneVision platform, receiving Platinum award recognition in CE Pro's 2020 Quest for Quality program, enables businesses to compete at a larger scale offering customer support to to help build service into a profit center. The company selectively partners with the industry's leading integrators across North America and is based in Boston, Mass.
If you enjoyed this article and want to receive more valuable industry content like this, click here to sign up for our digital newsletters!