Like clockwork, custom integrators list finding, hiring and retaining talent among their biggest challenges when surveyed by CE Pro. Fortunately, they can turn to a company with institutional knowledge of the industry and a growing presence as a channel-specific resource in this realm.
HD Staffing works as permanent placement company for the custom integration industry, whose reach is nationwide placing every level of the industry, explains CEO Tres Huber.
The 3-year-old company assists candidates for all manner of positions with integrators looking to fill openings, Huber notes: entry-level technicians, lead technicians, project managers, operations managers, system designers, programmers.
As HD Staffing continues to carve out its job placement niche serving the CEDIA channel, one reason it can really speak to CE pros is that Huber's partner, COO Brent Wiseman, is a longtime integrator himself, Huber adds.
Wiseman's 20+ years of experience in the integration sector complement Huber's similarly long tenure in the construction staffing industry, creating a best-of-both-worlds scenario for engendering trust and confidence from integrator job candidates and hiring managers.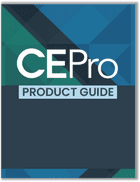 CE Pro's 2022 Product Guide showcases some of the latest and innovative solutions from manufacturers serving the custom electronics industry in a cross-section of categories.
Download the guide now!
"So we feel like we're uniquely suited for the industry and filling its needs," Huber says.
Employers Can More Clearly State Job Descriptions, Benefits
Because HD Staffing connects the dots both ways – helping job candidates find job leads and integration firms find talented job seekers – the company is also uniquely suited to provide pertinent advice on each end, too. There's always room for improvement and "selling yourself" whether you're the employee or the employer.
For integration companies, that starts with the actual job listings and descriptions, for which HD Staffing can help tweak the verbiage so it garners better attraction and appropriately qualified candidates. When it comes to listings, companies fall into some common pitfalls that can be avoided.
"I think often job descriptions by employers go in a couple directions; one, they take a job description that is way too detailed and they slap it out as a post and that kind of is off-putting to candidates because there's just too much to read," Huber notes. "Other times it's too brief and [candidates] want to make an informed decision."
Huber works with integrators on crafting more of a marketing type of job description that meshes important factors today like talking about company culture, plus an overview of the job and qualifications – but keep those the "important ones," he says. Then, be sure to spell out benefits, both financial and otherwise.
"You know, a lot of people omit pay and you can read study after study out there that job seekers are more apt to apply when the pay range is in there," Huber notes, in addition to other enticing features your company offers, even those you might not ordinarily think to mention. "That's what makes you attractive."
Job Seekers Should Specify Accomplishments
On the candidate side, Huber and HD Staffing offers services to not only help technicians, project managers and others find the applicable job openings (whether they wish to stay local or expand their geographic considerations) but really enhance their appeal to employers.
HD Staffing can assist with resume improvements and other associated qualities that help job seekers stand out among the pool of applicants, which these days has become more competitive than ever as integrators have remained busy during the pandemic.
"At the very top of a resume, really focus on a professional summary, what do you really know how to do," Huber advises, for multiple reasons.
If you're applying to a smaller company, the resume is probably going to be looked at thoroughly, but for larger companies there may be a more formal, automated application process that searches for certain items – and those missing them won't make the cut.
"It may go through an applicant tracking system, so you want to have those keywords at the very top of your resume so it gets pulled out," Huber says.
Moreover, make it very clear what skills you possess and what you have accomplished during your career. Don't sell yourself short – if you work regularly installing large-scale Crestron systems in million-dollar homes, for instance, point that out beyond just saying you install Crestron.
"As far as your work history goes, focus on objective information, not subjectives," he says. "So, I worked here this many years, my accomplishments were I worked on projects of X to X amount of dollars. Don't talk so much like, I'm motivated – those are things that are going to come through in an interview. A resume should focus on true skills, true experiences and accomplishments."
Also to be sure you illustrate a full timeline of employment even if you don't think including work outside the industry is relevant, he adds. Companies look for continued employment and you don't want to have to explain gaps.
"Resume rewriting is something we do for all of our candidates," Huber says. "We take their original content and put it in a format that presents them well and also makes it easy to read for our [integrator employer] clients."
For much more about HD Staffing and the services it provides integrators and job candidates, check out Huber's insights in the video above, and visit hdstaffing.com.