About six months ago, Massachusetts-based Pro AV Systems began looking for a design engineer that the regional integration firm badly needed.
Finding qualified and experienced design engineers has historically been a challenge at the company and the industry as a whole, so Pro AV Systems wasted no time in bringing someone on once they found a qualified candidate. However, the individual wasn't local and had to be relocated to the area.
"We had to go to different parts of the country to find the person we wanted," says David Bishop, the firm's chief commercial officer.
A lack of educational opportunities in pro AV and the industry's relative obscurity has always limited the talent pool and made it extremely difficult to find qualified candidates away from big cities and hubs of education.
Now, with many AV professionals looking for a new job to get back on their feet after COVID-19 forced their employer to make hard decisions, integrators should look outside of their geographic area and embrace remote work to reap the benefits of pulling from a larger talent pool.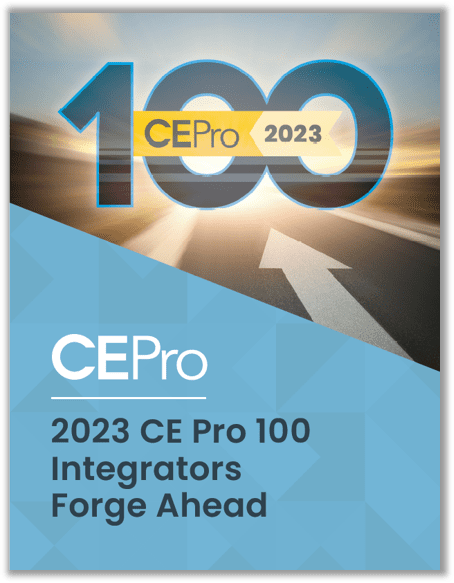 Which companies in the custom integration market made CE Pro's 24th annual CE Pro 100 list?
It wasn't long after that first design engineer was hired that the coronavirus crisis became very real in the U.S., and that coincided with Pro AV Systems looking to hire another design engineer.
However, much of the firm's staff had already begun to work remotely. Thanks to unified communications and collaboration tools like Microsoft Teams, supporting remote workers wasn't as daunting as originally thought.
"We were in the middle of the coronavirus and started thinking that we needed to hire another design engineer," Bishop says, adding that company then began a discussion about if this position even needs to be local. "The overreaching answer was, 'No.'"
That allowed the 65-employee company to expand its reach to the entire country and gave Pro AV Systems the ability to be more deliberate rather than hire the first qualified candidate they find in fear of them being hired away by a much bigger firm. That led to the company hiring a design engineer from Nevada.
Now, the company is embracing remote work for their future hires, including more design engineers and now, sales positions. Recent sales hires – although located in the area – are actively being treated as though they are remote.
"We're trying to make them utilize remote tools," Bishop says.
Making the Most of a Temporarily Large Talent Pool
The COVID-19 crisis has had a massive impact on the pro AV industry, resulting it layoffs and furloughs and a large talent pool of AV professionals looking for work.
According to AVIXA, many integration firms had to lay off employees this spring. Here's an excerpt from a June 12 report:
When we asked AV provider respondents what share of their staff reductions were permanent layoffs as opposed to furloughs, our analysis indicated the average was 22%, up from 18% last week and 14% the week before.
Overall, throughout the pandemic, just over one-third of AV provider respondents consistently reported their companies have laid off/furloughed staff at some point during the ordeal. For the past seven days, 13% said their companies laid off/furloughed staff, a short-term measure that bottomed out at 9% on May 20.
That means there is an extremely rare glut of talented AV professionals looking for work. If your integration firm wants to adapt and evolve with the times, you'll consider bringing on one of those employees even if they're in a different time zone.
Remote work was forced upon the world, and many organizations meet that challenge head on and adapted to keep business flowing. Numerous studies and research indicate that today's workers think remote work should remain – at least in part.
"It's an old way of doing things," Bishop said about 100% on-site work. "We've been forced to be remote anways to some degree. It's better to embrace it than to fight it."
---
This article originally appeared on our sister publication Commercial Integrator's website.
If you enjoyed this article and want to receive more valuable industry content like this, click here to sign up for our digital newsletters!