Integration companies may be exempted from coronavirus regulations that call for a work stoppage in a local area. That's because the U.S. Department of Homeland Security (DHS) has identified integrators as "essential critical infrastructure workers during the COVID-19 response."
The DHS guidelines from the Cybersecurity and Infrastructure Agency (CISA) specifically cite professionals who are working to assist in the establishment of home offices, among other things.
NOTE: These are DHS guidelines and are NOT a mandate to state or local jurisdictions, which can set their own rules. But if the local municipality follows the DHS guidelines, integrators can continue working.
In a memo from CEDIA's director of government affairs Darren Reaman, he notes, "The rapid government response through executive action, regulatory changes and legislation at the local, state and federal level to the COVID-19 virus is unprecedented.
"We understand CEDIA members across the country are contending with executive and legislative action that potentially impacts the installation and maintenance of residential technology in thousands of jurisdictions across the country because of confusion over defining the essential services critical to the country's infrastructure.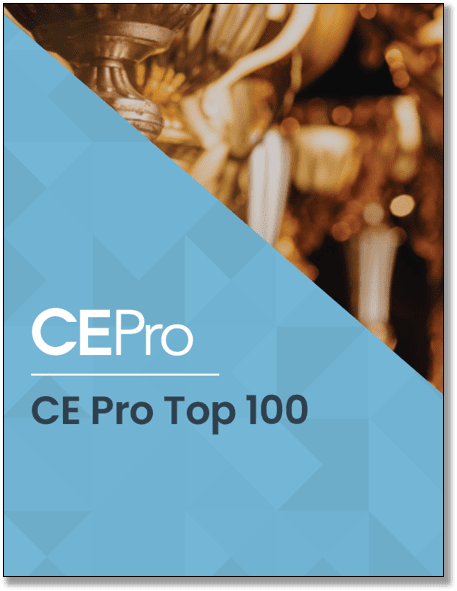 No matter how you slice it, 2021 was sweet music to the ears for the members of the CE Pro 100. The annual list of the largest custom integration companies had "record"-breaking growth last year.
Download your copy today!
The guidelines provide strategic guidance toward the unified effort to maintain the country's critical infrastructure "and as such we believe these guidelines serve an important role as communities respond with executive and legislative action," according to Reaman.
The list of "Essential Critical Infrastructure Workers" identified by the CISA Report include:
Maintenance of communications infrastructure- including privately owned and maintained communication systems supported by technicians, operators, call-centers, wireline and wireless providers, cable service providers, satellite operations, undersea cable landing stations, Internet Exchange Points, and manufacturers and distributors of communications equipment.
Installation, maintenance and repair technicians that establish, support or repair service as needed;
Customer service and support staff, including managed and professional services as well as remote providers of support to transitioning employees to set up and maintain home offices, who interface with customers to manage or support service environments and security issues, including payroll, billing, fraud, and troubleshooting.
Dispatchers involved with service repair and restoration.