Mark Garijanian, director of marketing for Next Level Distribution, along with the rest of the Next Level Distribution team recently held a Grand Opening Event in Chicago, that he boasts was a grand opening event for the ages.
According to Garijanian, the company wanted to create a memorable event for dealers in the Midwest to see the company's latest facility.
"Our goal was to create the 'Greatest of All Time' Grand Opening for our Midwest integrators at our new 90,000-square foot facility in Elk Grove while keeping them engaged with fun activities like axe throwing, pumpkin tossing, as well as three separate raffles with a fresh version of BINGO to ensure all our 30+ manufacturers were being seen," he states.
"We had show specials that most of the manufacturers offered. Over $30,000 in raffles took place before and during intermission of the entertainment for the night. We brought in The Breakfast Club [a Chicago 1980s cover band] to perform. We had delicious brick oven pizza from Billy Bricks food truck, as well as kegs of beer, wine, and other refreshments under a 20 x 40-foot tent. The feedback from the dealers and manufacturers was overwhelming and made all the hard work pay off."
Garijanian points out the Next Level Distribution team started the grand opening festivities well before the actual grand opening event with a range of "warmup" activities.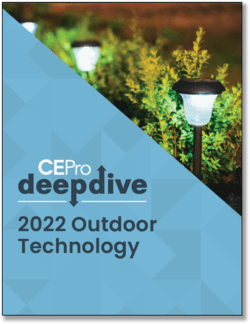 The 2023 CE Pro Outdoor Technology Deep Dive reveals unique set of impediments, including explaining pricing and interacting with outdoor-centric trades.
Get your copy now to take a "deep dive" into the trends and challenges of outdoor technology.
Download the report now!
"The night before the grand opening we hosted a cocktail hour and charcuterie board for the manufacturers and we got to show them our massive new warehouse and complete operation, including the automation we are using through internal signage boards in the office and warehouse that display sales numbers, pick times, as well as other analytics to take our growing company to the … next level," adds Garijanian.
More news from Next Level Distribution: Next Level Distribution House Brand to Support Autism Speaks Charity