Next Level Distribution was way ahead of its time a decade ago when it launched its house brand line of products under the brand name Feedback AV. The company early on recognized that working closely with a charity was an important element to many integrators, especially younger Gen X and Millennials. As such, Feedback AV donated a portion of all its proceeds to the charity Feeding America.
In late 2021, Next Level Distribution transitioned its house brand name to Next Level Products and dedicated itself to completely supporting Autism Speaks. Founded in 2005, Autism Speaks Inc. is an advocacy organization that sponsors autism research and conducts awareness and outreach activities aimed at families, governments, and the public, according to Wikipedia.
"We have taken it on full steam," says Mark Garijanian, director of marketing at Next Level Distribution. And when he says the company has taken it on full steam, he means it.
"We have even taken it step higher by hiring autistic adults to work in our facilities," he says. "We are serious about it. We truly care about it."
He cites research that one in every 45 individuals has some form of autism. Ryan Munder, chairman of Next Level Distribution and Audio America, personally has a connection to the cause because his mom was a teacher for autistic children.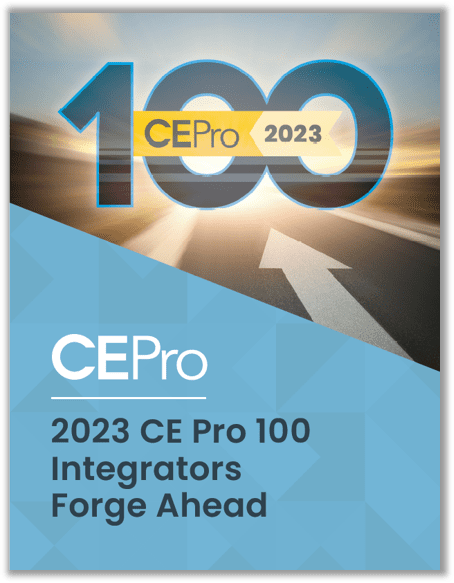 Which companies in the custom integration market made CE Pro's 24th annual CE Pro 100 list?
A portion of all sales of Next Level Products will go to Autism Speaks. Even though the relationship with the charity was established the relationship several months ago, the first container shipments of products are just arriving so the program is just kicking in.
Even though the name has change, the Next Level Products are the same as they were under the Feedback AV moniker. The products, including HDMI cable, wallplates, wire and mounts, are OEM'ed by top manufacturers, including Vanco, Structured Cable Products and ProMounts.  
The products are readily available, bring strong margin for the dealer and better pricing. In particular, the racks, mounts and bulk wire offer a lower-cost alternative. One other key benefit of house brands is that they cannot be price shopped by customers because they are not available at retail.  In addition, the products offer lifetime warranties
To help kick off the launch of Next Level Products, Next Level Distribution will be highlighting the new brand name during the grand opening for its new Chicago branch on October 20, an event the company has labeled as The G.O.A.T. (Greatest of All Time). There will also be a representative from Autism Speaks at the grand opening.
"A big portion of the success of Feedback AV and now Next Level Products is that integrators are generally small businesses that care deeply about their communities," adds Garijanian. "So when dealers buy their support devices, why not invest in a company that helps support your community? It makes them feel good about pulling that wire or installing that mount because you are helping your community."
If you enjoyed this article and want to receive more valuable industry content like this, click here to sign up for our digital newsletters!