This is part of a series of articles covering CE Pro's Lighting Fixture Deep Dive. If you're an integrator interested in learning more about this hot category of products and the opportunities it holds for your business, be sure to check out the full lighting fixture deep dive available here.
Lighting fixtures is the latest "new" category of equipment in which integrators can take the lead, but they have to be prepared to maximize the opportunity in terms of skills, and sales and marketing for their business.
For the integrators who have tackled lighting, they say it has been transformational.
System 7: 80% of Revenues from Lighting Business
Gerry Lynch, president of System 7 in Boston, is an integrator who moved into lighting fixtures in full force several years ago. 
"It has transformed my business," he says emphatically. System 7 was a traditional control and AV-based integration company for years, but 10 years ago Lynch acquired a shading company. That acquisition began the journey for the company into the design and lighting business. Then in 2017, System 7 acquired the largest lighting supplier in Boston.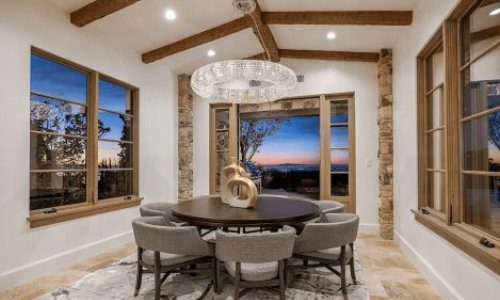 As a custom integrator, lighting is in demand. Effective communication, education and showcasing the value proposition of LED light fixtures in conjunction with integrative control systems are the keys to overcoming challenges and closing sales in this specialized market. Join us as we discuss the future of digital lighting and control with David Warfel from Light Can Help You and Patrick Laidlaw and Mark Moody from AiSPIRE.
Register Now! 
"We went from thinking about beginning to be lighting, to being in lighting. I went from having reps not returning phone calls to, suddenly, I was one of their best customers. We went all in, and it's transformed our business. Seven years ago, before this all started, 20% of my business was shades at the time. Today, 20% of my business is AV. It's 80% lighting and shading. It's transformed us completely. It's gotten us into better projects, bigger projects earlier in the phase of development of those projects with a more diverse team that we're interacting with. Lighting is a technology product," he notes.
To bolster his lighting business, Lynch built an experience center in a first-floor suite at the Design Center in Boston. 
"We don't call it a 'showroom,'" he emphasizes. "We call it an 'experience center' because it's really a place to see and experience all the different things you can do with lighting and shading. It's a highly trafficked, but niche marketplace.
"We've had people walk into our space and say, 'You're not an integrator, because you only have one television on the wall.' They're expecting something else, but it's a very immersive experience and educational place where we can really take people through everything about lighting."
Before System 7 built the showroom, Lynch says he would show up on a jobsite with two samples of 2,700 Kelvin and 3,000 Kelvin color temperature lights and shine the beam on a plastered wall. Not exactly an enlightening experience for clients.
Today, using his experience center, his clients can sit in a living room environment and the System 7 team can demo changing color temperatures, run through the basics of lighting fixtures and applications, and ferret out the customer's budget. 
"You can't just sell one fixture and be 'all in' on lighting, because your customer doesn't want to call you for the downlights and call someone else for the step lights. You really have to learn it and embrace it in a big way," he advises. "We brought staff in who knew lighting, which is a key element to success."
System 7 is unique among integrators even more so because the company has added decorative lighting to its business.
"We offer it, but it's not a part of every single project. Decorative lighting is a separate sales cycle. The first sales cycle with the builder and the architect is focused on architectural lighting. The second sales cycle in which you may be placing decorative lighting will likely involve engagement with an interior designer," he explains.
GHT Gets Trained, Adds 5% Sales Commission
Eric Joy, CEO of GHT in Atlanta, says his company is preparing, albeit slower than he would have liked, to take on the lighting fixture category. GHT, a member of HTSA, used to be called Georgia Home Theater, but several years ago shortened the name to the GHT acronym after several clients did not reach out to them for full integrated solutions because "they thought we were just home theater guys," recalls Joy. 
To prepare their business for the lighting category, Joy recommends integrators obtain the necessary training and find the right vendor partners.
"The first thing I did was fly out to visit the factories of DMF Lighting and Elemental LED. Then went to Chicago to a lighting technology training. That got me really excited about the lighting fixture category. We started thinking about how we were going to implement and plan our lighting fixture program, but it all got sidetracked by how busy our business got during the COVID-19 pandemic.
"COVID has probably been the biggest distractor to us ramping up our lighting fixture business more rapidly. We were the busiest we have ever been. We did not have time to send guys to training, or to build out the lighting fixtures area of our showroom like we wanted to," Joy explains.
"So, our rollout has not been as fast as I want. But when I see the success that my peers are having, I knew we wanted to be involved. When you are already taking ownership of the lighting control in your clients' homes, why shouldn't our clients also be buying their lighting fixtures from us?
"Every technology category has phases of crawling, walking and running. I'm telling people that we are out of the crawling phase and we are still walking. We're walking a whole lot faster in today's world," says Joy, who brought nine people to Lightapalooza 2023, including sales managers, project managers and even a fresh new employee.
"We're training even people, like our service technicians, who will not be selling lighting technology directly to clients. When they are in clients' homes conducting service, we want them to be able to identify opportunities for us to be able to sell lighting and be able to talk the basics. We're trying to drive the value proposition of lighting. Of all the things we install in our clients' homes, lighting fixtures are the one technology they are guaranteed to use every day they are in the home," says Joy.
GHT is working with One Firefly to completely redesign its website with a much greater emphasis on this newer category. 
"We know that the biggest growth category for our company for the foreseeable future is lighting, so we are taking it seriously and we're going to maximize this opportunity," adds Joy.
The company ordered DMF Lighting kits and retrofitted them into their showroom, swapping out nine 4-inch cans in about 10 minutes, he notes. GHT also had every salesperson on its team pick a single room in their own homes to retrofit so they could see how it easy it is to install and how nice it is to live under improved light quality. 
Lastly, and perhaps most importantly, GHT tacked on an additional 5% commission rate for all lighting fixture sales for six months.
"It lit a fire," he notes. "I've told everyone on our sales team that you are not going to make more money by doing more jobs. Our calendar is full. The way we are going to grow is to do more technology in every category on every project."
Wipliance Advises Starting Small
Unlike GHT, CE Pro 100 integration company Wipliance, with offices in Bellevue and Spokane, Wash., and Scottsdale, Ariz., is not new to lighting fixtures. Lee Travis, CEO of Wipliance, says since the company has been doing lighting controls for years, they have worked closely with electricians, giving the team good experience understanding lighting fixtures. Wipliance started an electrical division several years ago and focuses on being a boutique shop in terms of the electrical projects it handles. 
"That is how we learned to play nice with electricians. They are already on the jobsite wiring in the dedicated circuits for your equipment racks, and running the wire for your TVs, projectors and motorized shades," he explains.
For years, Wipliance has been somewhat involved in fixtures, but in the traditional way in which someone else specified the models, then the electrician went to the local supply house and bought them.
"We had zero direction in the lighting fixtures. The electrician installed whatever he was told to put in and put it where he was told to. We'd end up with lights right in front of the TVs and other things that just didn't make any sense," recounts Travis.
That experience led him to get more involved in lighting fixtures, leaning on ProSource and its training at the Lighting Training Center, as well as visiting suppliers such as DMF Lighting and others. As a result, Wipliance put together its own program for its clients.
"You always look for new things to get excited about. I think lighting is that new hot category. I know other integrators who are just getting into the category and they are scared," he comments.
Travis advises those newcomers to the category to start out by installing them in their showrooms, their own homes, or friends' and family members' houses. 
"Cut your teeth on those and see what happens. We used to say, 'The first time you do a job in a new category, you lose money. The second time, you break even. The third time, you make the money that pays for the money you lost on the first project.' So, the fourth job is when you start making money," he says.
He warns dealers to start with smaller projects. "I've seen integrators start on a six-figure job and get themselves in deep doo-doo," he adds. Starting on a smaller project will enable an integrator to see immediate revenue from the lighting category, which will get everyone on the team excited versus having to wait for a multiyear project to conclude.
Technology Design Associates: 'Go All In' with Lighting
CE Pro 100 integrator Ron Wanless of Technology Design Associates in New River, Ariz., went "all in" on lighting. The company sent 22 people on its staff through American Lighting Association (ALA) training before TDA even installed a single system. 
It wasn't ideal, but TDA's first lighting project was a large one done out of necessity after the client asked them to take care of it. 
"The project turned out well, but you get bumps and bruises along the way. I have never been shy about getting a few bruises. Jumping all in on lighting fixtures has been key for us. I think it is definitely the next direction for this channel. We took our time making sure everyone was comfortable about talking about lighting fixtures, then we took it out to all the specifiers and homeowners," says Wanless.
One key byproduct of being engaged in lighting fixtures is getting involved in projects earlier, according to Wanless.
"The designers and architects bring us in earlier and it helps get us into the client's mind early on. It allows us to expound upon all the technologies we deploy, not just lighting, but also shades and controls. We explain that it is an inclusive process and helps us be brought onboard for all the technology in the home," Wanless explains.
"So, lighting fixtures has been huge in increasing our overall company sales volume, not just for lighting but for everything." 
This is part of a series of articles covering CE Pro's Lighting Fixture Deep Dive. If you're an integrator interested in learning more about this hot category of products and the opportunities it holds for your business, be sure to check out the full lighting fixture deep dive available here.
If you enjoyed this article and want to receive more valuable industry content like this, click here to sign up for our digital newsletters!