Azione Unlimited's virtual spring conference, aptly dubbed the "Expedient Exposition," tackled head-on two of the most pressing problems integrators face today: the labor shortage and the need to engage earlier with designers and architects.
Azione's new SmartHomeHire.com website is a job portal designed to help members find technicians, sales staff and system designers. The site, which was developed by Blue Door Consulting, will "glorify the industry," according to Richard Glikes, president of Azione.
SmartHomeHire.com is not just a static endeavor. Azione and Blue Door have created a full marketing push around the site that will target vocational schools nationwide, and flood social media channels. As part of the program, Azione worked with a local video production company to create several high-quality 60- to 90-second videos with interviews from technicians, salespeople and system designers that have found successful careers in the industry. The site will also have regular content to help elevate it in Google SEO. Blue Door has also bought 16 different URLs that will redirect to SmartHomeHire.com to elevate its Google placement. The site goes live on May 6.
Azione members will be charged $1,000 to post an open position. That single job posting will allow them to hire as many people as they need. In other words, if the job post results in the hire of two, three, four or more people, there is no difference in the fee. Also, if the job is not filled within 90 days, the money is fully refunded.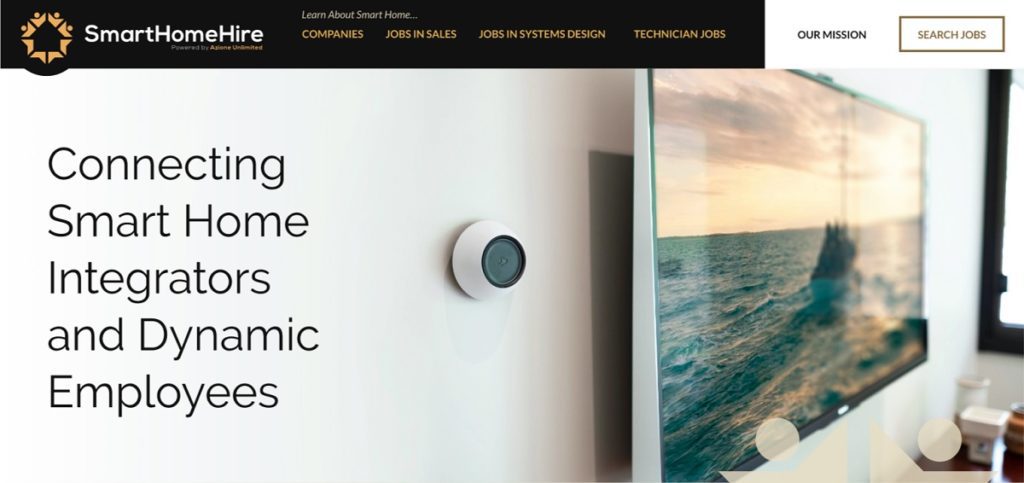 "We incubated an idea, had excellent dynamics from the AU team, and partnered with a talented resource to implement our vision for SmartHomeHire. The initial reaction from our dealers has been overwhelmingly enthusiastic… they're enamored," comments Glikes.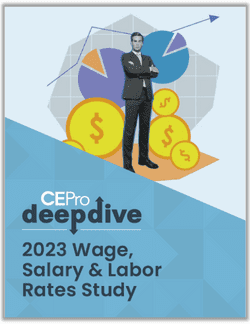 Discover the drastic difference a year can make when it comes to wage, salary, and labor rates in the custom integration industry.
The initiative could not come at a better time. The buying group's members are up 32% in sales for the first three months of 2021, setting sales records as a group each month. The demand for quality personnel is very high.
"This is the best year ever and it isn't going to stop in this calendar year. Housing starts are at historic highs, renovations are booming and home offices are not slowing down, and we are directly tied to this market. Azione Unlimited is already up 32% for the first three months of 2021 -– and that's based on pre-pandemic levels. It's just an amazing time for integrators," says Richard Glikes, president of Azione.
Azione AADA Alliance for Designers, Architects
The second big announcement at the virtual conference is the launch of the Azione Architects Designers Alliance (AADA). The initiative aims to help build a community that unites integrators more closely with designers and architects through education, interaction and guidance.
"AADA operates on two levels: creating a community and creating more business. People like to do business with their friends, and we're creating friendships between architects, designers and Azione members. That outcome is positive. We're also going to be the 'answer man' for architects and designers and reward them for being part of the team," notes Glikes.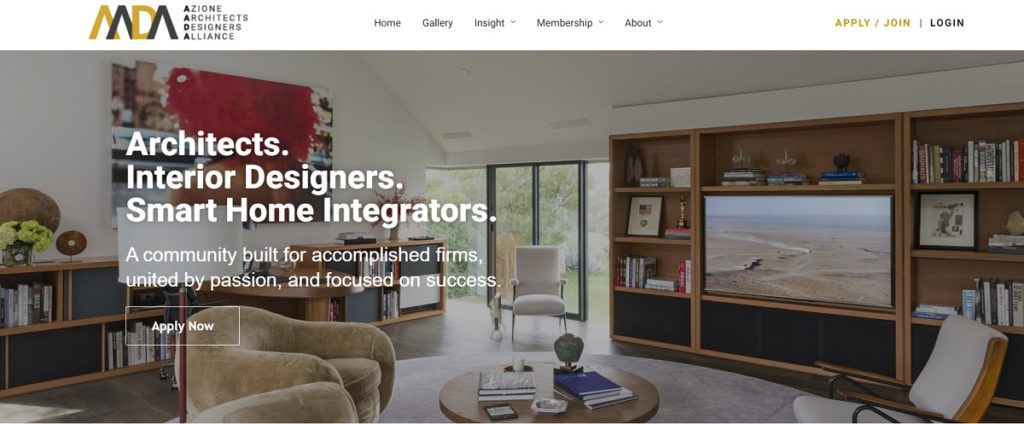 Among other things, AADA will include a map that helps dealers and designers/architects find each other. It will also have a 90-day calendar of CEU training, and a "Dream Book" of inspiring projects. Lastly, there will be affinity-level pricing opportunities for designers and architects on some products. A regular newsletter, along with marketing and SEO, will help expose the program with the goal is to help make new connections and build more business.
The Azione Expedient Exposition included two full days of education sessions and workshops for the 249 Azione members covering sales, benchmarking, leadership and profit tips from industry insiders, including Eric Thies of DSI Luxury and the Home Technology Association, and Paul Starkey and Steve Firszt of VITAL Mgmt.
"We have interesting speakers; opportunities for our vendors and dealers to connect [speed networking]; and interactive, educational workshops. We cover all the bases in a short period of time and the result is enthusiasm and energy," concludes Glikes
Azione's fall conference, dubbed the Nashville Bash, will take place Sept. 22-24 in Nashville, Tenn.
If you enjoyed this article and want to receive more valuable industry content like this, click here to sign up for our digital newsletters!