Wisdom Audio Sage Series ICS7a In-Ceiling Loudspeakers Plays Down to 57Hz
Wisdom Audio Sage Series ICS7a in-ceiling loudspeakers with higher driver output will be showcased at Integrated Systems Europe (ISE) in Amsterdam.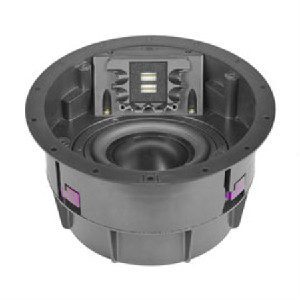 Wisdom Audio, a manufacturer of high-performance loudspeakers, has increased the frequency response of its ICS7a in-ceiling loudspeaker. The speaker is capable of playing down to 57Hz using its new Sage P20 drivers. The speakers will be on display at ISE 2018 in Amsterdam on February 6-9 in the company's booth (5-S120).
The Carson City, Nev.-based audio company says the ICS7a in-ceiling loudspeaker can be used in two-channel stereo systems, high-performance whole-house audio systems, and multichannel surround sound systems.
Driving the ICS7a's performance is Wisdom's newly redesigned Sage P20 driver. Wisdom explains the new Sage P20 driver now delivers higher power handling capabilities to help the speaker better reproduce audio dynamics and transients. Through the redesign of the Sage P20 Planar Magnetic Ribbon driver the ICS7a passive point-source loudspeaker is able to achieve high output down to 57Hz.
Aiding dealers through the installation process, Wisdom Audio offers its optional laser alignment tool (LAT-IC) to help professional integrators optimize the ICS7a's driver orientation to ensure listeners get the best possible soundstage.
Related Content: Wisdom Audio Introduces New Generation SC-2, SC-3 Controllers at CEDIA
Another performance option available to support the ICS7a is Wisdom's Extended Coverage Waveguide. According to Wisdom, the Extended Coverage Waveguide, "is designed to ehance its polar pattern, and allow for greater placement options."
Wisdom Audio adds the ICS7a in-ceiling loudspeaker also eliminates the need for bi-amplification or tri-amplification to support dealers' ability to offer lower cost audio systems.
Wisdom Audio ICS7a In-Ceiling Loudspeaker Specifications
Frequency response: 57Hz to 20kHz +/-3dB
Impedance rating is 4.5 ohms
Sensitivity rating is 87dB
Mininum recommended power rating is 50 watts
Maximum recommended continuous power is 300 watts
Peak power rating is 600 watts
Dimensions (HxWxD) is 11.57 inches x 11.57 inches x 6.57 inches
Weight is 16 pounds