If you're working on a home with a covered patio or screen porch, you might wonder if you can get away with installing an indoor TV outside. Maybe, you think to yourself, it'll be fine since you live in a warmer climate, you're not likely to get a lot of precipitation and it's going to be all contained within a covered porch as well. To save you the trouble and the cost of buying an expensive, new TV: Don't.
Even if you're going through extra effort to protect it, an indoor TV should not be installed outside unless it is properly rated or protected by some weatherproof enclosure. Aside from rain, moisture in the air, dust, grit, sunlight, insects and more can quickly ruin a TV not designed for the outdoors. There's also the TV's performance to consider, as many TVs are designed with lower ambient lighting in mind.
Why It's a Bad Idea to Install an Indoor TV Outside
Put briefly, you should never install an indoor TV outside, even if it's in an enclosed patio or outdoor space, and here are seven reasons why.
1. Installing an Indoor TV Outside Can be Dangerous
Open the first page of any TV manual, and you'll see a section warning you about the dangers of putting an indoor TV outside. Besides the risk of electrocution, one small short, and your cheap TV can cause some pretty expensive damage.
"Indoor TVs are not designed for exposure to the elements like rain, snow, and extreme temperatures," explains JD Fulks, Senior Product Manager at Snap One.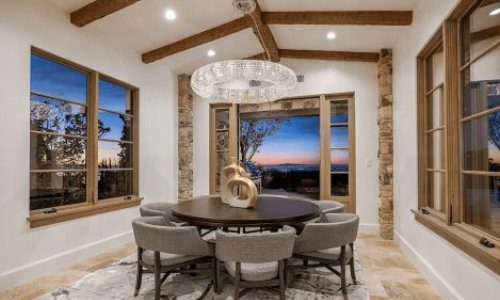 As a custom integrator, lighting is in demand. Effective communication, education and showcasing the value proposition of LED light fixtures in conjunction with integrative control systems are the keys to overcoming challenges and closing sales in this specialized market. Join us as we discuss the future of digital lighting and control with David Warfel from Light Can Help You and Patrick Laidlaw and Mark Moody from AiSPIRE.
Register Now! 
"In fact, most indoor TV manuals warn against using an indoor TV outdoors, which can void the warranty and lead to dangerous consequences like electrical shock or fire. For this reason, outdoor TV certification for all-weather use by an independent lab (like UL) is essential to verify the product can be used safely outdoors. SunBrite Outdoor TVs are UL-Certified for outdoor use.
2. The TV Can Still Easily Be Damaged by Outdoor Elements
If you think that indoor TV is safe under your patio, think again. Humidity, dust, and sunlight can all compromise the inner workings of your device.
"Most indoor TVs have plastic cases, which typically include openings for ventilation. They are designed for climate-controlled indoor areas. Exposure to rain, snow, high humidity, extreme temperatures, and insects can easily ruin internal electronics.
"Quality, built-for-purpose outdoor TVs are sealed from the elements, have durable cases (in many cases powder-coated aluminum), and have high-spec components for long life in extreme temperatures. Several commercial-grade models also have protective tempered glass shields to help prevent impact damage to screens."
Outdoor TVs with an Ingress Protection (IP) rating of IP54 or above mean the TV will be adequately sealed from water spray or dust from any angle, which would not be present in the design of indoor TVs, says Earl Naegele, Director of Commercial Sales at Peerless-AV.
"The National Electrical Manufacturers Association (NEMA) sets standards for electrical equipment that will be exposed to the elements. A NEMA 6 rating is a widely accepted industry standard for outdoor TVs as this protects against dirt, ice, and contact with water, while an indoor TV would not be protected.
"Placing indoor TVs outside will result in temporary black spots on the screen (referred to as isotropic blackout) and potential of permanent damage to the LCD panel. Even for outdoor TVs, it's important to confirm the level of direct sunlight the TV is engineered for before purchasing and installing in a direct sunlight location. Placement is key for any outdoor-rated product."
3. TV Performance Will Likely Suffer If It's Not Outdoor Rated
No one wants to watch a picture with obtrusive glare or black spots, but that's what you'll be faced with when your TV isn't equipped for the outdoors.
Matthew Barber, Hisense Product Marketing Manager, indoor TVs don't use the same housing materials or cooling technology as outdoor televisions which make them more susceptible to dramatic temperature swings and glare.
"Generally, I wouldn't recommend using an indoor TV outside, but I know plenty of people that do. The biggest risk they take is having to replace the TV more frequently to maintain a functional unit in that outdoor location."
Outdoor spaces have higher ambient light levels than most indoor areas. Outdoor TVs are not only built to be brighter than many indoor TVs, but many feature anti-glare screen technologies and can resist extreme temperatures.
"Additionally, indoor TVs often experience a condition called isotropic blackout from the heat generated from direct sunlight exposure," Fulks explains.
"This temporarily causes portions of the screen to go black and display no picture at all. Technologies such as SunBrite's EST (Extended Solar Tolerance) combine heat-resistant screens, anti-heat screen filters, and active heat dissipation with ventilation that moves cool air across the screen and components and exhausts it externally."
4. What You Save in Money You Pay for in Longevity
The initial purchase price for indoor TVs is often lower, but the total cost of ownership may be significantly more than an outdoor TV. A true outdoor TV should produce years of enjoyable viewing, while an indoor TV may need to be replaced multiple times and require multiple installations.
The SunBriteTV Veranda Series starts at just $1,499 MSRP, in direct competition with regular 4K TVs on the market.
The difference? Veranda models can stand up to harsh weather and deliver a clear picture for years to come.
5. Installing an Indoor TV Outside Could Lead to Warranty Issues
It's simple: If you install an indoor TV outside, you're voiding the warranty. So if your picture goes out on the very first day, you're out of luck (and some serious cash).
True outdoor TVs are warrantied for outdoor use. This means if they develop performance issues within the warranty period even with exposure to the elements the TV was designed for, defects will be covered by the Manufacturer's Warranty. Indoor TVs are only warrantied for indoor use.
6. Other Devices Connected to the TV Can Break
A TV shock or short due to moisture can cause damage to other connected devices, which means more equipment you may have to replace.
Outdoor TVs like those from SunBrite feature a large weatherproof media bay in the back of the TV. This feature allows for installation and protection of components that are not weatherproof themselves – like cable boxes, HDBaseT and MoIP receivers.
7. Installing an Indoor TV Outside Can Be a Huge Waste of Time
There is nothing better than a job done right the first time. No one wants to research and shop for TVs over and over for the same application and CE pros certainly do not want to return to the same job multiple times to simply rehang a TV.
What are the Best TVs to Install Outside?
Don't bother rolling out and setting up a TV every time you want to be outside, check out this list of CE Pro's top picks for outdoor TVs and keep an eye out for SunBriteTV products the next time you're shopping around.
If you enjoyed this article and want to receive more valuable industry content like this, click here to sign up for our digital newsletters!