The recent debut of a trio of Sony 2022 laser-based home theater projectors marks the dawn of a new home theater era. Taking its decades of professional Hollywood film production experience and distilling it into its latest consumer products, Sony has gone all in with laser technology for its full line of projectors.
When it comes to video no one knows the topic better than the global company Sony, so what compelled the company to go solely with laser? The technology represents a sea change in projectors with several advantages that will enable for both integrators and their end user clients, including higher brightness, richer color and perhaps most importantly longer lifespan.
The new VPL-XW7000ES, VPL-XW6000ES and the VPL-XW5000ES projectors utilize the latest Sony laser light engine technologies, along with a new version of its native 4K SXRD chip, and the company's X1 Ultimate for Projector processor to provide homeowners images that rival commercial theaters.
"For 2022, not only are all of the projectors native 4K, but the new lineup now offers our latest laser technologies," says Russell Warnhoff, western zone CI sales support for Sony. "The improvements made in all three models allow for much higher brightness and rich color performance. These three new models have a completely new look in design and have a more compact design. In fact, the new XW5000ES is the world's smallest native 4K laser projector for home cinema today."
Sony Laser Projectors Combine Low Maintenance, Reliability and Performance
The projectors' use of laser light sources offers consistent brightness and contrast over the life of the products. The new Sony 2022 projectors also power up quickly, especially when compared to traditional lamp-based solutions, and they eliminate the need to periodically replace lamp bulbs, which adds to the cost of ownership.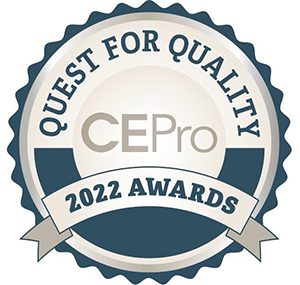 CE Pro urges integrators to recognize their suppliers that go above and beyond to deliver premium support and service. Cast your vote today to recognize the services (not the products) from your favorite manufacturers and distributors.
Cast your vote today!
"A laser is virtually maintenance free for about 20,000 hours. Putting this in perspective, you could watch your Sony laser projector 5 hours a day for the next 10 years until you reached 20,000," emphasizes Warnhoff.
Augmenting the performance of the VPL-XW7000ES, VPL-XW6000ES and the VPL-XW5000ES laser projectors, the products also incorporate Sony's X1 Ultimate for Projector processor engine. The combination of the laser light source and Sony's latest processing technologies helps the projectors to maximize their full performance capabilities.
"Previously, the X1 Ultimate for Projector processor was only found in our flagship GTZ380 projector," comments Warnhoff. "The award-winning processor enables advanced data processing with real-time enhancement of each on-screen object and Expanded Dynamic Range. You will enjoy every bit of content you watch knowing you are getting the full potential from our new Sony lineup."
Another important advancement built into the Sony 2022 laser projectors is the company's new 4K Native 0.61-inch SXRD chip.
The 0.61-inch 4K native 3840 x 2160 imager features a flatter reflective surface and it provides higher levels of light reflectance. The combination of the new 0.61-inch native 4K SXRD chip with Sony's High Density Optical Block, along with new laser diodes and Sony's new Light-Sourced Cooling System, cool the projectors' laser system more efficiently than previous designs to enable higher levels of image quality.
Higher Brightness = Larger Screens
Through these attributes and the benefit of increased light output capabilities, the new projectors provide integrators with higher levels of flexibility to support the products' installation into a range of home environments.
"We know that integrators install in all types of environments outside of a dedicated theater," Warnhoff remarks. "Each model has increased significantly in lumen output compared to previous models. Having this extra brightness gives the integrator the ability to go with larger screens or being able to place these [projectors] in areas with more ambient light. We still recommend using an ambient light rejecting [ALR] screen in these types of applications."
To help integrators to match the right Sony 2022 projector to the right installation environment, particularly for home theaters, Sony is supporting dealers through the availability of an online system matching tool. The projector simulator tool on www.sonypremiumhome.com helps dealers with projector placement and screen-size recommendations based on the model.
https://assets.pro.sony.eu/Web/ngp/Projection_Simulator/projector_sim/single/index.html
More news from Sony: CE Pro Podcast #109: 'Video Guys' Discuss New Sony Projectors, Theater Setup Tips