On November 9, the Florida-based video manufacturer Vutec known for its projection screens announced that it is shutting down.
The company offered brands such as Silverstar, Vision X, Artscreen and Theater Art System. These products provided a choice of fixed frame, motorized screens, and screen and TV art-based cover solutions.
Vutec is the No. 6 company in the Video Projection Screen category of the CE Pro 100 Brand Analysis, with a 12% marketshare.
Vutec founder and CEO Howard Sinkoff passed away in December 2017 at the age of 88. His son Daniel took over the role of president of the company following his death.
Howard Sinkoff started Vutec in 1977 and had been a forefather of progress in the projection screen industry, starting from his work perfecting the first video screen that could produce a picture with the technology at the time… a hand-crafted parabolic curve screen available in a 4:3 video or 1:1 A/V format up to 120 inches diagonal.  These ultra-high-gain curved screens were well suited to rooms with the lights on.  In essence the first ambient light rejecting (ALR) screen.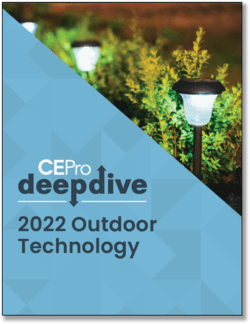 The 2023 CE Pro Outdoor Technology Deep Dive reveals unique set of impediments, including explaining pricing and interacting with outdoor-centric trades.
Get your copy now to take a "deep dive" into the trends and challenges of outdoor technology.
Download the report now!
At CEDIA Expo 2018, the company had moved into a new area with the debut its sister company, Opus Brilliance, and its MicroLED videowall product. The modular LED video wall called OpusMonolith is a low profile product with a 70mm thickness and stands about 6-feet tall.
The company sent an email informing the industry of the news, and the email contained this message:

In 1977 Vutec started making projector screens.  Over the years we have been innovative, an industry leader and enjoyed working with our customers in the growing AV industry.

Times evolve, and together with our competitors, we have seen a change in the projector screen and home theater market.  

With a changing market place, slowing sales and COVID, the Sinkoff Family made a tough decision about their family-owned and operated American made projector screens business, and that was it is no longer viable to continue Vutec operations.

Thank you for the journey and to all the friends we have made along the way.  May your businesses prosper and your families stay well.  

The Vutec Team
More news from Vutec: Wow! 11.4.6 Home Theater Dazzles with Massive 234-Inch Screen