Vutec Sister Company Opus Brilliance Brings Video Wall Options to CEDIA
A new exhibitor to the CEDIA Expo, Opus Brilliance will have its OpusCube fine pixel pitch LED video wall and OpusMonolith freestanding and modular video wall, in another example of what may be a growing trend on the video side of huge home theater, as well as commercial opportunities.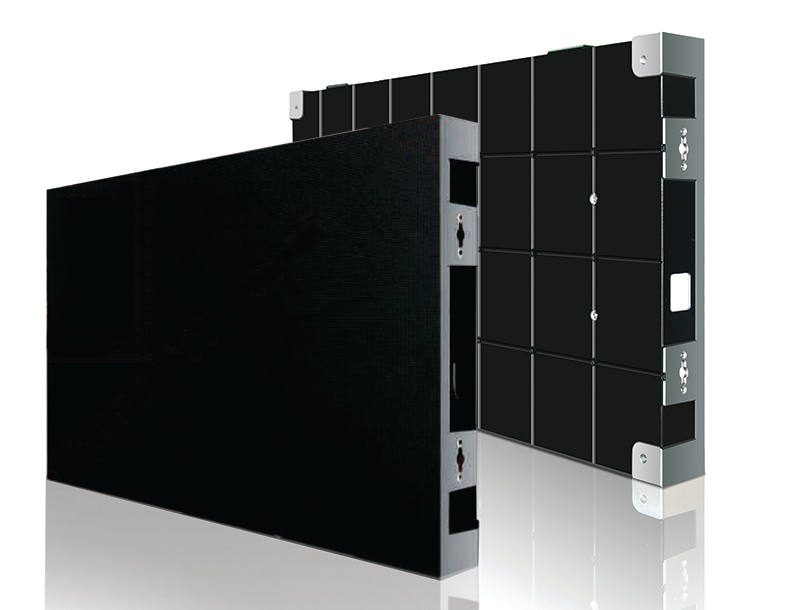 Are video walls the new home theater screens?
Or perhaps they simply represent a new revenue avenue for home theater installers to get into more commercial projects. Either way, modular or panelized video walls are coming to CEDIA Expo this year.
Popular display manufacturer Samsung, for instance, impressed commercial integrator attendees at InfoComm in June with its modular MicroLED "The Wall" offering and will have a big presence at CEDIA per usual.
Making its CEDIA debut and also addressing the burgeoning technology for the resi crowd is Opus Brilliance, though its heritage represents plenty of CEDIA history — it is the sister company of venerable screen manufacturer Vutec.
Look for Opus Brilliance showing a couple of its intriguing video wall solutions, the OpusCube and OpusMonolith, in Booth 4231 of the show floor at the San Diego Convention Center during CEDIA Expo 2018.
OpusCube: Fine Pixel Pitch LEDs Deployed
Opus Brilliance's OpusCube is a fine pixel pitch LED video wall, with exceptional color, flicker-free images, low heat and front maintenance, according to the company.
Opus Brilliance says, "The state-of-the-art screen is optimized for vivid images, seamless alignment with tight tolerances and brightness compensation to deliver a full perfect image, in any configuration."
Indeed, part of the allure for integrators and their clients is an ability to design and deliver a video wall solution of virtually any size or configuration to meet all sorts of custom requests.
Related: Samsung Unveils 146-inch MicroLED TV Dubbed 'The Wall'
The screen's advanced processing will quickly adjust and maintain any newly replaced panel with the same color age as the current panels, the company adds. And customers, whether residential or commercial, can expect to own their OpusCubes for a long time; viewing life is more than 100,000 hours, according to the company.
"The home theater industry is always looking for the best viewing experience where bigger is better," says Daniel Sinkoff, Vutec president and CEO.
"[Opus Cube] can be installed in any room in the house and deliver amazing picture quality with smart technology, little to no heat emission and whisper quite operation."
— Daniel Sinkoff, Vutec
"I wanted to continue to offer our customers the best in projection screen technology with Vutec. I also wanted to diversify into other technology to deliver additional options to customers who wanted more choices and have two entertainment rooms or even areas with high ambient light," he adds.
"In doing so OpusCube by Opus Brilliance does just this — a fully configurable fine pixel pitch LED video wall that can be installed in any room in the house and deliver amazing picture quality with smart technology, little to no heat emission and whisper quite operation."
Seamless Panel Appearance, Unique Alignment System
The seamless panels have a flat back and are 2 inches thick when installed on the wall, as there are no external cables.
A unique six-axis alignment system provides tight tolerances, according to the company, and each cube display is roughly 25.2 x 14.2 x 2.2 inches.
Additionally, each cube is fully front serviceable should maintenance issues occur, and a specially designed magnetic tile removal tool enables easy replacement of modules.
The video wall can either be wall- or hanging/flown- mounted, and each panel weighs 16.31 pounds.
OpusMonolith: More Video Wall Wow Factor
Meanwhile, Opus Brilliance has a fine 1.3 pixel pitch freestanding and modular LED video wall called OpusMonolith (pictured below) also making its debut at CEDIA Expo 2018.
The OpusMonolith is a low profile product with a 70mm thickness and stands about 6 foot tall, the company says. And each OpusMonolith wall is on a base with wheels and totally movable, making it a portable option for versatility in home environments or perhaps more commercial installation opportunities for CE pros too.
Integrators can actually join a singular OpusMonolith wall to other OpusMonoliths to really create some wow factor. The product features a front serviceable design, with no other wires or cords, only the power cord, the company notes.
The OpusMonolith panel holds five fine pixel pitch cubes that can show images seamlessly together or on individual cubes, Opus Brilliance explains. Its lifespan is also said to be roughly 100,000 hours.