On the heels of its recent ic6 in-ceiling loudspeaker launch, Theory Audio Design has introduced the DLC-250.4 distribution loudspeaker controller that can be applied to residential or commercial installations.
Each DLC-250.4 offers 4-channels of intelligent power, a full DSP matrix, and is TCP/IP controlled through a wired connection, or directly via its on-board Wi-Fi access point, Theory Audio explains.
With channel-pair power sharing of up to 250 watts, each DLC-250.4 offers the flexibility to power any distributed audio system size, the company says. Via its configurable outputs, the DLC-250.4 can drive up to 16 Theory Audio 16-ohm ceiling or pendant loudspeakers in Lo-Z mode, and up to 64 Theory Audio architectural speakers in Hi-Z mode – or an optimal hybrid of both.
That's particularly beneficial in commercial spaces like bars, restaurants, retail environments, fitness centers, and spas where a combination of power, from quiet background to loud foreground audio, is required.
In hotels, education facilities, and corporate environments where there are multiple rooms of varying sizes, the DLC-250.4 offers high flexibility in terms of available power, notes the company, whose foray into the commercial sector was facilitated by the ic6 release.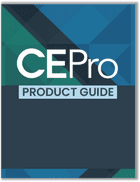 CE Pro's 2022 Product Guide showcases some of the latest and innovative solutions from manufacturers serving the custom electronics industry in a cross-section of categories.
Download the guide now!
Integrators Can Deploy Theory Audio's DLC-250.4 for Variety of Applications
"Because the DLC can operate in both 8-ohm or 70V/100V modes, separately or in combination, and because all of our architectural loudspeakers have the same dual operation, systems of any size or complexity can easily be realized from a tiny half-rack space unit," says Paul Hales, president of Theory Audio Design, which he launched as a sister brand to home theater specialist Pro Audio Technology (PRO).
"And because our ceiling and pendant models can operate at 16-ohms, up to 16 speakers can be powered from a single half-rack unit without the need to invoke the 70V transformers; this is remarkable from a 6-pound amplifier and ensures the highest possible fidelity even in systems with a high quantity of speakers."
The S/PDIF master/slave functionality allows multiple DLCs to be used to cover various applications in commercial/resimercial verticals or residential home theaters and surround-sound systems.
For a house of worship project, for instance, the DLC-250.4 can address the typical requirement for reliable, high-quality amplification of voice, while also covering a large distribution area with many specialized speakers. For home theater and surround sound systems, a single DLC-250.4 is ideal for 3.1 systems (and larger if using multiple DLCs), the company states.
To rack mount or wall/surface mount the DLC-250.4, Theory offers two accessory kits.
Later this year, Theory Audio plans to add a Dante-enabled version of the DLC-250.4, the DLC-250.4d, that will offer further installation flexibility and simplicity by adding Dante network audio protocol and AES67 compatibility.
The DLC-250.4 is available to order now with a $1,950 MSRP and will begin shipping in May 2022.