Victrola might have a history in audio that dates back 115+ years, but the company has been rolling out products to meet today's modern consumer audio needs. Recently, Victrola earned a CE Pro BEST Award for its sleek Stream Carbon turntable that is compatible in the Works with Sonos ecosystem; and the follow-up is a line of portable audio, the Music Edition series Bluetooth loudspeakers.
The Victrola Music Edition 1 handheld speaker (MSRP $99.99) and Music Edition 2 tabletop speaker ($199.99) deliver audio that combines quality metal construction with soft-touch panels and premium sound quality, in a different form factor that stands out from competitor products, the company notes.
Both Music Edition portable speakers are available in black and silver, with anodized aluminum grilles and an IP67 waterproof rating to withstand harsh weather. Victrola adds that the series provides for dual-speaker pairing to create stereo sound.
Victrola Music Edition Speakers Developed for Inside & Outside the Home
The Music Edition 1 incorporates a 2-inch driver and passive bass radiator, while the Music Edition 2 has a 3.5-inch driver with 1-inch tweeter and passive bass radiator. USB-C charging for battery life is up to 12 hours for the Music Edition 1, 20 for the Music Edition 2.
The latter, larger model allows users also to charge mobile devices via a built-in wireless charging pad atop the speaker, and it offers an auxiliary-in port to connect additional devices.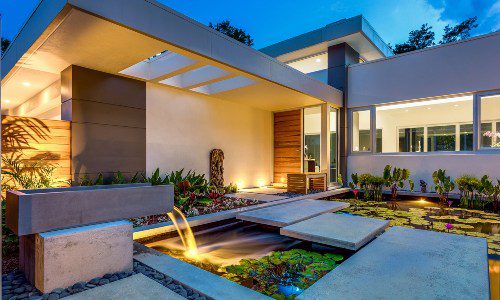 Landscape and architectural lighting create a magical and elegant ambiance for homeowners. The outdoor lighting industry has always been a phenomenal one and continues to grow in popularity. Now is the ideal time to learn more about this rapidly growing and highly profitable industry. Join our panel of esteemed lighting experts that will dive into why it's time for integrators to rethink their role in the outdoor lighting industry.
Register Now! 
The company points out its consumer research and versatility of the platform led to the inclusion of Bluetooth as the portable speakers' main source. The Music Edition series can extend music enjoyment in and out of the house, Victrola says.
"In our pursuit of delivering lifelong music memories for everyone, we learned that Bluetooth speakers were a center point of how many people we interviewed listened to music regularly," says Victrola CEO Scott Hagen.
"Most people would buy these portable speakers for outdoor or on-the-go use, but they frequently use them around their homes. When we started on the Music Edition line, we listened carefully and heard people wanted the products to sound good, feel good and look good, both on the go and displayed in the home," he adds. "Our team has delivered two models, both of which sound fantastic and deliver a timeless aesthetic that looks stunning no matter where they are enjoyed."
If you enjoyed this article and want to receive more valuable industry content like this, click here to sign up for our digital newsletters!