The wait is over for Snap One dealers who have been clamoring for new Triad speakers to add to their portfolios. Snap One has launched the Triad PDX Series of architectural speakers to provide custom integrators a combination of the premium audio performance that Triad is known for with a simplified installation process via Push Lock by Swarm technology.
Named "PDX" in homage to the Portland Airport – the city in which each speaker is custom-designed and engineered – the new Triad line includes 13 speakers and 19 accessories, such as optional custom-colored grilles, rear enclosures and pre-construction brackets. The company had previewed the launch along with other announcements related to Control4, Episode and OvrC back in March.
"The PDX Series marks the first Triad launch since the Snap One and Control4 merger in 2019, and it truly embodies the benefits of both companies coming together," says Alex Zaliauskas, director of product management for speakers at Snap One.
Zaliauskas adds that to simplify installation, Triad PDX speakers leverage Push Lock, an exclusive toolless mounting solution designed for Snap One. The proprietary technology – which is employed in the company's popular Signature by Episode speakers – secures the speaker with the press of a button.
Triad PDX employs high-performance materials and components like carbon fiber, Kevlar, Teteron, dual voice coils, chemically etched metal components, and more. The infusion of Kevlar into carbon fiber for the woofer is a unique hallmark to Triad PDX, the company notes.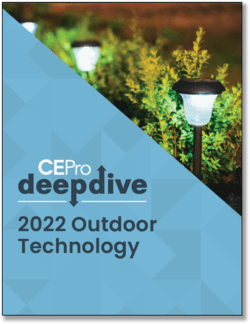 The 2023 CE Pro Outdoor Technology Deep Dive reveals unique set of impediments, including explaining pricing and interacting with outdoor-centric trades.
Get your copy now to take a "deep dive" into the trends and challenges of outdoor technology.
Download the report now!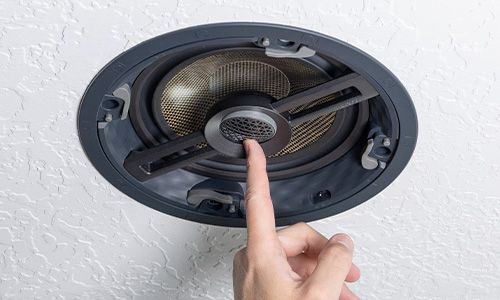 Accessories Add to Triad PDX Installation Flexibility
The two-piece baffle/speaker module assembly allows installers to easily remove the speaker while leaving the cradle and grille in the ceiling or wall – preventing the speaker from being stolen or damaged during the construction process and allowing for HVAC pressure testing for certification of occupancy. 
Triad PDX also includes accessories such as construction brackets that offer flexibility during a new build or install process, rear enclosures for all models that can control air volume and sound propagation to adjacent rooms, and replacement grilles for all models that can be painted and custom-ordered to match the project aesthetics.
Snap One notes it is the first Triad line to launch in local stores and worldwide in the U.S., Canada, EMEA and APAC regions, offering omnichannel shopping options, among other benefits, to Triad dealers.
"The Triad PDX Series brings the best of both worlds: premium Triad sound for distributed audio, media and multipurpose rooms, home theaters and beyond, as well as ease-of-installation and onsite security for our Partners and their customers," Zaliauskas says.
"The marriage of simplified installation technology with Triad's legacy of excellence in engineering, construction and performance is one that our Partners have been asking for – and now it's a reality."