The Phantom H and K Series continue Dali's Low Loss speaker design virtues, wide dispersion ability, and uncanny time coherency while incorporating legacy technologies. They seamlessly blend into any room to please the interior designer and provide an easy installation process for the installer. Here's a closer look at the new products made to suit various custom audio needs:
H-80 R (US $649/ea)
If you are looking to fill a medium to large sized room with dynamic and well-defined sound, the H-80 R in wall speaker should be your priority pick. Equipped with a 8" version of DALI's renowned wood fiber woofer, the sound performance is crystal clear, controlled and powerful. Its low-loss system provides precise timing and timbre to the low frequencies and its ultra-lightweight dome tweeter provides detailed resolution to the high frequencies. The H-80R might be low profile in design but it is grand in sound.
H-60 R (US $449/ea)
The Phantom H-60 R in wall speaker balances stealth and performance, offering all the same features as the H-80 R in a smaller package. Equipped with a 6.5" wood fibre woofer, it delivers a natural and expansive soundstage with clear and detailed hi-fidelity sound for any small to medium room.
K-80 (US $649/ea)
The K series is a step up from the existing E series and is DALI's premium in-ceiling platform. While the E series features polypropylene cones, the K series is equipped with DALI's wood fiber cones. The proprietary paper pulp blend cones display low resonances, high internal damping, and long roll offs. The naturally occurring surface irregularities of the fibers break up resonances and add rigidity, while a protective coating adds longevity. They are the perfect balance of ferocity and discipline, presenting organic, rich, and impactful midrange and bass presentation. The woofer is slightly tilted woofer and the tweeter is positioned off-centre soft dome tweeter to ensure richly detailed sound, time coherence, and overall accuracy. The oversized dome tweeter can be tilted for optimum sound at the listening position, and with integrated voicing options, the sound can be adjusted to fit every situation.
K-60 (US $549/ea)
The K-60 is a more compact version of the K-80 that can conveniently fit virtually any scenario, be it as a main speaker in a kitchen or a set of rear loudspeakers to complete a home cinema. While smaller than the K-80, it is proportionally as dynamic, three dimensional, and room filling.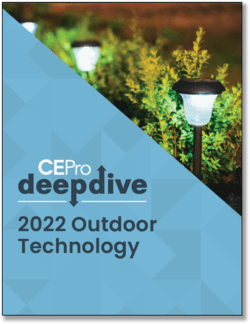 The 2023 CE Pro Outdoor Technology Deep Dive reveals unique set of impediments, including explaining pricing and interacting with outdoor-centric trades.
Get your copy now to take a "deep dive" into the trends and challenges of outdoor technology.
Download the report now!
Both models have optional backboxes that dramatically reduce sound transference to adjacent rooms and protect the speaker from installation areas possessing high humidity levels. Pre-construction kits to be available by fall 2022. Quite evidently, there is no shortage of options when it comes to finding something to suit every unique install need in Dali's Phantom Series. Made with the highest admiration of music in mind, the Phantom Series is a refined, modern take on in-wall, on-wall and in-ceiling speakers that preserves Dali's classic, honest sound reproduction values. Seamlessly integrate these speakers with any home interior and easily level-up a space with the pinnacle of hi-fidelity audio products.