What happens when you combine a leading integrator and an audiophile manufacturer that both have 40-plus year histories? A "no-brainer" collaboration to mark the public debut of the latest iteration of MartinLogan Motion Series loudspeakers, held at Audio Advice's Raleigh, N.C., showroom on Saturday, Feb. 11.
The new Motion XT and Motion Series were announced by MartinLogan earlier in the week. As a longstanding dealer for the brand and sister companies Paradigm and Anthem, Audio Advice (which also has a Charlotte-area location) was an easy choice to then serve as the first location to showcase the loudspeakers to audio enthusiasts, notes MartinLogan senior vice president Allan Tarrant.
"Audio Advice has been a partner for many years with us – they're actually one of the original MartinLogan retailers from back in the day, so it was a no-brainer when we chose who were going to come sit down with and enjoy it," Tarrant tells CE Pro. "These guys had the product very early in the stages."
The step-up Motion XT Series lineup includes the F200 and F100 floorstanding speakers; C100 center channel; and B100 bookshelf speaker, all employing the Gen2 Obisidian Folded Motion (FMT) XT tweeter. The Motion Series offers the F20 and F10 floorstanders ($1,749/$1,249 ea); C10 center ($999); B10 bookshelf ($599) and MP10 multipurpose speakers ($499).
Tarrant was running demos throughout the 12-5 p.m. "MartinLogan Motion Series Experience" event in Audio Advice's Motion XT 2-channel setup that included the Motion XT F100 tower speakers ($2,249 ea), Motion XT B100 bookshelf speakers ($799), driven by an Anthem STR integrated amplifier playing tunes via a Rose network streamer.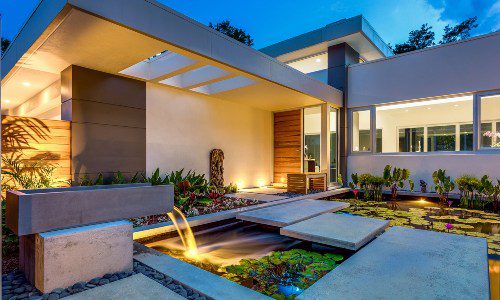 Landscape and architectural lighting create a magical and elegant ambiance for homeowners. The outdoor lighting industry has always been a phenomenal one and continues to grow in popularity. Now is the ideal time to learn more about this rapidly growing and highly profitable industry. Join our panel of esteemed lighting experts that will dive into why it's time for integrators to rethink their role in the outdoor lighting industry.
Register Now! 
It was one of four rooms Audio Advice outfitted with MartinLogan speakers. A 5.2.6-channel Motion XT home theater demo incorporated Motion XT F200 tower speakers ($2,749 ea), Motion XT C100 center channel ($1,499), Motion MP10 as height speakers, Motion XT B100 as rear channels, Dual Dynamo 1100X subwoofers plus Anthem MRX1140 AVR.
Two rooms featured existing MartinLogan electrostatic speakers, the Impression ESL 11A towers and Renaissance ESL 15A towers, respectively, for visitors to experience.
Improvements Abound with MartinLogan's Latest Motion Series
What was Tarrant excited to highlight about what's new in the redesigned series? "It's everything … we can't just isolate it to one thing," he enthuses.
Among the updates, the new speakers incorporate a bigger motor structure, better power handling, better heat dissipation as well, also integration of the Folded Motion Waveguide, which Tarrant says added roughly 10 more degrees of dispersion.
"So a wider sweet spot that's more consistent in the room," he says of the results. "On the XT it's a 15-degree vertical change and a 10-degree horizontal change – the larger design moves considerably more air, more closely mimicking performance to the electrostatic product that we do."
Other enhancements include updating the woofers; strengthening the cabinet reinforcement; and making the feet on the floorstanding models tool-less to more easily adjust (and they ship with spike and rubber feet).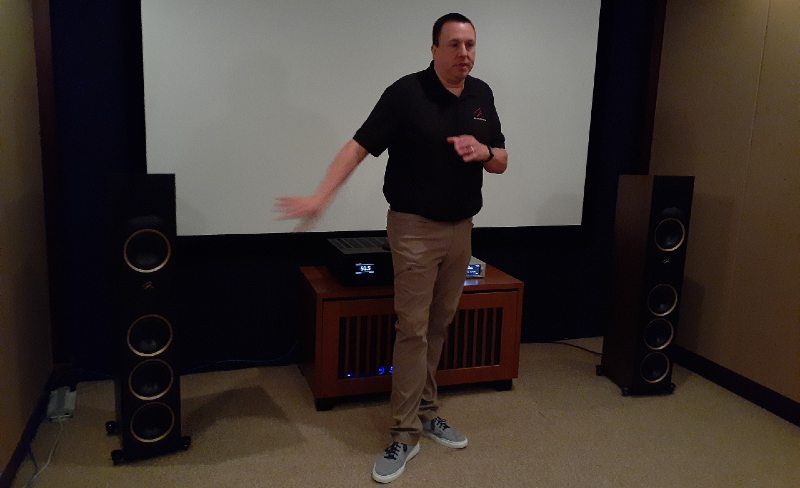 "This is the first showing of the Motion XT and Motion Series, and they've improved virtually everything in them. The concept was they wanted a place to go show these, and we shot a handful of videos, reviewed them and then we would do a live event – and as you can tell it's totally packed," Audio Advice CEO Scott Newnam tells CE Pro.
The RSVPs had so much interest that the dealer even extended the event from its original four hours to five, Newnam adds. Regional manager Chad Fagin of big Southeast manufacturer's rep PSG (Precision Sales Group) was also on hand to assist during the busy afternoon, helping to answer questions about the new products and others in the MartinLogan lineup.
Audio Advice Team Is Audiophile Event Ready
Audio Advice is no stranger to hosting big-time audiophile events. The company ramped up its local presence from an evening Music Matters-type of open house to a three-day Audio Advice Live held at Raleigh's downtown Sheraton last August. MartinLogan was among the many major brands to participate, and the literature handed out during the Motion Experience noted Audio Advice Live will be back again in 2023, August 4-6.
"We have an incredible relationship with them, and our team knows their product so well it was not going to be a hard hurdle for us to get up to speed," Newnam says. "As you can see we've got multiple rooms, and one of the biggest challenges of this launch was we had to show a full theater room, and in this room we decked out a full theater and did it in an extremely fast time."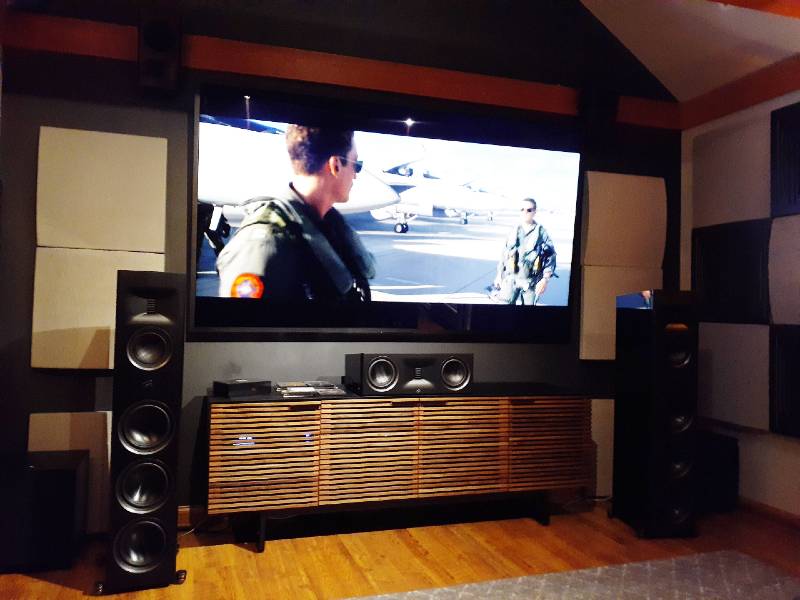 On top of that, the space Audio Advice used was not a dedicated theater, and had glass doors on the entrance side. Newnam explains that with the new MartinLogan speakers, the team managed to create an Atmos media room that overcomes obstacles to achieve high performance.
"You've got this vaulted ceiling, and you've got glass on one side so you can't put surrounds in. So one of the key speakers they did with this launch is the MP10," he adds.
The MP10 multipurpose speaker allows for a variety of mounting options, including surface-mount whereby the speaker shape and mount angles it at 20 degrees off the wall, "which basically means if you have a room where you can't put in-ceilings in you can use these as your height channels and create a full Atmos and spatial theater, so that's what we're showing in that room is how we pulled it off. If you look up, the speakers aren't on the ceiling but on the wall."
Between a thrilling Top Gun: Maverick scene among the many movie selections in the theater room and the variety of music in the audiophile demo room, event attendees could see the flexibility of the speakers as well as the power, nuances and clarity.
Though the last generation of MartinLogan Motion Series launched in 2019 it was not a full redesign, Tarrant notes, but more of a mid-cycle refresh. The original series dates back to 2012 and original Motion generation was designed in 2010.
"What a lot of people don't realize is this is technically the fourth generation of our Motion product," he notes. "And best, if we do say so ourselves."
If you enjoyed this article and want to receive more valuable industry content like this, click here to sign up for our digital newsletters!