Netflix has developed a reputation for taking great care in the creation of its content, and based on the use of high-performance Sony Professional equipment for the series Sweet Magnolias, the streaming giant is living up to its reputation.
Set in the south, the Netflix show focuses on a group of three friends with cast members that include JoAnna Garcia Swisher, Brooke Elliott and Heather Headley. Leading the production of Sweet Magnolias for the second season from a technical perspective are Tyler Blackwell, digital imaging technician (DIT), and Brian Johnson, director of photography.
For their preferred equipment in the filming of the show, which will be viewed by homeowners with HDR and SDR televisions, Johnson decided upon the Sony VENICE full-frame digital cinema camera, and Blackwell enlisted Sony PVM-X2400 and BVM-H310 4K HDR monitors.
"On Sweet Magnolias, we're delivering a show in SDR and HDR. My hyper-critical eyes are on every frame and having HDR monitoring on-set has been very helpful in pushing a different standardized look. We use Dolby Vision, which I think is the pinnacle of HDR and provides the best viewing experience for our devoted fans," comments Blackwell.
"After some trial and error using other equipment, as well as a good deal of research and development, I found my way to the Sony 4K HDR monitors. On Sweet Magnolias, we use three PVM-X2400s and one BVM-HX310, with the X2400s on my cart and the main cart, while the HX310 is on the HDR cart, which is in our command center – the DIT tent."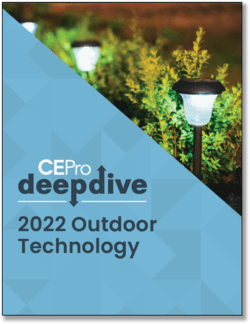 The 2023 CE Pro Outdoor Technology Deep Dive reveals unique set of impediments, including explaining pricing and interacting with outdoor-centric trades.
Get your copy now to take a "deep dive" into the trends and challenges of outdoor technology.
Download the report now!
Johnson asserts, "The DIT tent is pretty impressive. It has an array of Sony monitors and it truly offers the best visual representation of what we're going to ultimately end up with."
Sony Professional Equipment Meets Sweet Magnolias Technical Needs & More
Blackwell prides himself on being on the cutting edge, which includes 12G, 4K and HDR, and with this desire to maintain the highest quality standards he is using the Sony monitors for a range of applications.
"We use the BVM-HX310 to make sure the team is comparing my stills to what they're viewing in their environment and ensure everything is lined up and accurate to what Brian and I have created," Blackwell points out.
Some of the attributes that Blackwell appreciates about the PVM-X2400 and BVM-HX310 monitors are how accurately they produce color and how much they contribute to the creative process. Netflix's own screening room incorporates Sony's Pro Crystal LED system for video accuracy.
"In scenarios where there's a wider field of view or where there are multiple windows looking out, we'll put that up on the HDR monitor to see the perceptual effect of the bright windows," explains Blackwell.
"Even if they're not clipping, in HDR they can be so bright which allows us to gain perceptual information beyond any waveform information, so we can adapt our strategy to mitigate the brightness. When looking at an SDR image, you don't always have that same insight."
Other points that were critical to the show's technical staff include the fact that clients will often request the production team uses Sony equipment. The ability use of the Sony products to streamline the workflow process also contributes to the overall value that Sony's professional product line brings to a major production such as Sweet Magnolias.
For the filming of the Netflix show, Johnson says that he likes to use VENICE 5.7K 16:9 camera because of the way it represented color and contrast.
"I knew that on this project, we were going to want to limit the depth of field as much as possible on stage, so I was really keen to go with a large format sensor," remarks Johnson.
"It worked out that the VENICE was our best candidate and aligned with our budget. I had obviously read a lot about the VENICE and some of my colleagues had shot on it and had really great experiences. I was curious and excited to work with VENICE, and it's proven to be an awesome camera. It won't be the last time I use it, for sure."
After having gone through the experience of using the Sony components for season two of Sweet Magnolias, Johnson adds that he sees the value of using state-of-the-art components such as the Sony camera and monitors.
"I can only assume that one day, all monitors will be HDR, and keeping an eye toward that, we're increasing the shelf life of Sweet Magnolias through our use of cutting-edge technology," he states.