Sonos is one of the most popular manufacturers in the entire world of consumer electronics with many dealers from across the globe representing the brand.
The company recently chose to recognize four integration firms for their creativity in how they implement Sonos in the field and the level of service they provide to support a range of client needs. As part of its first annual Sonos Integrator Awards, the company selected firms that excelled in four categories: commercial, outdoor, Works with Sonos, and general.
Showcasing these dealers' work ethic, talent and creativity, here are Sonos' 2020 Integrator Award winners, with details on how these companies excelled in a year shaped by the impact of COVID-19:
General: SAV Digital Environments
Works with Sonos: Advanced Premises Systems
Outdoor: EOS Digital Services
Commercial: Sound and Vision LLC
General Category Award Winner: SAV Digital Environments
Scott Abel, director of quality & customer, SAV Digital Environments, says it is important for the company to install products from brands that customers trust and can use intuitively.
Citing the project that led to the award, Abel notes the team's objective was to create the most intuitive, discreet, thoughtful smart home possible for the client.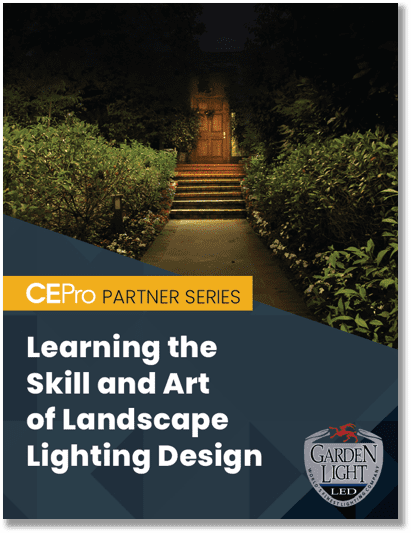 Experts recommend landscape lighting design as an entry point for integrators into the revenue opportunity of home lighting. Check out our new resource for tips and best practices. Download "
Learning the Skill and Art of Landscape Lighting Design
" today!.
"The clients wanted technology that they were already familiar with, so the challenge was to take what they already knew [Sonos] and not only add to it but simplify it," states Abel.
Abel explains that by starting the project with Sonos, he was able to bring audio into the customer's home in a way that not only looks good, but also provides an intuitive interface. Abel continues: his team was able to implement the Crestron Home product line, which seamlessly integrates with the Sonos platform so everything works together as a smart home system. With Sonos incorporated into a whole-house automated Crestron system, it's accessible throughout the home on remotes, iPads, wall screens and iPhone even hundreds of miles away. This also allows SAV to continue servicing the customer by providing responsive monitoring, feedback, and updates.
The other big client concern was how the integration of electronics could impact the design of their home. Abel emphasizes that all of the products SAV Digital Environments chose for the installation, including Sonos, Crestron, and Access Networks, blended into the client's home to meet the homeowner's satisfaction.
"SAV's use of the Sonos multiroom system and Sonos home theater provides incredible sound, rich viewing, and flexibility utilizing several sources of video and audio to create seamless viewing, entertainment, mood, and surround sound throughout,' enthuses the homeowners."
Outdoor Category Award Winner: EOS Digital Services
IIan Saadia of EOS Digital Services in Houston, Texas, notes that over the course of this past year outdoor AV has become an increasingly important category for the integration company. Some of the factors Saadia says that are driving outdoor AV's increasing importance include the fact that homeowners are improving their outdoor spaces because they've been at home more than ever.
For this project, Saadia's team transformed a seldom used part of a backyard into a fun, relaxing area the client's family could escape to and enjoy outdoor movie nights. The installation included a Sonos Sub and four Origin Acoustics landscape speakers that were powered by the Sonos Amp. EOS Digital Services also added an outdoor projector with Apple TV that Airplays to the Sonos speakers.
"Outdoor AV systems account for approximately 10% of our business, and all of our projects include Sonos products," states Saadia.
Saadia points out the Sonos product line integrates easily with the other product lines it carries, and customers find Sonos products simple to use. Saadia adds that regardless of the application within a smart home install, Sonos supports his company.
"Sonos has been a great partner for us in all aspects of home audio—both indoor and outdoor," he emphasizes. [They are] supportive in helping us grow our business with marketing initiatives, and we receive many referrals from the Sonos website as well."
Works with Sonos Category Award Winner: Advanced Premises Systems
Gus Cueto of Advanced Premises Systems points out that because of Sonos' ability to integrate with a range of products and solutions within the custom installation market, his firm can design systems to meet any client need.
"Interoperability with other products is extremely important. The customers love it when they can press a single 'Away' button on the Lutron keypad as they are leaving the house that not only turns off the lights and closes the shades, but also stops the music and turns on the alarm," he comments.
"Since our installations are generally control systems less, direct interoperability between systems is even more important. Not only is product reliability of utmost importance to us, but also the reliability of the interface between the systems."
The Atlanta-based integrator explains that typically his company will use a Sonos Amp in each zone of the home to provide the system with plenty of flexibility. From there Cueto continues, Advanced Premises Systems will specify a specific speaker. Citing a recent installation, he says the company installed James Loudspeaker's Small Apertures throughout the client's home.
Addressing the client's outdoor zone, Advanced Premises Systems installed three Sonos Ports that it paired with a high-power Crown amplifier. Finishing the outdoor audio zone, he notes the company installed Italian-made stone speakers from Architettura Sonora.
"Meeting customer satisfaction goals with Sonos is easy. Most everyone is already familiar with the product so the adoption time is short and easy. Also, everyone enjoys the Sonos system so they are instantly happy with the results," says Cueto.
Commercial Category Award Winner: Sound and Vision Design LLC
Sonos is usually thought of as a residential product line. Thinking outside of the box, Andy D'Amato of Sound and Vision Design LLC, is using his experience with Sonos as a reliable, high performing product line to meet the needs of a growing number of his company's commercial clientele.
This project included 13 Sonos One SLs, 2 Sonos Subs, and 2 Sonos Amp's were used to power a pair of Sonance VP 62Rs and a pair of Sonance Marnier 86s.
"We use Sonos in commercial applications because of its relative low-cost point when compared to other solutions," says D'Amato. "It also has very good sound and [sound] dispersion, which are important to our clients."
D'Amato comments that since Sonos has established a solid track record for his residential business, he realized he was able to apply the product line's many positive attributes to the commercial AV market too.
He admits that within the Sonos product line he doesn't have a particular favorite or "go-to" product, instead he continues, his company simply chooses the appropriate Sonos product for each installation.