Savant Systems, Inc., a provider of smart home and smart power solutions, has partnered with Sony and Megapixel, to provide integrators a range of best-in-class products to strengthen its dealers ability to deliver state-of-the-art entertainment experiences.
The Cape Cod-based smart home company now offers the Sony ES Home Cinema Laser Projector series through the Savant Store. The Sony ES front-projector lineup is a digital entertainment solution that enables integrators to deliver the highest level of video experiences to discerning clients, while taking full advantage of Savant's integrator programs, including in-stock inventory, access to design and in-house technical support, and qualification for earned quarterly volume rebates.
Savant has also partnered with Megapixel VR to provide integrators with 4K and 8K video tiling solutions.
With over 200 technology patents, Megapixel is known for delivering customized, state-of-the-art LED displays and processing for live entertainment, film, TV, and commercial applications. Now, the performance of Megapixel's power-efficient microLED technology is available to integrators, transforming modern living spaces into next-generation home entertainment environments.
With a world-class team of engineers and designers, Megapixel consistently delivers breakthrough LED solutions to the market, inspiring a sense of wonder and helping visionary clients bring their ideas to life in the most inspiring ways. Savant notes that Megapixel is the same team behind large-scale displays at venues like MGM Cotai and Radio City Music Hall, as well as events like the Oscars, Super Bowl halftime shows, Coachella, and visual effects for numerous blockbuster movies.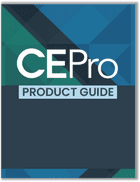 CE Pro's 2022 Product Guide showcases some of the latest and innovative solutions from manufacturers serving the custom electronics industry in a cross-section of categories.
Download the guide now!
Savant Store Provides Sony and Megapixel Support
As part of its new partnerships with Sony and Megapixel, Savant points out that not only is it offering Sony ES Home Cinema laser projectors via the Savant Store, it is also helping integrators through its preconfigured system packages from Megapixel, which range in size from 106-inch to 212-inch, as well as infinitely customizable configurations.
The company also emphasizes that authorized Savant Integrators can also benefit from access to installation services, such as up to three days of onsite support to ensure their home entertainment installations go smoothly.
More news from Savant: Savant's GE Lighting Cync Syncs with Matter, Schlage