Severtson Screens will be featuring at CEDIA Expo 2023 its new Deluxe In-Ceiling Series and Deluxe Tab Tension Series screens.
According to the company, the Deluxe In-Ceiling Series (DSE) is a collection of in-ceiling, motorized electric projection screens designed for installations requiring a concealed in-ceiling projection screen and are ideal for multi-use environments such as home theaters, schools, conference or training rooms, houses of worship and other venues that require hidden screens.
The new screens are fiberglass-backed to provide increased flatness by reducing edge curl, and the surface is designed to last for years with optimal visual performance the company says. Meanwhile, the Deluxe Tab Tension Series (DST) screens are tab-tensioned to provide increased flatness and eliminate edge curl. Tensioning can be adjusted.
The DST screens offer an even wider variety of projection materials than the DSE, featuring Severtson's signature projection surfaces and optical coatings in Cinema White (1.3 gain), Cinema Grey (1.0 gain), Rear Projection (.8 gain), High Contrast Grey (.8 gain) and SēVision 3D GX (1.4 – 3.0 gain). All optical coatings are also available with perforation on custom orders, the company says.
The trapdoor at the bottom of both the DSE's and DST's case opens automatically to allow the screen to lower, and it closes when not in use, according to the c0ompany.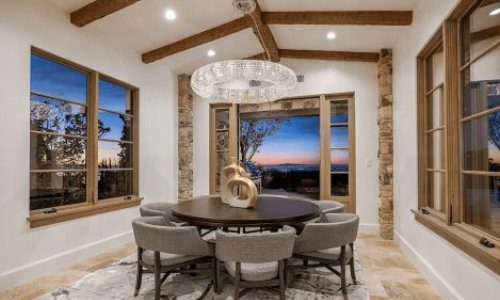 As a custom integrator, lighting is in demand. Effective communication, education and showcasing the value proposition of LED light fixtures in conjunction with integrative control systems are the keys to overcoming challenges and closing sales in this specialized market. Join us as we discuss the future of digital lighting and control with David Warfel from Light Can Help You and Patrick Laidlaw and Mark Moody from AiSPIRE.
Register Now! 
Both screens can be operated in with an included RF receiver and handheld remote, an external IR receiver connected to the IR eye port, and the 5-12 volt trigger connection for fully automatic operation synchronizing the screen with the power cycle of a compatible projector. The RS-232 control is also a standard feature of all Deluxe In-Ceiling models, according to the company.
All DSE screen surfaces on the Deluxe In-Ceiling Series are fiberglass backed to reduce edge curl. Matte White (1.0 gain) features true color reproduction and is recommended for dark rooms, while Matte Grey (0.8 gain) provides higher contrast for rooms with ambient lighting for classrooms and conference rooms.
In response to recent shipping and logistical issues, 6-piece frames will be Severtson's new standard moving forward. This will help to reduce shipping damages and provide a better experience for its customers. The screens will be of the same high quality standard the industry has come to expect from a Severtson screen.
The change will occur gradually over the coming months as supply of 4-piece frames is depleted. 4-piece frames will still be available on custom orders, with a lead time.
Finally, in recent years, the standard aspect ratios have shifted gradually wider. Movies are now almost exclusively produced at 2.39 or 2.40 aspect ratios. As a result, Severtson will be retiring the 2.35:1 aspect ratio as its standard and migrating to 2.39:1. The 2.35 screens will be shipped until Severtson's supply is exhausted. 2.35 will still be available on custom orders, with a lead time. The prices and standard diagonal sizes will remain the same, only changing the aspect ratio. The new 2.39 drawings are currently available on the company's website.
If you enjoyed this article and want to receive more valuable industry content like this, click here to sign up for our digital newsletters!