Polk Audio, a Sound United brand, is launching a pair of new products lines that meet the price point and application needs of integrators and their clients: the Signature Elite and Monitor XT series of loudspeakers.
The Carlsbad, Calif.-based manufacturer says the Signature Elite and Monitor XT product lines offer users a Hi-Res Certified, Dolby Atmos compatible line of products that can be used for the playback of streaming and physical media without compromising performance. Polk Audio points out that it first introduced the Signature series back in 2016, and the new products provide deliver, "enhanced articulation, excellent dynamics and low distortion at high output levels."
"We set out to take a great speaker line and make it even better," comments Frank Sterns, president of Polk Audio.
"Signature Elite builds on the incredibly strong Signature platform and meticulously reengineers it to maximize high-resolution audio capabilities, as well as cinematic experiences for music and movie lovers alike."
According to Polk Audio, the new Signature Elite include Dynamic Balance optimized, mica-fortified polypropylene woofers and Terylene dome tweeters that are controlled by the company's new precision crossover networks.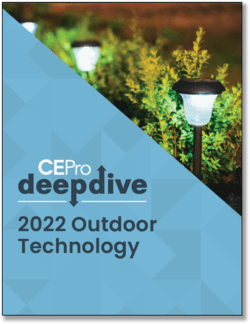 The 2023 CE Pro Outdoor Technology Deep Dive reveals unique set of impediments, including explaining pricing and interacting with outdoor-centric trades.
Get your copy now to take a "deep dive" into the trends and challenges of outdoor technology.
Download the report now!
Additionally, all of the products incorporate Polk Audio's Power Port technology that helps air flow from the speakers' downward-firing bass port into the listening area. Polk Audio also points out the Signature Elite Series is more sensitive, more amplifier friendly than previous versions of the line, which makes them easier to drive.
Signature Elite and Monitor XT Speakers Span Affordable Price Gamut
Supplementing its selection of new speakers, Polk Audio's new Monitor XT speakers bring even more value to the home audio market.
The Monitor XT line of products is also Hi-Res Audio and Dolby Atmos-certified, and Polk emphasizes the products represent the evolution of its previous-generation Monitor product line.
"Monitor XT provides all listeners an entry point into Polk Audio's 50 years' worth of experience building iconic loudspeakers that deliver clarity, high-output and effortless bass," notes Sterns.
"Direct to streaming movie releases in Dolby Atmos proliferate, Monitor XT offers consumers an affordable way to take advantage of improved quality source material."
Polk Audio says the Monitor XT line offers homeowners a choice of several models to enable integrators to specify a range of reasonably priced, stereo, multiroom AV and home theaters. The line includes two floorstanding models, center-channel loudspeakers, two bookshelf models, a 12-inch powered subwoofer and dedicated height modules for immersive audio.
Signature Elite Models and Pricing:
ES10 Surround/Height Module: $249 per pair
ES15 Compact Bookshelf: $299 per pair
ES20 Bookshelf: $399 per pair
ES30 Center Channel: $299 each
ES35 Center Channel (slim): $399 each
ES50 Tower: $349 each
ES55 Tower: $449 each
ES60 Tower: $549 each
Monitor XT Models and Pricing:
XT12 Powered Subwoofer: $299 each
XT15 Bookshelf: $149 per pair
XT20 Bookshelf: $249 per pair
XT30 Center Channel: $149 each
XT35 Center Channel (slim): $249 each
XT60 Tower: $199 each
XT70 Tower: $299 each
XT90 Height Channel: $149 per pair