Robert Zohn, president and founder of Value Electronics, has been at the forefront of home video performance for a long time through events like his famous TV Shootout. Zohn's new agreement with Panasonic to be authorized to sell Panasonic's FZ and GZ series OLED reference monitors underscores his position as a leader in the high-performance market. 
Explaining his unique partnership with Panasonic, Zohn says these limited distribution Professional Client Review OLED displays have come to the U.S. after having been reviewed by Hollywood color scientists. Working with Panasonic's engineering team he continues, the products are developed to meet Hollywood's requirements for color fidelity, color saturation, contrast, brightness levels and dynamic range. 
Zohn notes the process of Panasonic's engineering team and Hollywood collaborating began several years before the current product line was available.
For Hollywood production, which started with the EZ1000 it was 2017 because it took them two years to get a product that would pass their requirements," states Zohn.
"And since then, with every successive model they go through almost a year process of evaluating, tweaking and retuning the processor to deliver the performance. Some of that trickles down to mass production, but not off of it because it's not easy to mass-produce those processors with the hand turning and programming."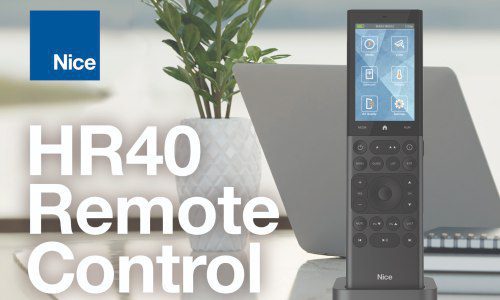 Remote controls continue to evolve at a rapid pace. The days of integrators providing remote controls simply for the TV have migrated to full home automation control of lights, shades, security, HVAC and audio/video in a single form factor. Join this free one-hour CE Pro webinar to hear from a panel of experts who will delve into finding the right remote that can effectively control all the subsystems in a home and empower consumers to customize the solution, while at the same time allowing integrators balance their service requirements.
Register Now! 
Panasonic FZ and GZ Series Reference Monitors Built for Hollywood Studios
One important note related to FZ and GZ series is the fact these reference monitors are not mass-produced products.  Zohn emphasizes that previously these monitors were only available to filmmakers and post-production houses. 
Moreover, he states that Panasonic handpicks the OLED panels because there's too much variation from one panel to another that result in uniformity and banding issues.
"They pick approximately 1% of the very best panels that go into these Hollywood ones. The mass-produced ones don't have that type of QC [quality control]," comments Zohn.
Because of the panel selection process, Zohn says that Panasonic only produces 10 or 20 units a month. The exclusivity and performance of these products also means the FZ and GZ series monitors are more expensive than typical mass-market televisions. 
Additionally, because the products are technically defined as monitors, they omit many standard consumer features such as headphone outputs and streaming apps.
"They are exclusively available to the consumer market, and there are only two dealers that have these in the United States. Filmtools for the Hollywood production people and Value Electronics" underscores Zohn.
"So, there's two different types of monitors that Hollywood uses. They use a color-grading monitor, which is typically a [Sony] X 300 and now it's the BVM-HX310, which is a dual-cell layer LCD. Actually, they were always dedicated RGB panels. They use them for grading, for color grading for making films. Then they have client monitors that their clients let cinematographers, the Netflix people, etc. see."
Zohn stresses that color-grading monitors are typically small screens and they are expensive—roughly $30,000.
The client monitors he explains are very high quality, but not to the same standards as the creation reference monitors that are used for grading. That's where these Panasonic FZ and GZ series products fit in. 
---
More news from Panasonic: Panasonic JZ2000 OLED Display
---
"They are important, and they are higher end than consumer-grade. They are very close to the standard of the color-grading monitor," says Zohn.
Zohn adds he carries these products because there are there's an enthusiast set of consumers, as well as luxury consumers that want the very best products that are available.
"Because of our TV Shootout Evaluation event enthusiasts come to us because they want to talk geeky, and I am a good, geeky talker. They want to learn more about the differences between these panels and they have a hobby like I have of wanting an immersive experience with the content that we're watching …" he notes.
"The other customer base that's interested in this type of product is the luxury buyer. The ultra- wealthy people who want the best of everything. They buy Rolex watches; they buy high-end cars because they are premium buyers. So, it appeals to them as well. Being in Scarsdale, N.Y., which is one of, if not one of the highest zip code incomes in the world. My customer bases locally also matches our nationwide niche of customers of customers for different reasons that buy these premium products."
FZ and GZ Series Could Theoretically be Plug-and-Play
Addressing the performance of the FZ and GZ series of OLED displays as a consumer solution, Zohn adds that enthusiast and luxury consumers could expect a high levels of picture quality even without calibration.
"I think reasonably good; it's even an understatement that without calibration [these monitors] are tuned very well at the factory, and are very different from consumer grade, but we are getting our first allocation," he emphasizes.
With that said Zohn stresses the value of calibration and the lengths Value Electronics goes to in order to ensure that it provides its clientele with the highest levels of AV performance.
"We have one of the top professional calibrators that works with us exclusively John Reformato, and he's a level III certified calibrator. He worked with Joel Silver [CEO and lead developer, Imaging Science Foundation] very closely. We are beta tester for Kalman enhancements and we report to them on things that we'd like to see enhanced, and we are also beta testers and consultants for Sony and LG as well on picture performance," states Zohn.
"We thoroughly evaluated these panels as they come out of the box, and after calibration. So, we'll be able to answer all questions"
When asked whether the introduction of the FZ and GZ series reference monitors marks the return to consumer electronics AV market prominence for Panasonic Zohn is somewhat optimistic.
"We are always encouraging to them because they build world-class products, and we've been successful in some degree. I know in part I can take some credit for them developing their high-end Blu-ray players [DP Series of UHD players] that they've come to market with, they've been very successful with them," he enthuses.
"At best I am cautiously optimistic. I don't think they have an interest in building consumer-grade products for the United States. I think their niche is in building very high-end, premium products that have a high-performance level."