Kaleidescape, a developer of bit-for-bit home entertainment systems, and Meyer Sound, a manufacturer of professional and consumer high-performance audio systems have partnered to release a curated movie package.
The limited-time bundle, which is worth more than $1,000 will be available to homeowners that purchase a Kaleidescape Terra movie server, Strato C movie player, and any Meyer Sound surround sound system valued at more than $10,000.
"This is an exceptional promotion that brings together two industry-leading brands. Kaleidescape's lossless-quality soundtracks provide Meyer Sound systems with the full-fidelity audio needed for that magical escape from reality," explains Norma Garcia-Muro, vice president of marketing, Kaleidescape.
"The result is an exceptional level of pure, honest sound rendered to private cinemas of any size."
Meyer Sound, Kaleidescape Bundle Showcases Companies High-Performance AV Capabilities
The two well-known manufacturers point out the new limited-time promotion underscores the two companies' strategic goals of providing homeowners with the highest levels of home theater performance.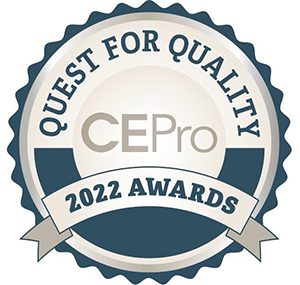 CE Pro urges integrators to recognize their suppliers that go above and beyond to deliver premium support and service. Cast your vote today to recognize the services (not the products) from your favorite manufacturers and distributors.
Cast your vote today!
The curated selection of more than 40 movie titles was selected by Meyer Sound's technical team and some of the titles offered in the bundle feature Dolby Atmos object-based surround sound.
Consumers that choose the bundle will have the titles preloaded onto a Terra server, and when the server is combined with a Strato C, homeowners will be able to play uncompressed 4K with HDR movies at bitrates eight times higher than today's streaming services, and they will be able to enjoy lossless audio that features 10 times the resolution of the audio available from streaming services.
Meyer Sound is a 50-year-plus manufacturer of professional sound systems, including its new Ultra Reflex system, which is designed for use with direct-view displays, and its Bluehorn System, which is a full-bandwidth speaker line designed for high-resolution monitoring applications.
CE Pro Podcast #113: Vanco Grows Commercial Business; the State of Kaleidescape
"Working together, Meyer Sound and Kaleidescape will provide home cinema dealers with a personalized and unforgettable 'big screen' experience for their customers," adds Blake Vackar, residential solutions manager for Meyer Sound.
"No other source compares to Kaleidescape for providing such a versatile library with a lossless media path. With audio reproduced through Meyer Sound cinema systems, customers at home will hear exactly what the movie's creators heard in the studio during the final mixing session. Thanks to this specially curated package, they will enjoy that experience across four decades of the absolute best in creative and dynamic cinema sound, from Apocalypse Now to Dune."