Marantz, a decades-old manufacturer of AV components, has announced its new MODEL 40n Integrated Amplifier.
The company says that its latest product has been developed to enable users to easily access their favorite content, including digital music libraries, podcasts and more.
"I strongly believe you don't have to be an audiophile to enjoy rich, warm sound," states Joel Sietsema, president, Marantz.  
"With our MODEL 40n we've further perfected the balance between what we're known for – our sound – with added simplicity, gorgeous design, modern upgrades, and power. This product is truly ideal for those who require excellent performance yet find elegance in simplicity and ease of use."
MODEL 40n Designed to Serve as Turnkey AV Solution
According to the company, the newly announced integrated amplifier delivers high levels of sound quality without the complexity of typical audiophile solutions. The MODEL40n integrated amp features built-in Spotify Connect, Apple AirPlay 2 to support the streaming of Apple Music, and a choice of services such as TIDAL, Pandora and others.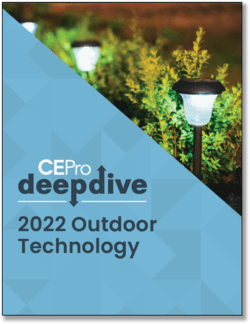 The 2023 CE Pro Outdoor Technology Deep Dive reveals unique set of impediments, including explaining pricing and interacting with outdoor-centric trades.
Get your copy now to take a "deep dive" into the trends and challenges of outdoor technology.
Download the report now!
Marantz points out the integrated amp also offers allows users to access their personal digital file libraries with the ability to play high resolution PCM files up to 24-bit/192kHz or DSD files up to 5.6 MHz.
Other content playback options include Bluetooth, and Marantz's parent company's Sound United HEOs wireless whole-house audio platform.
"We've only really been able to reach audio enthusiasts. And I think we've got pretty good penetration here with the audio-enthusiast market—you know, we're a very well-known brand and highly respected. But, like so many other audio companies, we haven't been able to pull in customers from the non-enthusiast marketplace. So, we're going to try to do a better job there. There's nothing about great sound that's exclusive to audiophiles, right? Why shouldn't anybody be able to really appreciate great sound," comments Gary Dayton, global, go-to-market manager, Marantz.
"Audiophiles love a box for every different feature, right? I don't think a luxury consumer particularly cares to have a full rack of stereo equipment in their homes."
Further supporting today's vast array of lifestyle applications in which homeowners can utilize the MODEL 40n integrated amplifier, the unit also provides a selection of inputs that includes a moving magnet (MM) phono cartridge, HDMI with ARC (audio return channel), and a dedicated subwoofer output with crossover adjustment capabilities.
"So, when we developed Model 40n, we looked at all these ease-of-use features … ease of installation and we rolled that into this integrated amplifier. So, at its core, Model 40n is an integrated amp. It's got analog source control and volume control, but it's also got built-in streaming," notes Dayton.
"You can take Model 40n out of the box and hook it up to a pair of speakers, and off you go. You can have a perfectly satisfying stereo system without ever adding anything to it. But it has other connectivity, as well."
Over on the amplification side of the MODEL 40n, Marantz says the integrated amp utilizes a Class A/B amplifier section that is rated to produce 70-watts-per-channel into an 8-ohm load. Helping the amplifier section to produce its power is a large power supply transformer, along with four output transistors per channel; heavy copper bus bars, and Marantz's proprietary Hyper-Dynamic Amplifier Modules (HDAMs) design.
Marantz explains the MODEL 40n's inclusion of its HDAMs technologies leverages discrete surface-mount components, along with short signal paths to help the integrated amp to produce accurate bass transients, smooth midrange and smooth high frequencies.
The MODEL 40n integrated amplifier will be available in March 2022 in a choice of black or silver gold finishes for an MSRP of $2,499.