The latest import from Brazil to make waves in the U.S. is the audio company Magna Audio. 
Based in San Paulo, it could be said the company made a soft launch into the U.S. market during the CEDIA Expo 2020 Virtual show a year ago, but with the event returning to in-person activities, Magna Audio displayed its latest products in Indianapolis this past Sept. 1-3. 
Making the most of its booth space the Brazilian company showed the latest additions to its Aura series of components, as well as its latest outdoor audio products, including its new Rock Series, and Polly Series of speakers.
Daniel Lima, chief design officer for Magna Audio, points out the CEDIA Expo represents the appropriate market for the company to introduce its indoor and outdoor audio products to the U.S. and the world.
"Magna is a Brazilian speaker manufacturer and we focus on performance and design," he says.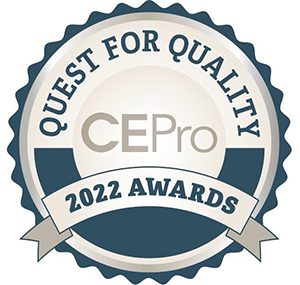 CE Pro urges integrators to recognize their suppliers that go above and beyond to deliver premium support and service. Cast your vote today to recognize the services (not the products) from your favorite manufacturers and distributors.
Cast your vote today!
"So, we have some products; the Aura Series—we are expanding the line—it is our most selling [popular] selling line in Brazil. A lot of dealers are installing the line."
In addition to the new Aura Series of products, the company also demonstrated its Streamer Series of products, which offer technologies such as Apple AirPlay 2 and Bluetooth, along with its MKII loudspeakers, Surface Series products, and Outline Series soundbars.
The annual trade event also provided the company the platform to show its unique NoFrame Series of speakers that mimic the appearance of lighting fixtures to complement the surging lighting control category.
Lima comments that a major part of the company's product line is the array of colors and premium materials it employs to build its speakers. Lima went on to emphasize that as part of Magna Audio's luxury market approach, the products are also hand-built in Brazil, which allows the company to carefully monitor quality, while remaining hands on with the performance and aesthetic elements that are the hallmarks of the brand.